Gubernator Cuckoo for Chinese Choo-Choo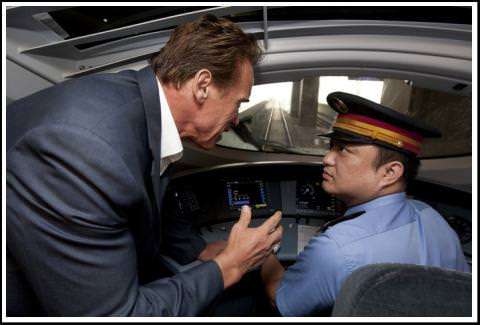 California Gov. Arnold Schwarzenegger has been trainspotting on his Asian junket, taking the opportunity to convene and exchange ideas with fellow railroad buffs in Shanghai and Tokyo, where the governor announced, "You have to look at which system is most alike to the California challenges that we are facing."
AFP points out that the gubernator is not just looking for new ideas for statehouse train set. He also wants yuan:
The western US state, which is China's fourth largest trading partner, is looking to build a system by 2030 that will carry 90 million passengers a year, with a Los Angeles-San Francisco line at the heart of the network.

"We want China, for instance, to invest in our high-speed rail, to build high-speed rail, to be part of this bidding process we are going to go through," Schwarzenegger said in a speech in Shanghai.

"Many countries will be bidding to build high-speed rail. And we are also looking for financing from China," he said, lauding the "great potential" for increasing trade between China and California.
And yes, that "90 million passengers" figure is fiction. It's nearly three times the total population of California and more than three times the number of passengers Amtrak carries from sea to shining sea.
To learn why California's 14-year-old high-speed rail project has gone and probably always will go nowhere, read on, and on and on.
To find out about the folly of high-speed rail at the national level, all aboard.