How Is Smoking Pot Like Beating an Old Lady?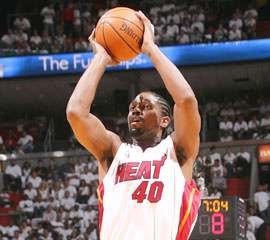 Miami Heat forward Udonis Haslem was arrested for marijuana possession yesterday after being pulled over for speeding in Miami-Dade County. The Associated Press reports that "Haslem was charged with possessing more than 20 grams of marijuana, a third-degree felony which could bring maximum punishments of a $5,000 fine and a five-year prison sentence." Twenty grams is less than three-quarters of an ounce. Like the potential life sentence that Chris Diaz faces in Texas (though less dramatically), this case illustrates how harshly many states continue to treat cannabis offenses. Even without evidence of intent to distribute, possessing a small quantity of marijuana in Florida can get you the same sentence as grand theft, burglary, and battery of a police officer or an old lady.
NORML has a handy compilation of state marijuana penalties.