Airbnb and Its Enemies: Who's Afraid of a $10-a-Night Sofa?
The popular short-term rental site angers everyone but its participants.
HD Download
Lauren and Rob, who moved to New York City to make it in showbiz, rent a one-bedroom apartment on Manhattan's Upper West Side that costs $2,250 per month. Lacking a regular paycheck, the two performers make ends meet by hawking short-term stays on their living-room couch for $65 a night. Travelers find them through Airbnb, a popular online service that connects residents who want to pick up some extra cash from out-of-towners who are looking for a cheaper alternative to a traditional hotel.
"On average, we cover half our rent," says Lauren, who asked that we not reveal her last name because of the legal issues surrounding Airbnb rentals. "And so it takes away the worry."
Airbnb, the most popular short-term rental site, is exploding in popularity, with a reported five-fold increase in its bookings in one year. The site has 200,000 listings available in 192 countries. Customers can stay in an igloo in Greenland, a Tipi in Denmark, or a tree house above San Francisco Bay. In New York City, where the average hotel room runs $350 per night, tourists can pay as little as $10 to stay on a worn couch.
Despite its rapid growth, this sort of peer-to-peer accommodation network still makes up a fraction of the U.S. lodging industry. There are 45,000 Airbnb domestic listings, which is less than 1 percent of the size of the U.S. hotel business, with its 4.9 million guest rooms.
But Airbnb and similar services have made enough of an impact to draw powerful enemies. These range from city officials trying to maximize lucrative hotel taxes to a hospitality industry fearful of competition to tenants-rights advocates who think the short-termers diss traditional renters.
In coming years, the company and its users can expect to face more legal headaches, as municipalities create new regulatory hurdles. Airbnb is fighting back: The company has established a Washington, D.C. lobbying presence, hired a veteran government-relations expert, and inserted itself into a legal dispute over Airbnb rentals in New York City. The uproar over short-term rentals in the Big Apple stems from one of the distinguishing facets of that city's housing market: rent control. Airbnb has exacerbated many of the unintended consequences of artificially capping what landlords are allowed to charge for apartments (more on that in a moment).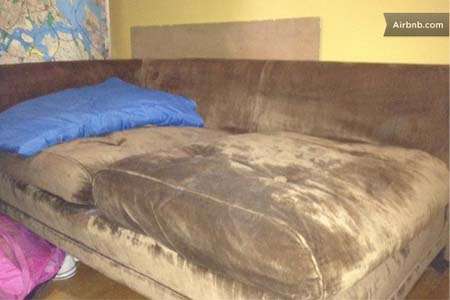 In the face of healthy demand, some cities are having only mixed success at restricting Airbnb use. When hotels in Austin, Texas book up during the city's annual South by Southwest festival every March, Airbnb connects thousands of visitors with a place to stay. But many locals offer up their couches or guest beds in violation of city regulations, which require they first undergo a home inspection, purchase a $285 permit, live in a neighborhood that hasn't already reached its quota, and pay local hotel taxes. 
Portland, Oregon bans AirBnb in all residential neighborhoods of the city, but allows it in industrial areas where permanent residents aren't allowed to live—just as long as there's off-street parking available and a six-foot-wide paved sidewalk between the building and the street.
New York City allows hosts like Lauren and Rob to operate as long as they're at home while they have a guest and offer the guest open access to every room in their apartment, including all bedrooms. Last year, Nigel Warren, an East Village resident who rented out his bedroom on Airbnb while he was in Colorado for three nights, drew fines of more than $40,000. The penalties were later reduced to $2,400 by an administrative judge. Airbnb is helping Warren and his landlord, Abe Carrey, appeal the decision. Warren's case is unusual; laws against Airbnb use by tenants are rarely enforced and more typically openly ignored.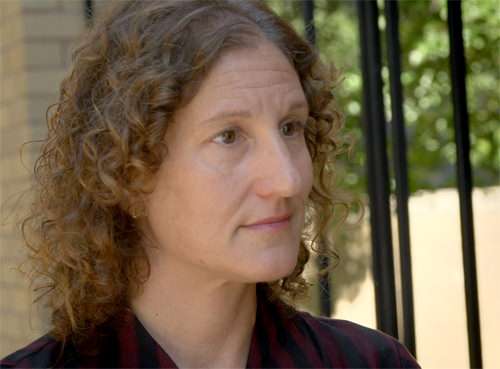 The city has been more aggressive in cracking down on landlords who rent vacant apartments for short-term stays. In 2012, the city sued and filed a restraining order against Smart Apartments, an Airbnb competitor that landlords were using to advertise vacation pads in nearly 50 residential buildings.
Why do landlords want to use Airbnb? About half of the city's housing stock is "rent regulated," meaning the rate landlords can charge is artificially capped. In some cases, landlords stand to earn much more through short-term rentals than a through a conventional year-long lease. Tenant advocacy groups complain this practice is chasing away rent-regulated tenants and draining the city's supply of rental apartments.
Marti Weithman, a tenant lawyer with the Goddard Riverside Community Center, is part of New York's "Illegal Hotels Working Group," and she helped push for the passage of a 2011 state law that strengthened enforcement against landlords using Airbnb. Indeed, she calls the sort of short-term rentals facilitated by Airbnb a form of "harassment." 
"You have these tourists who are coming to the city and they're on vacation," says Weithman. "They're up all night and throwing up in the bathrooms, and that provides a sense of insecurity for permanent residents." She says the disturbances caused by Airbnb tenants could ultimately drive rent-regulated tenants to leave the city altogether.
"Maybe they have a job here and they're making a living here," says Weithman, "so why should they pushed to another state just so Airbnb can come in and make millions of dollars?"
Big Apple landlords aren't the only ones using Airbnb because of the market distortions created by rent control. Tenants sitting on sweatheart deals are increasingly re-renting their apartments to tourists at market rates. In July, Amy Parness was caught by her landlord pulling in $4,500 per month on Airbnb by renting out her $1,400 per month one-bedroom on the Lower East Side. Most leases explicitly ban such activities without landlord approval.
Bill Golodner, a private investigator who often works with landlords that suspect their tenants of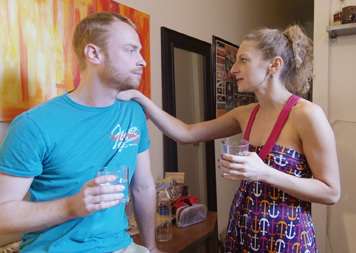 violating their leases, recently uncovered that a rent-regulated tenant with a $600-a-month Manhattan apartment was earning about $4,000 a month on Airbnb. Golodner says in the past year he's found tenants profiteering on Airbnb in about one-third of his investigations. Such activity is a predictable, if unintended, consequence of trying to keep rental prices below market rates.
But as Lauren and Rob demonstrate, relying on the government to keep prices artificially cheap isn't the only way people of limited means can afford to stay in Manhattan – whether as residents of vacationers. Only if landlords, tenants, and tourists are allowed to work out amongst themselves the best ways to make use of limited space will cities like New York become more affordable to live in or stay in.
And innovative services such as AirBnb go a long way towards making that possible.
Video written, shot, and edited by Jim Epstein; hosted by Naomi Brockwell.
About 5.45 minutes.
Scrolldown for downloadable versions and subscribe to Reason TV's YouTube Channel to receive automatic updates when new material goes live.