Will Democrats Really Grab Your Guns?
Debating "mandatory buy-backs," Afghanistan withdrawal, and back-to-school week on the Reason Podcast.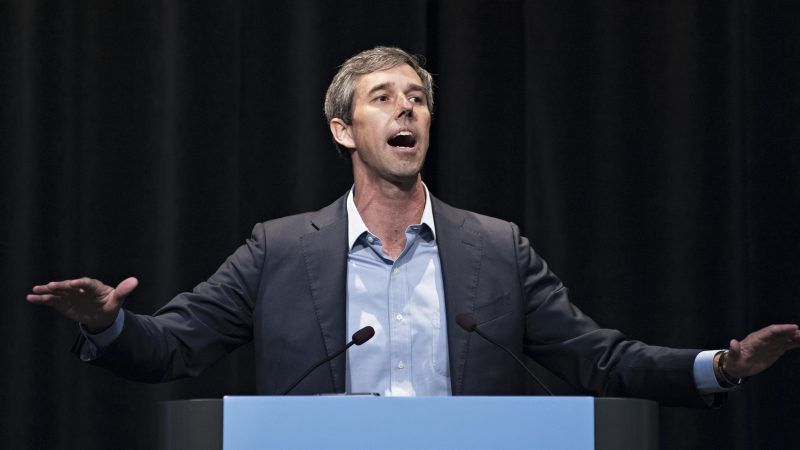 (Jeff Topping/Polaris/Newscom)
As has been the case with the Trump administration after a mass shooting event, the president and key legislative leaders are discussing in the wake of Saturday's Odessa, Texas, shoot-out a series of possible measures, including expediting the death penalty. As is also the case during a long presidential primary season, Democratic candidates are one-upping one another with gun-control proposals, with Texan Beto O'Rourke and Sen. Kamala Harris (D–Calif.) both suggesting "mandatory buy-backs" of "weapons of war." So what will and should actually be done?
So kicks off a lively discussion on the latest Editors Roundtable edition of the Reason Podcast, feauring Nick Gillespie, Katherine Mangu-Ward, Peter Suderman and Matt Welch. Other topics include: Reflections on back-to-school week and the state of education policy/politics, ideas from both the Trump administration and the Democratic presidential field about getting U.S. troops the hell out of Afghanistan, plus the latest social-commentary comedy from Dave Chappelle.
Audio production by Ian Keyser.
'Scapes' by Steve Combs is licensed under CC BY 4.0
Relevant links from the show:
"Should It Be Easier to Put Mass Shooters to Death? Trump's Justice Department Thinks So," by Elizabeth Nolan Brown
"Texas Is Executing a Man Tonight for a Murder and Rape Experts Say He Didn't Commit," by Zuri Davis
"March For Our Lives Calls for Confiscating Guns, Investigating the NRA, and 'Reforming' the Supreme Court," by Christian Britschgi
"How to Create a Gun-Free America in 5 Easy Steps," by Austin Bragg
"New York's New 'Red Flag' Law Illustrates the Due Process Problems Posed by Gun Confiscation Orders," by Jacob Sullum
"Do These 21 Mass Shootings That Did Not Happen Show the Benefits of California's 'Red Flag' Law?" by Jacob Sullum
"James Alan Fox: There Is No Evidence of an 'Epidemic of Mass Shootings,'" by Nick Gillespie
"For Many Pro-Gun Republicans, Gun Ownership Is Skin Deep," by Zuri Davis
"Trump Caves to Lindsey Graham; U.S. Troops To Stay the Neverending Course in Afghanistan," by Elizabeth Nolan Brown
"Trump Just Can't Quit Afghanistan," by Matt Welch
"Americans Voice Growing Support for School Choice," by J.D. Tuccille
"De Blasio Advisory Group Wants To Abolish Gifted Classes in NYC Public Schools," by Matt Welch
"Ten Years After Katrina, New Orleans Charter Schools Have Made Real Improvements," by Savannah Robinson
"Watch Dave Chappelle Eviscerate Cancel Culture," by Robby Soave
---