How Socialist Are the Democrats?
A discussion about the state of the party, as presidential debate season kicks off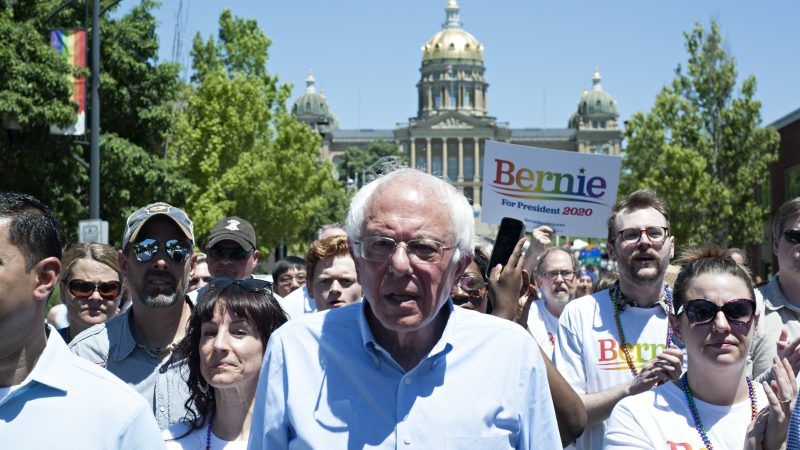 (Jeff Topping/Polaris/Newscom)
Last week, Sen. Bernie Sanders (I–Vt.) gave a long-awaited speech about the meaning and import of his preferred ideological label, "democratic socialism." Also last week, Sen. Elizabeth Warren (D–Mass.) began eclipsing Sanders in some polls, Joe Biden and other presidential candidates stepped up their critiques of President Donald Trump's trade policies, and the Democratic National Committee announced the 20 participants in the campaign's first debate. So what does that tell us about the beating heart of the country's major left-of-center political party?
Lots of different things, argue Katherine Mangu-Ward, Nick Gillespie, Peter Suderman, and Matt Welch on today's Editors' Roundtable edition of the Reason Podcast. The ensuing discussion covers trade, immigration, minimum wage laws, Social Security, and Suderman's new Unitary Theory of Health Care Politics. The podcast also chews on Robby Soave's new book, the awfulness of Sen. Tom Cotton (R–Ark.), and the awesomeness of Martin Scorsese's new Bob Dylan sorta-documentary.
Subscribe, rate, and review our podcast at iTunes.
Audio production by Ian Keyser.
'Rags 2 Riches Rag' by Audionautix is licensed under CC BY 4.0
Relevant links from the show:
"Democrats Are Fighting Over Socialism, and the Socialists Are Winning," by Peter Suderman
"Elizabeth Warren Is Starting to Beat Bernie Sanders in the Polls," by Matt Welch
"Biden Is Turning Trump's Trade War Into a Major Campaign Issue. More Democrats Should Follow His Lead." By Eric Boehm
"Democrats Have Never Been More Pro-Immigration, Thanks to Trump," by Shikha Dalmia
"Perils of 'Democratic Socialism,'" by Ilya Somin
"Bernie Sanders Thinks Medicare for All Would Solve America's Health Care Problems. It Would Make Them Worse." By Peter Suderman
"Iran Will Exceed Nuclear Stockpile Limit in Response to U.S. Sanctions," by Robby Soave
"If Trump Doesn't Want a War With Iran, He Should Stop Pushing Iran Towards War," by Daniel DePetris
"Here Are 5 Times Donald Trump Warned Against Going to War With Iran," by Eric Boehm
"Campus Radicals Against Free Speech," by Robby Soave
---