Elizabeth Warren Is Starting to Beat Bernie Sanders in the Polls
But the progressive share of the 2020 Dem field has been remarkably stable, at just 30 percent.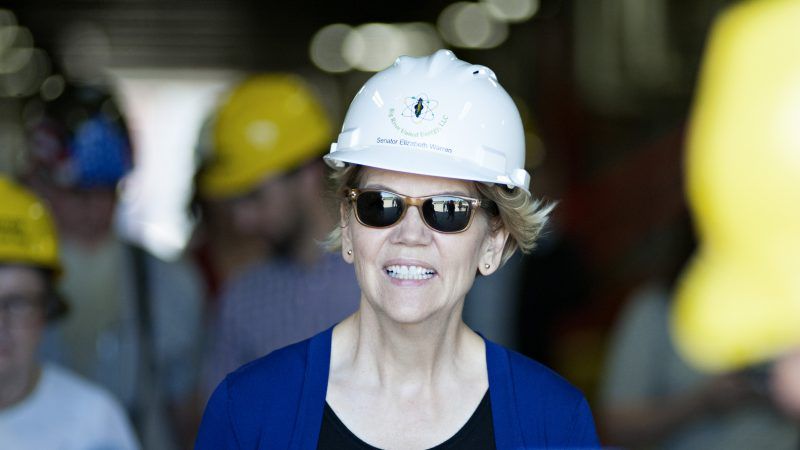 (Jeff Topping/Polaris/Newscom)
It's been a bad few days for Bernie Sanders.
On Wednesday, for the first time during the 2020 presidential primary cycle, the independent socialist senator from Vermont trailed his progressive Massachusetts neighbor Sen. Elizabeth Warren in a poll—13 percent to her 19 percent, according to a June 6–11 Monmouth University survey of 370 likely voters in Nevada.
Then it happened nationally, this time in a June 9–11 YouGov poll of 513 likely voters, who preferred Warren over Bernie 16 percent to 12 percent. And Thursday, Warren again nudged out Sanders for second place, 18 percent to 17 percent, in a June 4–10 Berkeley survey of 2,131 likely voters in the delegate-rich state of California.
"Warren and Sanders are going in opposite directions," declares Jennifer Rubin's headline in the Washington Post. "Warren challenges Sanders for progressives' 2020 support," notes the Minneapolis Star-Tribune. Things have gotten so bad that Bernie surrogate David Sirota is desperately beclowning himself while doing damage control on Twitter.
This is complete BS. Sanders was polling at 19-20% in the RCP average at the end of April, and he's at 17.3% now. Rather than surging, he's lost a couple points. https://t.co/vxnvqEMPRZ https://t.co/YkWEtJWsa7

— Nate Silver (@NateSilver538) June 12, 2019
The turnabout is head-snapping—Sanders averaged more than 22 percent in national polls during February, Warren under 7 percent, yet here they are virtually tied at around 17 percent in three polls taken this week. Yet the competitive turbulence masks a remarkable and potentially race-shaping stability. The progressive lane in the 2020 Democratic field has been stuck at around 30 percent of the polls all year long.
Here is the combined average performance in national polls by Sanders and Warren since February:
February: 28.8 percent (Bernie ahead by 15 percentage points)
March: 29.2 percent (Bernie +17)
April: 26.0 percent (Bernie +12)
May: 25.5 percent (Bernie +9)
June: 29.0 percent (Bernie +4)
You can sprinkle in the other most progressive candidates in the field—Washington Gov. Jay Inslee, New York Mayor Bill de Blasio, gun-grabbing impeachment advocate Rep. Eric Swalwell (R–Calif.), Miramar Mayor Wayne Messam—and still you'll never go higher than a combined 30 percent from the out-and-proud progressive camp.
Now take a look at the comparatively centrist duo of Joe Biden and South Bend Mayor Pete Buttigieg:
February: 30.9 percent (Biden +30)
March: 32.4 percent (Biden +29)
April: 37.6 percent (Biden +24)
May: 42.0 percent (Biden +30)
June: 39.0 percent (Biden +22)
When you add in lower-performing candidates who are running explicit I'm-not-a-damned-socialist campaigns—John Hickenlooper, John Delaney, Rep. Tim Ryan (D–Ohio), Rep. Seth Moulton (D–Mass.), Montana Gov. Steve Bullock, Sen. Michael Bennet (D–Col.), and maybe, depending on how you assess such things, Beto O'Rourke and Sen. Amy Klobuchar (D–Minn.)—you get a center lane that's been creeping steadily higher toward 50 percent.
All the caveats about early presidential primary polls are still relevant, and you should read Stephanie Slade's refresher course here, or just pull up random poll-related headlines from four years ago this month, such as "Jeb Bush surges to lead GOP pack in new 2016 poll." And don't even get the nerds started about the error rates of national general-election matchups this far out.
But one main reason to discount early polls is that the candidate field is not yet set—the Jeb Bush poll referenced above, for example, was prior to the grand entrance into the campaign by one Donald J. Trump. It's entirely possible that this dirty two dozen is all we're going to see in the Democratic 2020 competition.
Once the GOP roster was set in the summer of 2015, the establishment grouping of candidates—Bush, Chris Christie, Sen. Marco Rubio (R–Fla.), etc.—never combined for more than about 25 percent in national polls. Enthusiasm for the individuals within it waxed and waned, but the category as a whole was never popular. Might we be seeing a similar dynamic with the progressive cluster of 2020 Democrats?
I'm skeptical. Warren's recent poll surge appears to be growing the category—in the California poll, she and Sanders combined for 35 percent, and in the three national polls this week, 34 percent. Anecdotally, I see a lot of enthusiasm for Warren (particularly among journalists!), coming from people who would not describe themselves as democratic socialists.
And the more important point may be that Bernie et al win even by losing—the party and field continues to move in his direction, policy-wise, with Beto O'Rourke praising the Green New Deal, Sen. Cory Booker (D–N.J.) running away from his school-choice past, Sen. Kamala Harris (D–Calif.) pretending to be a criminal justice reformer, and rusty weather vane Joe Biden reversing decades' worth of abortion stances. Talking about a progressive "lane" may be a little beside the point.
Still, with the first debates right around the corner, it will be interesting to see which open ideological spaces Democrats will see opportunity in running toward.