Iran Will Exceed Nuclear Stockpile Limit in Response to U.S. Sanctions
Plus: Oberlin College must pay $33 million for aiding student activists' defamatory campaign against a local bakery.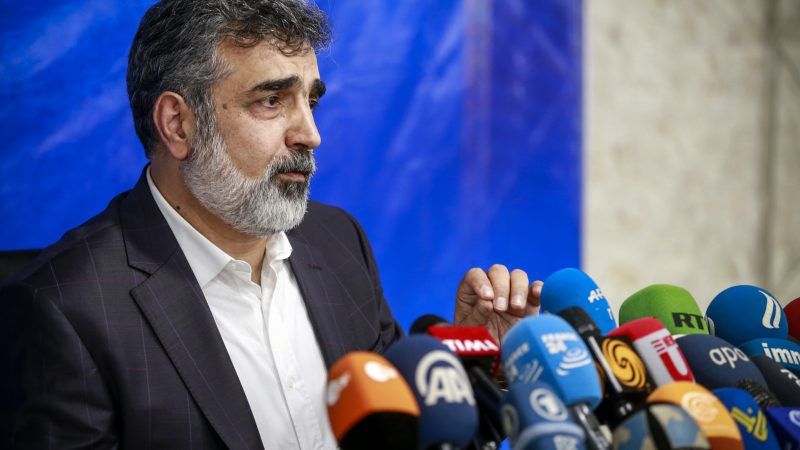 (Rouzbeh Fouladi/ZUMA Press/Newscom)
Iranian officials announced their uranium stockpiles will soon exceed the limits the country agreed to as part of the 2015 nuclear agreement.
President Donald Trump withdrew from the agreement last year and brought sanctions against Iran.
"If Iran feels that the sanctions have been reinstated or not lifted, Iran has the right to partly or on the whole suspend its commitments," said Behrouz Kamalvandi, Iran's Atomic Energy spokesperson.
This news follows several days of escalating tensions between the U.S. and Iran. The Trump administration has accused Tehran of damaging two oil tankers in the Gulf of Oman. Secretary of State Mike Pompeo said, "there is no doubt," that Iran was responsible, and that "the intelligence community has lots of data, lots of evidence," which is not completely reassuring, for obvious reasons. The oil tanker's Japanese owner maintains that the ship was struck by a "flying object," not a mine. Nevertheless, Sen. Tom Cotton (R–Ark.) is agitating for conflict and told PBS that two military strikes would be enough to incapacitate the country. In reality, of course, a full-blown war with Iran—a country three times larger than Iraq—would necessitate the involvement of tens of thousands of ground troops.
Given its unfeasibility, the military option should be virtually off the table. No one should want—let alone be actively working toward—a war. Trump has previously claimed that U.S. involvement in Iraq and Libya was a mistake. He should apply those lessons to his own administration's Iran policy, and work out a diplomatic solution.
FREE MINDS
Conservatives are rejoicing after a jury awarded $33 million in punitive damages to a bakery that had sued Oberlin College for defamation. Student activists had falsely accused Gibson's Bakery of racism, and internal emails showed that Oberlin administrators actively coordinated with and supported the students. According to The New York Times:
The dispute began on Nov. 9, 2016, when an Oberlin student tried to pay for a bottle of wine with a fake ID, and the store clerk noticed that the student had hidden two more bottles of wine under his coat, according to court papers.
The Atlantic's Conor Friedersdorf takes a more cautionary tone:
I celebrate the happy ending for the Gibsons, but not without some trepidation about the downsides of adjudicating culture-war fights or the proper administration of America's colleges in court, where extreme cases can mean cathartic outcomes and bad law. It would be a shame if jurors intent on vindicating the wrongly maligned wound up severely chilling protected speech too.
FREE MARKETS
U.S. Commerce Secretary Wilbur Ross said Trump is "perfectly happy" to proceed with tariffs that would affect an additional $300 billion in Chinese goods. According to CNBC:
"We will eventually make a deal, but if we don't, the president is perfectly happy with continuing the tariff movements that we've already announced, as well as imposing the new ones that he has temporarily suspended," Ross said.

His comments directly echo those of Treasury Secretary Steven Mnuchin last week, indicating that the administration is unified on its plan in the event that talks fall apart.
Trump is also considering tariffs an all auto imports, including those from the European Union.
QUICK HITS