Bernie Sanders Thinks Medicare for All Would Solve America's Health Care Problems. It Would Make Them Worse.
The nation's largest health care program faces a shortfall in less than a decade.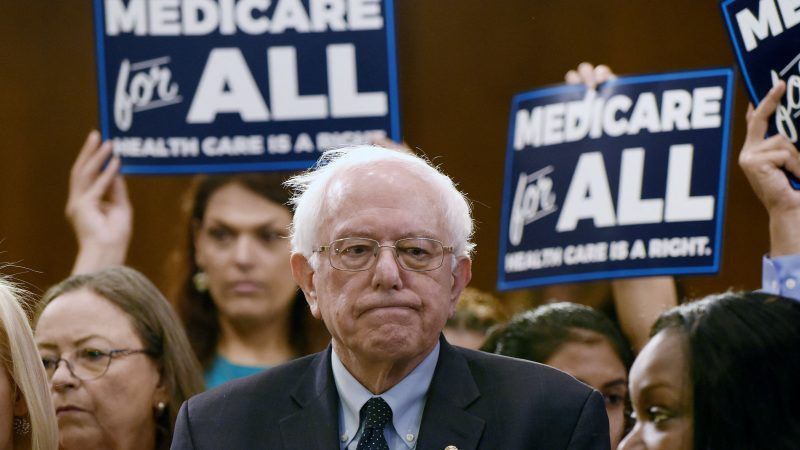 (Abaca Press/Douliery Olivier/Abaca/Sipa USA/Newscom)
Bernie Sanders (I–Vt.) thinks there's a crisis in American health care, and only Medicare for All can solve it. He's half right.
There is a crisis in the nation's health care system. But that crisis is Medicare itself—the program as it exists today.
In an op-ed for USA Today, Sanders says the current status quo is an "economic and medical emergency for millions of Americans." The solution, he argues, is to expand Medicare, the health coverage program for seniors, into a national, government-run health care program, because Medicare "guarantees coverage."
But that guarantee only goes so far—and we may discover its limits sooner rather than later.
In 2026, Medicare's hospital insurance trust fund is expected to become depleted, according to a report last month from the program's actuaries. Initially, it will bring in enough money to pay for about 89 percent of its expenditures. Over the next 20 years, that figure will dip down as low as 78 percent.
Insolvency doesn't mean the program shuts down entirely. But what it does mean is that in less than a decade, the program won't be able to pay all of its bills. When that happens, the program's supposed guarantee won't mean much at all. Health care for millions will be in jeopardy because of the federal government's consistently poor fiscal management.
People who rely on the program may not be able to access the care they need or may face much longer wait times. Benefits might end up being scaled back, or practically unavailable even if they are theoretically guaranteed. Alternatively, Congress could raise taxes to finance the program's full costs. Higher taxes, reduced benefits, longer lines, or some combination of the above: When a shortfall hits, those are the primary options.
Sanders' call for Medicare for All, in other words, ignores the longstanding problems with Medicare itself. His advocacy for single payer is almost entirely unresponsive to the longstanding fiscal challenges of the federal government's largest health care program, which, despite their predictability and inevitability, have proven stubbornly difficult to solve. If anything, Medicare for All would increase the scale of those problems, and put care for millions more people on the line in the process.
Under Sanders' vision of Medicare for All, private health insurance as we know it today would be outlawed. That doesn't just mean no competition. It means no alternative and no escape. So if the program struggles to meet its obligations, and care suffers as a result, there's essentially nowhere else to turn. Sanders would trap every American in a system that would almost certainly struggle with financing from the outset.
That's because Sanders, it's clear, has no idea how to pay for the program he has in mind. His proposal is vastly more generous than comparable universal coverage programs run by other countries. Multiple estimates have found that it would add about $32 trillion to the federal tab over a decade, even under generous assumptions. Yet Sanders has never proposed a specific financing mechanism to offset the massive increase in government spending his single-payer plan would entail.
Nor has he answered numerous other practical, necessary questions that designing and implementing single payer would entail: How exactly would health care providers be paid? What would happen when the expansion of coverage increased demand for health care services—especially if provider payments are simultaneously cut?
American health care has real problems; it's expensive, bureaucratic, and inequitable. But decades of government intervention has, if anything, only made these problems worse—if not created them in the first place. The tax break for employer-sponsored insurance in the aftermath of World War II locked people into job-based coverage and encouraged the purchase of ever-more expensive plans, insulating individuals from the cost of their decisions. The creation of Medicare (and to a lesser extent Medicaid) rapidly funneled huge amounts of federal funding into the hospital system and coincided with decades of increased national spending on health care. Federal health care programs now represent what is arguably the nation's largest long-term fiscal challenge.
But now the long term is almost here. And instead of addressing the deep and difficult problems that persist in the current system, Sanders and his followers appear to have only one answer, which is to keep doing the same thing, but more of it. Sanders-style Medicare for All isn't the solution to our health care crisis—it's just a much bigger, much harder to solve version of the same crisis we already face.