Weed Is Legal in Illinois. Police Searched His Car Anyway.
An officer conducted the search of Prentiss Jackson's vehicle after claiming he could smell "a little bit of weed." It ultimately resulted in a lengthy prison term.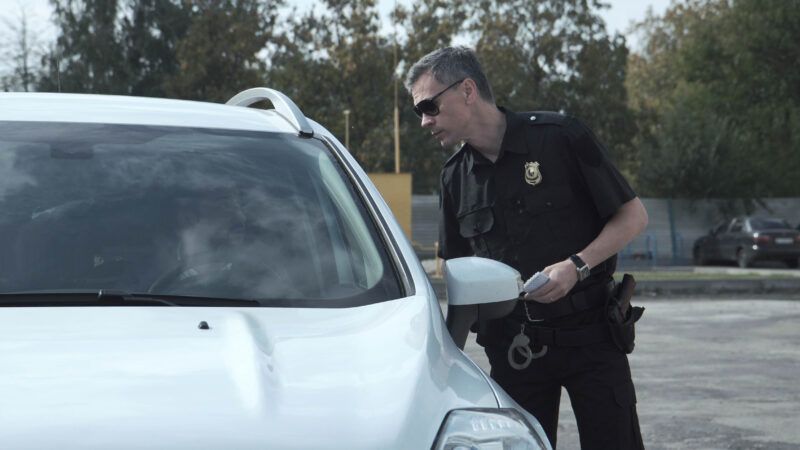 In June 2022, police in Illinois pulled over Prentiss Jackson for driving without his lights on. An officer with the Urbana Police Department subsequently claimed he could smell "a little bit of weed" coming from the car, leveraging that to search Jackson's vehicle and ultimately kicking off a legal odyssey that would result in an 84-month sentence in federal prison.
At the officer's request, Jackson handed over two grams of unburnt cannabis he kept in a baggie in his glove box. Possessing up to 30 grams is permissible under Illinois law. 
But when the officer demanded Jackson exit the vehicle, he ran—dropping a gun in the process. Prentiss was charged with possessing a firearm as a felon. Although Jackson sought to suppress the evidence from that search—invoking Illinois' legal cannabis threshold and alleging that the officer lacked probable cause—Judge James E. Shadid of the U.S. District Court for the Central District of Illinois came down in favor of police, ruling that Jackson had run afoul of the state requirement to keep marijuana in an odor-proof container.
In April 2023, Shadid sentenced Jackson to 72 months in prison for possession of a firearm as a felon and an additional 36 months for violating the terms of his supervised release for a 2010 federal narcotics case. A year of the latter punishment will run consecutively with his firearm conviction, with the remainder finishing concurrently, for a total of 84 months in prison.
"The sole fact [the police] used to justify his search—the smell of unburnt cannabis—gave no clues as to whether the smell stemmed from a legal or illegal use," wrote Daniel Nelson, a Law & Liberty fellow at the Institute for Justice (I.J.), in an amicus brief supporting Jackson's appeal before the U.S. Court of Appeals for the 7th Circuit. "[The officer's] suspicion rested on a hunch—and that's not enough to search anybody's property."
Twenty-three out of 50 states, along with Washington, D.C., have legalized recreational marijuana. "The simple smell of something that has a host of perfectly legal uses in a state should not be sufficient grounds for police to prolong a traffic stop," Paul Sherman, a senior attorney at I.J., tells Reason. 
At the core of Jackson's appeal, and I.J.'s brief, is the Fourth Amendment's promise that people be free from unreasonable searches and seizures. In that vein, Nelson maintains that unless the judiciary clearly defines probable cause under such circumstances, police may be incentivized to weaponize their power in perverse ways.
"Vigorous judicial enforcement of probable cause is particularly important in the context of automobile searches, which are typically conducted without a warrant issued by a neutral judge," said Nelson in a statement. "Because of abusive practices like civil forfeiture—which allows police departments to seize and keep cash and other property merely suspected of being involved in a crime—those officers often have strong financial incentives to search, regardless of whether probable cause really exists. If judges don't closely review those decisions, drivers are left with no protection from abusive searches."