Tim Scott Invokes Ronald Reagan and Says UAW Strikers Should Be Fired
"He said, you strike, you're fired. Simple concept to me. To the extent that we can use that once again, absolutely."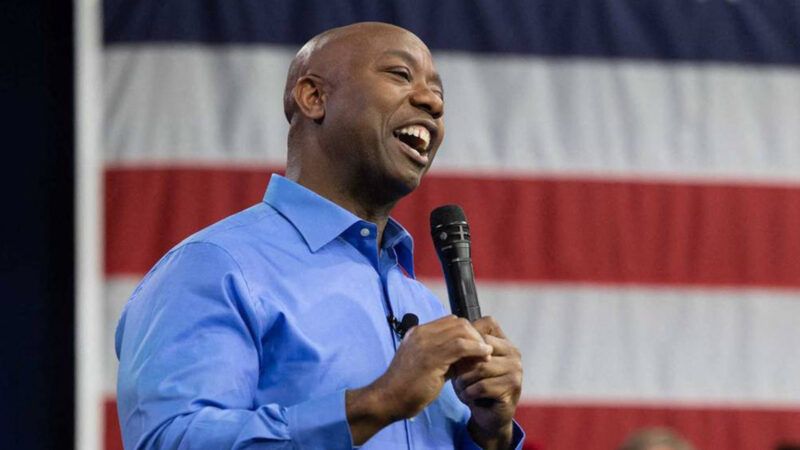 (Joshua Boucher/TNS/Newscom)
Republican presidential candidate Sen. Tim Scott (R–S.C.) said striking United Auto Workers (UAW) members should be fired, following the example of President Ronald Reagan crushing an air traffic controller strike in the early 1980s.
NBC News reported Monday that at a meet-and-greet event in Iowa, Scott was asked whether he would insert himself as president into talks between the UAW and the auto industry. The UAW is on the fifth day of a strike against Detroit's Big Three automakers—Ford, General Motors, and Stellantis—that could have serious economic impacts on the U.S.
"I think Ronald Reagan gave us a great example when federal employees decided they were going to strike," Scott responded. "He said, you strike, you're fired. Simple concept to me. To the extent that we can use that once again, absolutely."
Reagan famously fired more than 11,000 unionized air traffic controllers and barred them from federal service for life after they went on strike in 1981.
Of course, those air traffic controllers were government employees. It's unclear if Scott thinks the president would have the authority to fire private employees on strike or compel management to do so. Strikers are also largely protected from firing under the National Labor Relations Act.
In a statement to NBC News, the campaign also declined to elaborate, but spokesperson Matt Gorman said Scott "has repeatedly made clear, both at that event and others, that taxpayers shouldn't subsidize any deal with the UAW and auto companies."
That's a perfectly fair point, and the UAW's demands are fair game for criticism as well. UAW leaders have been bargaining for a four-day workweek, in addition to higher wages and cost of living protections. 
"We're seeing the UAW fight for more benefits and less hours working," Scott said at the event. "More pay and fewer days on the job. It's a disconnect from work, and we have to find a way to encourage and inspire people to go back to work."
But it's not the president's place to play strikebreaker (or matchmaker) when a labor dispute involves two private parties.
UPDATE: Scott's campaign reached out after publication with additional comments the Senator made in New Hampshire today:
"It's also nice to be quoted accurately, which was really difficult for me… I remember exactly what I said, I was talking, someone asked me the question about the UAW and one of the things I said was that, you know, in the Ronald Reagan years when the FAA had their strike, one of the things he did was fire them. Obviously, the President doesn't fire folks in the private sector, but he can do so in the public sector. And, importantly, as a note, and I think this is pretty important, I used that as a bridge to have a conversation about the fact that unions that are negotiating too often overpromise and under deliver so much so that President Biden's first bill the COVID relief package, y'all remember the COVID relief package? $1.9 trillion worth of spending, checks going in the mail very quickly. The only thing missing in the COVID relief package was the COVID Relief. 1% for vaccines, another 10% for COVID related health, but $86 billion to shore up the retirement plans that were going belly up within the unions.
"I brought up the Ronald Reagan years because I do think that we need to have front and center the example of a president who stood strong and today's president, he stands weak. So weak that he's using your- there's no such thing as a federal dollar. They're all your dollars. Our dollars as citizens. Taking $86 billion out of our collective pocket to use that to shore up the unions is in my opinion, wrong.
"Third thing I say, really important, is that as a member of the Finance Committee I'll never forget the union widow who was promised $4,000 a month in retirement and needed to depend on the federal backstop of $1,000 a month because she was promised something and not delivered. When your negotiations want to have 32 hour work weeks, but more money and a four day work week and higher benefits, the truth is that we all pay that higher price, but the ultimate payer has been basically the American taxpayers. And so that's what I said but they only clipped it for their benefit."