Arbitrary Rental Inspections Violate Search and Seizure Protections, Says Iowa Court
Warrantless home invasions are intrusive and dangerous for those on the receiving end.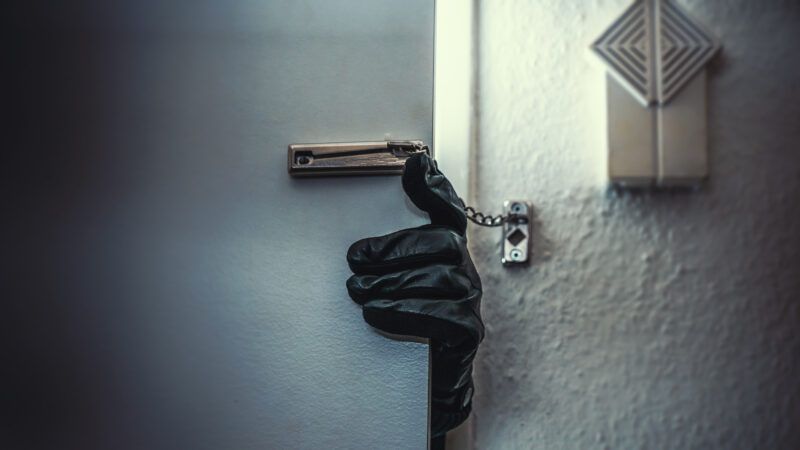 (Audioundwerbung | Dreamstime.com)
Being a renter instead of a homeowner shouldn't deprive you of constitutional protections for your rights, but a lot of local governments act as if that's the case. In the guise of protecting public health, many communities require tenants and landlords to submit to regular inspections of rental properties without probable cause. They do so despite objections raised by owners and residents. But now an Iowa court has joined others in ruling that such invasions of privacy and private property are unconstitutional.
The Rattler is a weekly newsletter from J.D. Tuccille. If you care about government overreach and tangible threats to everyday liberty, this is for you.
Legally Mandated Home Invasions
The conflict began in 2021 with the passage of an ordinance by Orange City, Iowa, requiring residential rental units be registered with the city for a fee and inspected every five years. No evidence of a code violation or probable cause of any sort was required prior to an inspection, and the ordinance specified: "If entry is refused, the inspector shall have recourse to the remedies provided by law to secure entry including, but not limited to, obtaining an administrative search warrant to search the rental unit."
Unsurprisingly, landlords and tenants alike found the prospect of regular government searches of private property objectionable. Such searches are inherently intrusive and legally perilous since inspectors might encounter violations of law, real or invented, during a home invasion. That's why warrants based on probable cause and not just administrative rubber stamps are required for searches by the Fourth Amendment as well as by state constitutions.
"Bryan Singer and Erika Nordyke want only people they know and trust wandering around inside their Orange City home. One of the city's housing inspectors, Singer says, doesn't qualify," the Des Moines Register reported in June 2021. "Now, they're challenging the city's inspection regime in court. Two landlords and three tenants, including Singer and Nordyke, are suing the city in Sioux County district court, arguing that such searches violate their rights under the Iowa Constitution."
In ruling on the legal challenge to Orange City's inspection program, Iowa District Judge Jeffrey A. Neary focused on the sham nature of the administrative warrants relied upon by city inspectors. "The ordinance does not set forth any requirements, details, standard or level of proof, nor process or procedure for obtaining the administrative search warrant," he wrote. The judge added that tenants "receive no prior notice of the search warrant application process" and so have no opportunity to contest the application. He pointed out that the administrative warrants are open-ended in scope, that nothing prevents police from accompanying inspectors, and that "evidence of illegal activity in the rental property observed by the inspector is reported to the City Attorney."
Overall, the inspection program is a search-and-seizure nightmare. It completely bypasses protections in the federal Fourth Amendment and in the Iowa Constitution's similar Article I, Section 8, on which the plaintiffs relied.
"The Court finds here that there needs to be more safeguards or protective measures put in place as there are currently none in place in Iowa for the district court to use when considering a request or an application for an administrative search warrant," the judge wrote in finding for the plaintiffs. He permanently enjoined the city from seeking administrative warrants to conduct inspections.
"Today's decision striking down Orange City's inspection ordinance is a major win for the basic privacy rights of all renters in Orange City," commented attorney John Wrench of the Institute for Justice, which supported the plaintiffs. "You don't lose your constitutional rights because you rent your home, instead of owning your home."
A Local Victory with Big Implications
The ruling has repercussions well beyond one community since the Iowa League of Cities touts rental registration and inspection programs across the state. All such programs are now constitutionally suspect unless they can demonstrate they provide protection against unreasonable searches and seizures.
Beyond Iowa, the National Apartment Association, a trade group, objects that "rental housing inspection laws place an unnecessary financial hardship on owners, infringe on personal privacy rights, and single out apartment housing while excluding other property types." Those inspection laws may run afoul of protections in various state constitutions such as those relied upon by the Orange City plaintiffs, as well as the guarantees in the federal Fourth Amendment.
"As the Supreme Court has noted, the 'physical entry of the home is the chief evil against which the wording of the Fourth Amendment is directed,'" U.S. District Court Judge Susan J. Dlott noted in 2015 in a case challenging Portsmouth, Ohio's Rental Dwelling Code authorizing mandatory inspections of rental units. "The Court finds that the Portsmouth RDC violates the Fourth Amendment insofar as it authorizes warrantless administrative inspections."
Earlier this year, the city of Zion, Illinois, agreed to drop fines assessed against landlords and tenants who refused access to inspectors. The city had already amended its ordinances to respect probable cause requirements in the course of pursuing rental inspections.
Harassment By Inspection
The Zion case raises an important issue with regulation of rental properties: While justified on public health grounds, code enforcement and inspections are often used to squeeze out tenants and landlords deemed "undesirable" by local officials.
"Zion Mayor Al Hill acknowledged past enforcement problems with the ordinance and said the city has since changed its response to potential nuisance properties," the Chicago Tribune reported in 2017 of the city's rental housing policies. "He said the city sends fewer letters and no longer enforces the ordinance against domestic violence callers or tenants who are crime victims."
Earlier, Hill had told city council members that Zion had "too many rental units" as they discussed inspection fees.
Clearly, the ability to conduct intrusive inspections of rental units without probable cause and to simultaneously look for violations of the law with which to charge unwanted residents are powerful weapons for officials to use against people they don't like. That's especially troubling if the people they don't like are landlords and tenants.
Here is a reminder that constitutional protections for our rights aren't just annoying hoops we make government employees jump through; they're defenses against sometimes malicious officials who abuse the powers at their disposal. Orange City rental inspectors will now have to demonstrate some sort of probable cause before forcing themselves into people's homes. That reduces the harm they can do, no matter what their motivation.