Alabama Says Helping With Out-of-State Abortions Is 'Criminal Conspiracy'
Alabamans have no right "to conspire with others in Alabama to try to have abortions performed out of state," argues Attorney General Steve Marshall.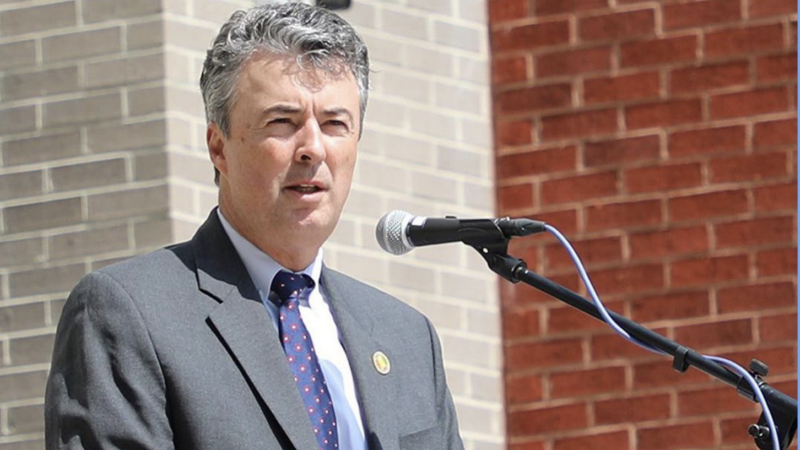 (@AGSteveMarshall/Twitter)
Alabama's attorney general is insisting that he has the right to prosecute people who help pregnant women obtain out-of-state abortions. In a court filing earlier this week, Steve Marshall said such actions amount to criminal conspiracy.
Marshall's filing comes as part of a case involving the Yellowhammer Fund, a nonprofit that bills itself as an "abortion advocacy and reproductive justice organization." The group and two women's health centers—the West Alabama Women's Center and the
Alabama Women's Center—sued Marshall in July over the attorney general's suggestion he could go after groups that help pregnant Alabamans get out-of-state abortions.
Marshall first made this suggestion last summer on a local talk radio program, The Jeff Poor Show. "If someone was promoting themselves out as a funder of abortion out of state, then that is potentially criminally actionable for us," Marshall said, according to the Yellowhammer Fund's complaint. "And so, one thing we will do in working with local law enforcement and prosecutors is making sure that we fully implement this law."
"There is nothing about that law that restricts any individual from driving across state lines" and seeking an abortion, Marshall continued. But an "entity or a group that is using funds…to facilitate" out-of-state abortion travel "is something we are going to look at closely."
Marshall "specifically referenced the accessory liability and conspiracy provisions of Alabama law as the basis for prosecuting abortion funds," according to the Yellowhammer Fund complaint. And Marshall reportedly made similar comments at a Federalist Society meeting last summer. He stated "that Alabama law has a criminal conspiracy statute that could apply to attempts to procure an abortion out of state," according to Matt Clark, former president of the Alabama Center for Law and Liberty.
"By invoking these provisions to punish lawful activities, [Marshall] seeks to forbid the act of helping pregnant people obtain safe and lawful abortion care and chill constitutionally protected activities," the Yellowhammer Fund argued.
"The consequences of the threatened prosecutions are significant, even if a threatened prosecution would ultimately be unsuccessful," it added, noting that it is "not operating an abortion fund today because it fears Alabama's anti-abortion attorney general will target the organization."
This week, Marshall asked the court to dismiss the lawsuit. The Yellowhammer Fund is "mistaken" in arguing that they "have a right to conspire with others in Alabama to try to have abortions performed out of state," Marshall's complaint asserted. "An elective abortion performed in Alabama would be a criminal offense; thus, a conspiracy formed in the State to have that same act performed outside the State is illegal."
"The conspiracy is what is being punished, even if the final conduct never occurs," stated Marshall. "That conduct is Alabama-based and is within Alabama's power to prohibit."
Marshall's motion makes clear that it's an array of activity that he considers criminal conspiracy, not just providing funds for someone in Alabama to obtain an out-of-state abortion. He mentions speech related to procuring out-of-state abortions, saying it "receives no constitutional protection," and argues that "the right to travel…does not
grant Plaintiffs the right to carry out a criminal conspiracy simply because they
propose to do so by purchasing bus passes or driving cars."
Marshall has asked the U.S. District Court for the Middle District of Alabama to dismiss the Yellowhammer Fund's complaint.
A federal court recently rebuffed Idaho Attorney General Raúl Labrador for asserting that the state's abortion law gave him the power to prosecute doctors who referred women out of state to terminate their pregnancies. In early August, the U.S. District Court for the District of Idaho granted a preliminary injunction against Labrador enforcing the state's abortion law in that manner.
It seems unlikely that Marshall will fare any better by arguing that state conspiracy law gives him the right to do so.
Many legal scholars—and Supreme Court Justice Brett Kavanaugh, among others—are fairly certain that states can't constitutionally ban people from traveling out of state for abortions themselves. Among other issues, it runs up against right-to-travel precedents set by the Supreme Court, and against the Dormant Commerce Clause.
"Abortion would count as an economic activity for Dormant Commerce Clause purposes," noted Damon Root last year. "This means that a state barrier which interferes with the ability of a state resident to take advantage of another state's economic activity (abortion) via interstate travel would be constitutionally deficient under the Dormant Commerce Clause."
This could also be relevant when it comes to helping others travel out of state.
And prosecuting people for referring others out of state for abortions or counseling them on how to get them definitely runs into First Amendment issues.
Can states prohibit paying for out-of-state abortions? A February decision in Fund Texas Choice v. Paxton may be instructive. "Charitable fundraising to support illegal conduct is likely to be constitutionally unprotected," lawyer Eugene Volokh wrote about the decision. "But here the court concluded that the fundraising was aimed at supporting legal conduct (since out-of-state abortions aren't legally forbidden by Texas law), and the Court has indeed treated fundraising for legal causes as constitutionally protected."