Federal Appeals Court Rules Detroit's Asset Forfeiture Violates Due Process Rights of Drivers
A federal circuit judge writes that Detroit's vehicle seizure scheme "is simply a money-making venture—one most often used to extort money from those who can least afford it."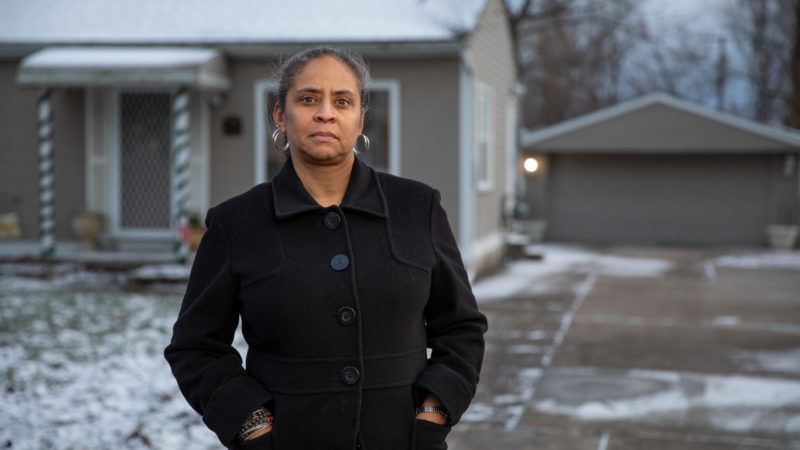 A panel of federal appellate judges unanimously ruled Thursday that Detroit's practice of seizing people's cars for months at a time before giving them a chance to contest the seizure violates vehicle owners' 14th Amendment right to due process.
The U.S. Court of Appeals for the 6th Circuit, agreeing with a lower U.S. district court, found that Michigan's Wayne County, which includes Detroit, "violated that Constitution when it seized plaintiffs' personal vehicles—which were vital to their transportation and livelihoods—with no timely process to contest the seizure."
The 6th Circuit ruled that Wayne County must provide car owners a post-seizure court hearing within two weeks. Maria Miller, a spokesperson for the Wayne County Prosecutor's Office (WCPO), said the office is currently determining its next steps in light of the decision.
The ruling is a victory for the rights of car owners, a sharp rebuke of a greedy local government, and a preview of an important issue that will soon be before the Supreme Court. As Reason's Billy Binion reported in July, the Supreme Court has taken up a case to decide if property owners are entitled to a probable cause hearing after a seizure, and how soon if so.
The plaintiffs in the class-action lawsuit—filed in 2020 by the Institute for Justice, a libertarian-leaning public interest law firm—included Robert Reeves. In July of 2019, police seized Reeves' 1991 Chevrolet Camaro, along with more than $2,000 in cash, after stopping him on suspicion of stealing a skid steer from Home Depot. For more than six months, Reeves was not arrested or charged with a crime, and the WCPO didn't file a notice of intent to forfeit his car, leaving him unable to officially challenge the seizure.
"Because of today's ruling, the next person the county targets will have a real opportunity to go to court and challenge the seizure of their car," Reeves said in an Institute for Justice press release. "And they won't have to wait months or years to get it."
Under civil asset forfeiture laws, police can seize property suspected of being connected to criminal activity, even if the owner is not charged with a crime. Law enforcement says civil asset forfeiture is a vital tool for disrupting drug trafficking and other organized crime by targeting illicit revenue.
However, civil liberties groups like the Institute for Justice say police often target innocent owners or petty offenders—not cartel lords—and force them to bear the cost of challenging the seizure in court.
Wayne County had a particularly aggressive vehicle forfeiture program targeting illicit marijuana, prostitution, drag racing, and other public disorder and nuisance offenses. It typically offered to settle cases and return cars for $900, plus towing and storage fees. (An example of such a forfeiture notice can be seen here.) The alternative was waiting months for the WCPO to file a motion for forfeiture in court, without one's car.
The Institute for Justice argued that forcing owners through a monthslong, onerous process to challenge a seizure was an obvious shakedown and violated their Fourth, Eighth, and 14th Amendment rights.
For example, according to the lawsuit, police twice seized the car of Melisa Ingram, another plaintiff, while her boyfriend was borrowing it—once for allegedly picking up a prostitute and another time for leaving a house connected to drug activity. Her boyfriend was never charged with a crime, nor was Ingram, but the WCPO demanded payments from Ingram to get her car back. The first time she paid. The second time she didn't have the money and relinquished her car to the county.
Stephanie Wilson, the third plaintiff in the Institute for Justice suit, alleged that Detroit police seized two of her cars over a six-month period because she gave rides to her daughter's father, whom police suspected of drug activity, although no drugs or guns were found in either instance. In the first case, she lost her car after missing a filing deadline. She only got her second car back after waiting two years for a court hearing.
After reviewing the plaintiffs' cases, the panel of 6th Circuit judges could only agree that a perverse profit incentive, not crime fighting, was driving Wayne County's asset forfeiture program.
"Although Wayne County ostensibly seized the vehicles because of reasons related to health, safety, and/or drugs, the record suggests otherwise—that the county seized the vehicles in order to obtain proceeds from fees," the court wrote. "If Wilson's vehicle had a dangerous connection with drugs, it is unclear why the county promptly released the vehicle after a payment of $1,355. And if Ingram's vehicle was a public nuisance, the county's willingness to release the vehicle for $1,800 suggests it is more interested in the money than in remedying a public nuisance."
And as Reason has previously reported, this was happening at scale. Wayne County seized more than 2,600 vehicles between 2017 and 2019 and raked in more than $1.2 million in asset forfeiture revenues, according to public records obtained by the Mackinac Center for Public Policy, a free market Michigan think tank.
Of those seizures, 473 were not accompanied by a criminal conviction, and in 438 of those cases, no one was even charged with a crime. In 10 cases, the cars were seized under suspicion of a drug violation, even though the records say police didn't find any drugs.
The Institute for Justice was not alone in challenging the program. In 2018, Stephen Nichols filed a class-action lawsuit after waiting more than three years for a court hearing to challenge the seizure of his car. That same year, Crystal Sisson filed a civil rights lawsuit after Wayne County sheriff's deputies seized her 2015 Kia Soul because she allegedly possessed $10 worth of marijuana.
In a scathing concurring opinion, U.S. Circuit Judge Amul Thapar wrote that Wayne County's scheme "is simply a money-making venture—one most often used to extort money from those who can least afford it."
After summarizing the experiences of Reeves, Ingram, and Wilson, Thapar asked: "Does this sound like a legitimate way of cleaning up Wayne County? Or does it sound like a money-making scheme that preys on those least able to fight it? To ask the question is to answer it."
Settlement agreements like the ones in Wayne County are not unusual, however. Before Albuquerque ended its asset forfeiture program, it would force owners, even innocent owners, to pay $850 to recover their cars. In Albuquerque resident Arlene Harjo's case, the city offered to return her car for $4,000 after her son was arrested for drunk driving.
The Institute for Justice's lawsuit will now head back to the U.S. District Court for the Eastern District of Michigan for further proceedings on its Fourth Amendment claims.
"The Wayne County forfeiture machine takes in over 1,000 cars every year," Institute for Justice attorney Kirby Thomas West said. "Now, Detroit car owners can at least rest assured that they will have a speedy opportunity to challenge a seizure when they find themselves victims of this forfeiture machine."