Trump's Alleged Cover-Up of His Cover-Up Reinforces the Obstruction Charges Against Him
While it remains unclear how sensitive the documents he retained were, his attempts to conceal them are easier to prove.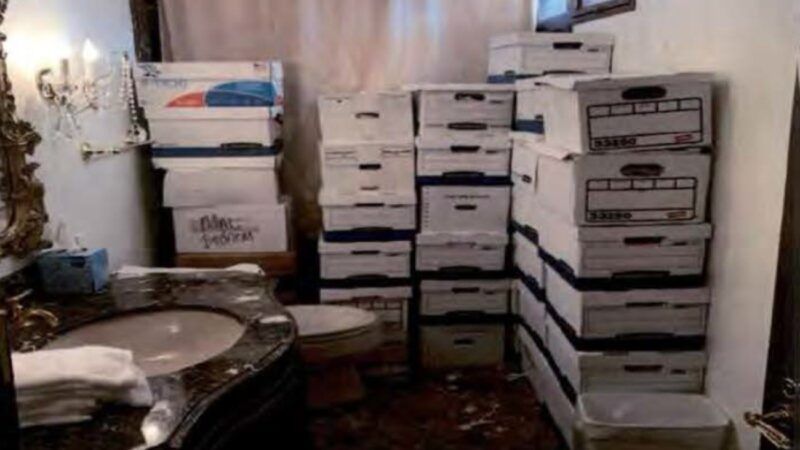 During his CNN town hall in May, Donald Trump tried to explain why he had done nothing wrong by keeping thousands of presidential records, including more than 300 marked as classified, when he left office in January 2021. "I had the absolute right to do whatever I want with them," he declared. Under the Presidential Records Act, Trump claimed, he had complete discretion to decide which documents belonged in the National Archives and which he could retain as his personal property.
That argument is not only inconsistent with the plain text of the statute; it is highly implausible in light of the motivation for the law, which, as Trump himself contradictorily noted, was a response to Richard Nixon's similar assertion of control over presidential records. Yesterday the Justice Department unveiled a superseding indictment of Trump that suggests he ignored another lesson he could have learned from Nixon: It's not the crime; it's the cover-up.
The original indictment, dated June 8, made a strong case that Trump willfully obstructed efforts to recover the records he took. In particular, it presented evidence that he deliberately defied a May 2022 federal subpoena demanding that he turn over every document with classification markings that he still had at Mar-a-Lago.
The evidence of Trump's defiance includes notes taken by one of his lawyers, Evan Corcoran, indicating that Trump suggested they should conceal documents covered by the subpoena. It also includes Trump's instructions to one of his aides, Walt Nauta, who removed more than 30 boxes of records from the Mar-a-Lago storage room that Corcoran planned to search in response to the subpoena. And it includes a sworn statement from Trump's lawyers, allegedly based on information he gave them, assuring the Justice Department that he had turned over all the records demanded by the subpoena. That was not true, as the FBI confirmed when it searched Mar-a-Lago on August 8.
The first indictment included charges against Nauta for participating in the alleged conspiracy to conceal classified documents. The superseding indictment adds a new wrinkle, alleging an attempted cover-up of the cover-up.
The indictment names a new defendant, Mar-a-Lago property manager Carlos De Oliveira, who reportedly told another Trump employee, I.T. specialist Yuscil Taveras, that "the boss" wanted to delete surveillance camera video that would show Nauta and De Oliveira moving boxes out of the storage room. According to the indictment, Taveras responded that he did not know how to erase the footage and, in any case, did not think he had the authority to do so. He suggested that De Oliveira contact The Trump Organization's director of security. De Oliveira reiterated that "the boss" wanted the video deleted and asked, "What are we going to do?"
That conversation allegedly happened on June 27, 2022, five days after the Justice Department emailed the Trump Organization's lawyer a draft of a grand jury subpoena seeking "any and all surveillance records, videos, images, photographs and/or CCTV from internal cameras" recorded since January 10, 2022, at various Mar-a-Lago locations, including the area of the storage room. The indictment notes that Trump called De Oliveira the day after that email and spoke to him for 24 minutes. That conversation, the indictment implies, was the source of the evidence-concealing instruction that De Oliveira tried to carry out.
In the end, the footage was not deleted, which is why the Justice Department was able to obtain much of the evidence cited in the indictment via the subpoena, which arrived in its final form on June 24, 2022. But the alleged attempt to destroy that evidence is the basis for two of the new counts in the superseding indictment.
Count 40 says Trump, Nauta, and De Oliveira "did knowingly [and] corruptly persuade and attempt to persuade another person, with intent to cause and induce [that] person to alter, destroy, mutilate, and conceal an object with intent to impair the object's integrity and availability for use in an official proceeding." That happened, the indictment says, when the three men asked Taveras to "delete security camera footage at the Mar-a-Lago Club to prevent the footage from being provided to a federal grand jury." Based on the same conduct, Count 41 says Trump et al. attempted to destroy the video, a distinct offense that does not necessarily involve persuasion of another person.
Those alleged crimes are felonies punishable by up to 20 years in prison. So are the three other obstruction charges against Trump, which involve his attempts to hide classified documents.
Trump also is charged with 32 counts of willfully retaining "national defense information," each of which corresponds to a specific document he kept. Each of those counts is punishable by up to 10 years in prison.
Those charges include a new count based on a top-secret document concerning potential military action against Iran that Trump allegedly waved around during a July 2021 meeting at his golf resort in Bedminster, New Jersey, with researchers working on former White House Chief of Staff Mark Meadows' memoir. In a recording of that conversation, Trump says, "I have a big pile of papers, [and] this thing just came up. Look." He describes the document as "highly confidential" and "secret information," adding that "as president, I could have declassified it," but "now I can't," so "this is still a secret."
In a Fox News interview with Bret Baier last month, Trump put an implausible spin on that episode. Contrary to what he said at the time, he claimed that he never actually held up a classified document. "There was no document," he said. "That was a massive amount of papers and everything else talking about Iran and other things. And it may have been held up or may not, but that was not a document. I didn't have a document per se. There was nothing to declassify. These were newspaper stories, magazine stories, and articles."
According to the indictment, however, the Justice Department has identified the document in question, which it describes as a "presentation concerning military activity in a foreign country." Trump retained the document, it says, from January 20, 2021, until January 17, 2022, the day that he surrendered 15 boxes of records to the National Archives.
Still, proving that Trump willfully retained national defense information requires more than showing that he kept classified material. It requires persuading a jury that Trump had "reason to believe" that the documents "could be used to the injury of the United States or to the advantage of any foreign nation." While that seems plausible based on the indictment's cursory descriptions of the documents, it remains unclear to what extent Trump's actions actually endangered national security, especially given the widely acknowledged problem of overclassification. Convicting Trump will require more evidence about the contents of the documents, which will lead to much wrangling over how much classified information can be safely divulged to the jury.
The obstruction charges, by contrast, do not hinge on the nature of the records that Trump kept. If the prosecution can show that Trump deliberately hid the documents, deliberately defied one federal subpoena, and deliberately tried to frustrate another, that would amount to obstruction, regardless of how sensitive the material was.
To rebut those allegations, Trump's lawyers will have to argue that he had no criminal intent when he talked to Corcoran, when he had boxes of documents moved in and out of the storage room, or when he gave whatever information Corcoran relied on when he concluded that his "diligent search" had discovered all of the remaining classified records. They may also question whether De Oliveira was acting on explicit instructions from Trump when he tried to delete the surveillance footage, as opposed to drawing a mistaken inference about what "the boss" wanted.
Depending on the contrary testimony or other evidence they can muster to poke holes in the government's story, Trump's lawyers may be able to create reasonable doubt as to whether there could be innocent explanations for the seemingly obstructive conduct described in the indictment. But based on what we know now, the obstruction charges seem like the most serious threat to Trump's continued freedom.