Indictment: Trump Told Staff To Delete Footage of Boxes Being Hidden
Plus: Abortion will be on the ballot in Ohio, CANSEE Act "would continue the erosion of financial privacy," and more...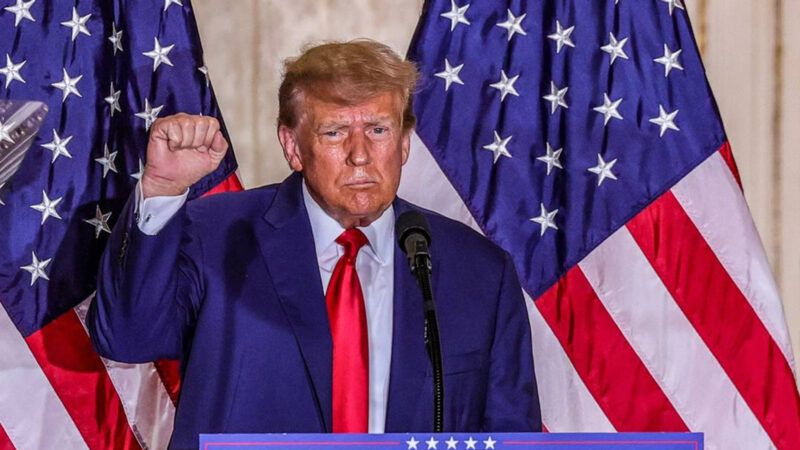 (PEDRO PORTAL/TNS/Newscom)
Trump and staffers allegedly requested that security camera footage showing moving of boxes be deleted. Federal prosecutors have brought additional charges against former President Donald Trump in the case involving his alleged mishandling and hiding of classified documents retained from his time in office.
These charges come on top of the 37 federal felony charges levied against Trump in June, when he was charged with conspiracy to obstruct justice, willful retention of national defense information (in violation of the Espionage Act), and concealing documents from investigators and a grand jury.
In the updated indictment, special counsel Jack Smith tacked on an additional count related to national defense information and two additional counts related to obstruction.
According to the new allegations, Mar-a-Lago maintenance worker Carlos De Oliveira and Trump aide Walt Nauta tried to delete Mar-a-Lago security camera footage after the Justice Department subpoenaed it—and this was done at Trump's behest. De Oliveira allegedly told Mar-a-Lago's I.T. director that "the boss" wanted it deleted.
De Oliveira now faces a charge of lying to investigators and of "altering, destroying, mutilating, or concealing an object." Nauta—who was indicted on six counts in June, and has pleaded not guilty—and Trump also face the latter charge.
Trump, De Oliveira, and Nauta also face a new charge of "corruptly altering, destroying, mutilating, or concealing a document, record, or other object" with "the intent to impair the object's integrity and availability for use in an official proceeding."
"Trump, Nauta, and De Oliveira requested that Trump Employee 4 delete security camera footage at The Mar-a-Lago Club to prevent the footage from being provided to a federal grand jury," the new indictment claims.
In May 2022, Trump received a grand jury subpoena saying he must return all documents with classified markings."Twelve days later, Trump met with two of his lawyers to discuss the subpoena," Reason's Jacob Sullum explained after the initial indictment in June:
According to the indictment, notes taken by one of those lawyers, Evan Corcoran, indicate that Trump was inclined to defy the subpoena. In "sum and substance," the indictment says, he made comments like these:

"I don't want anybody looking through my boxes. I really don't. I don't want you looking through my boxes."…

"Isn't it better if there are no documents?"

Trump nevertheless agreed to let Corcoran look through the boxes in the Mar-a-Lago storage room on June 2. In the meantime, according to the indictment, Trump aide Walt Nauta, under his boss's direction, moved "approximately 64 boxes" from the storage room to Trump's residence at Mar-a-Lago. As of June 2, Nauta (who also was charged in last week's indictment) had returned "only approximately 30 boxes" to the storage room.
Some of this was caught on Mar-a-Lago surveillance camera footage, which prosecutors requested to see.
Not long after that request, De Oliveira and Trump spoke on the phone for 24 minutes, according to the revised indictment. Two days after that call, De Oliveira and Nauta "went to the security guard booth where surveillance video is displayed on monitors, walked with a flashlight through the tunnel where the storage room was located, and observed and pointed out surveillance cameras," it says.
Several days after that, De Oliveira allegedly had a private conversation with Yuscil Taveras (a.k.a. "Trump Employee 4"), who oversaw Mar-a-Lago security camera footage, in which he told Taveras that "the boss" wanted the computer server containing the footage of the boxes being moved to be deleted. Taveras allegedly replied that he didn't know how to do that and didn't think he was allowed to, either.
"The updated indictment was released on the same day that Mr. Trump's lawyers met in Washington with prosecutors in the office of the special counsel, Jack Smith, to discuss a so-called target letter that Mr. Trump received this month suggesting that he might soon face an indictment in a case related to his efforts to overturn the results of the 2020 election," notes The New York Times. Trump "is also being scrutinized for possible election interference by the district attorney's office in Fulton County, Ga."
---
FREE MINDS
Abortion will be on the ballot in Ohio. Ohio activists have officially collected enough signatures to get a constitutional amendment protecting reproductive freedom on the November ballot, state officials announced earlier this week. If passed, the measure would amend the Ohio Constitution to say that it protects "a fundamental right to reproductive freedom" with "reasonable limits."
The measure will either need a simple majority or 60 percent of voter support to pass, depending on the outcome of an August 8 election on Ohio Issue 1. Pushed by Republicans, Issue 1 would change the threshold needed to amend the Ohio Constitution from a simple majority to 60 percent, among other changes.
"Secretary of State Frank LaRose determined Tuesday that Ohioans United for Reproductive Rights submitted nearly 496,000 valid signatures, comfortably enough to put the amendment before voters on Nov. 7," reports the Associated Press. "The coalition had submitted more than 700,000 signatures."
Ohio is set to be the seventh state to vote on abortion issues. Kansas put the matter to voters last summer, and it was on November 2022 ballots in California, Kentucky, Michigan, Montana, and Vermont.
---
FREE MARKETS
CANSEE Act "would continue the erosion of financial privacy" in the United States. Nicholas Anthony, a policy analyst at the Cato Institute's Center for Monetary and Financial Alternatives, looks at the Crypto Asset National Security Enhancement (CANSEE) Act, a bill targeting cryptocurrency that was introduced in the Senate earlier this month. "The bill broadly defines terms to create sweeping surveillance, potentially violates the First Amendment, and gives the Treasury the authority to effectively prohibit cryptocurrency use in the United States," Anthony writes:
The bill begins by recognizing that the decentralized nature of cryptocurrency poses an interesting challenge for lawmakers seeking broad surveillance. For in the absence of a third‐​party intermediary, officials cannot invoke the third‐​party doctrine as an end run around the Fourth Amendment. Unfortunately, however, the senators respond to this challenge by simply defining the term "control" as broadly as possible to essentially create third parties where they do not exist.

The term "control", with respect to a digital asset protocol, includes the power, directly or indirectly, to direct a change in the computer code or other terms governing the operation of the protocol, as determined by the Secretary of the Treasury. Such power may be exercised through ownership of governance tokens, administrator privileges, ability to alter or upgrade computer code, or otherwise. [Emphasis added.]

Jerry Brito, executive director of Coin Center, described the problem well shortly after the bill's introduction when he explained that "The bill gives virtually unbounded discretion to the Treasury Secretary to decide what it would take to designate one as having "control" of a protocol. … Indeed, the Senators' deference to the executive branch is breathtaking, allowing the Secretary to define the scope of their power without any public process whatsoever."

It gets worse.
More here.
---
QUICK HITS
• "A federal judge blocked a new Mississippi law that would set criminal penalties for some people who help others with absentee voting," reports the A.P. U.S. District Judge Henry Wingate said Mississippi can't enforce the law during this year's elections, as it violates the federal Voting Rights Act.
• "In May, Mastodon server Kolektiva.social was compromised when one of the server's admins had their home raided by the FBI for unrelated charges" and "all of their electronics, including a backup of the instance database, were seized," write Cindy Cohn and Rory Mir at the Electronic Frontier Foundation. "This overbroad police 'seize it all' approach from the cops must change."
• Stanford University's Danielle V. Handel and Eric A. Hanushek looked at the impact of school spending on student educational outcomes, including test stores. "The 16 studies connecting spending and test scores in the United States have a median effect size of 0.07 standard deviations per 10 percent increase in funding (where a positive standard deviation [SD] means improved test scores), but the study estimates range from −0.244 SD to +0.543," note Handel and Hanushek in a policy brief for the Cato Institute. "Seven of these studies suggest an effect indistinguishable from zero."
• Italian Prime Minister Giorgia Meloni has transformed the public perception of herself from far-right menace to "reliable Western partner" and "valued member of the international community," notes David Broder at The New York Times. Yet "Meloni's administration has spent its first months accusing minorities of undermining the triad of God, nation and family, with dire practical consequences for migrants, nongovernmental organizations and same-sex parents. Efforts to weaken anti-torture legislation, stack the public broadcaster with loyalists and rewrite Italy's postwar constitution to increase executive power are similarly troubling."