A SWAT Team Destroyed an Innocent Man's Shop. Then the City Left Him With the Bill.
Carlos Pena's livelihood has been crippled. It remains to be seen if he'll have any right to compensation.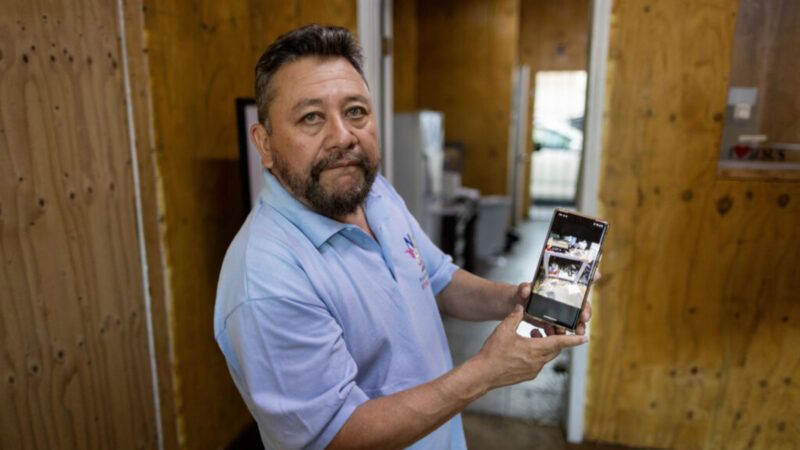 It took Carlos Pena decades to build his local business after immigrating to North Hollywood, California, from El Salvador. It only took a few hours to destroy it.
While Pena is the one who created NoHo Printing & Graphics, where he fashioned commercial signs and banners, T-shirts, headshots, and other products, he is not the one who did the damage, despite the fact that he has been left with the bill and without a livelihood.
In early August of last year, after a fugitive violently thrust Pena from his shop and barricaded himself inside, a SWAT team from the City of Los Angeles fired more than 30 rounds of tear gas canisters over the course of 13 hours. When the government entered the building, the officers found their target had escaped. Left inside was a shop that was a shell of itself, with Pena's inventory ruined and the bulk of his equipment unusable.
Pena didn't fault the city for attempting to subdue an allegedly dangerous person. But he objected to what came next: The government refused his requests for compensation, strapping him with expenses that exceed $60,000 and a situation that has cost him tens of thousands of dollars in revenue, as he has been resigned to working at a much-reduced capacity out of his garage, according to a lawsuit he filed this month in the U.S. District Court for the Central District of California.
"Apprehending a dangerous fugitive is in the public interest," the suit notes. "The cost of apprehending such fugitives should be borne by the public, and not by an unlucky and entirely innocent property owner."
Pena is not the first such property owner to see his life destroyed and be left picking up the pieces. Insurance policies often have disclaimers that they do not cover damage caused by the government. But governments sometimes refuse to pay for such repairs, buttressed by jurisprudence from various federal courts which have ruled that actions taken under "police powers" are not subject to the Takings Clause of the Fifth Amendment.
That's what happened to the Lech family in Greenwood Village, Colorado, after cops destroyed their residence while in pursuit of a suspected shoplifter, unrelated to the family, who forced himself inside their house. The $580,000 home was rendered unlivable and had to be demolished; the government gave them a cool $5,000.
But Leo Lech's claim made no headway in federal court. "The defendants' law-enforcement actions fell within the scope of the police power," the U.S. Court of Appeals for the 10th Circuit ruled, "and actions taken pursuant to the police power do not constitute takings." Lech was fortunate enough to get $345,000 from his insurance, which, between the loss of the home, the cost of rebuilding, and the government's refusal to contribute significantly, left him $390,000 in the hole. In June 2020, the Supreme Court declined to hear the case.
In a similar position was Vicki Baker, whose home in McKinney, Texas, was ravaged in 2020 after a SWAT team drove a BearCat armored vehicle through her front door, used explosives on the entrance to the garage, smashed the windows, and filled the home with tear gas to coax out a kidnapper who'd entered the home. As in Pena's case, Baker never disputed that the police had a vested interest in trying to keep the community safe. But she struggled to understand why they left her holding the bag financially as she had to  confront a dilapidated home, a slew of ruined personal belongings, and a dog that went deaf and blind in the mayhem. 
"I've lost everything," Baker, who is in her late 70s, told me in March 2021. "I've lost my chance to sell my house. I've lost my chance to retire without fear of how I'm going to make my regular bills."
In November 2021, against the city's protestations, a federal judge allowed her case to proceed. And in June of last year, a jury finally awarded her $59,656.59, although the court's rulings did not create a precedent in favor of future victims.
The police-power shield invoked by some courts is a historical "misunderstanding," says Jeffrey Redfern, an attorney at the Institute for Justice, the public interest law firm representing Pena in his suit. Judges have recently held that so long as the overall action taken by the government was justifiable—trying to capture a fugitive, for example—then the victim is not entitled to compensation under the Fifth Amendment. "Takings are not supposed to be at all about whether or not the government was acting wrongfully," he says. "It can be acting for the absolute best reasons in the world. It's just about who should bear these public burdens. Is it some unlucky individual, or is it society as a whole?"