Getting Cozy With the Too Online 'New Right' Hasn't Worked Out for DeSantis
After firing the staffer blamed for a video that borrowed Nazi imagery, is Ron DeSantis finally backing away from the authoritarian edgelords?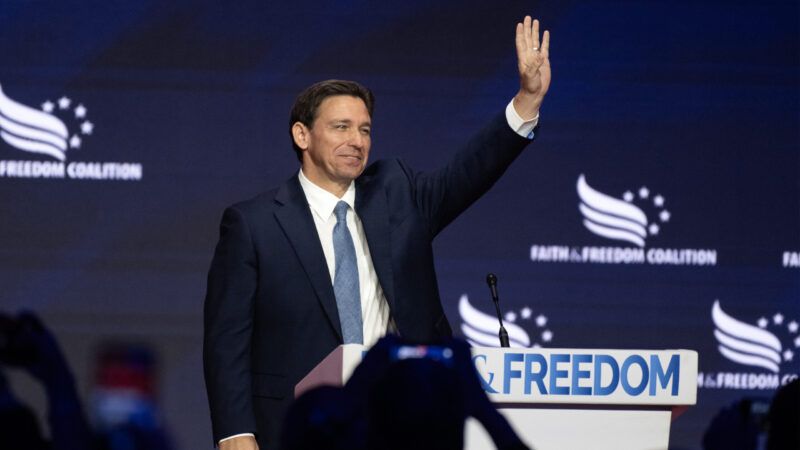 When Florida Gov. Ron DeSantis hired 25-year-old Nate Hochman to be a campaign speechwriter in March, it sent an unambiguous message about the direction of the governor's presidential bid.
Among the cadre of young culture warriors within the so-called "New Right," Hochman had already distinguished himself as someone to watch—and not always in the right ways. While collecting bylines at National Review and The New York Times, Hochman had also cozied up to Nick Fuentes, a well-known white nationalist, and pushed for a more illiberal conservative movement. Republicans can no longer afford to support "value-neutral liberty," he told the right-wing publication American Moment in 2022, and must instead "assert a positive vision of the good" that would require the conservative movement to "cohere around the culture war as its organizing, totalizing force."
By bringing Hochman onto his campaign, then, DeSantis was sending a bi-directional message. It was yet another nod to the New Right that DeSantis was taking seriously their views about the role of government as a force to be deployed in the culture war. And it was an indication that DeSantis believed embracing that faction, warts and all, was part of the path to winning the Republican nomination and ultimately the presidency.
In the four months since then, things haven't gone as planned for DeSantis—although he's gotten exactly what he bargained for.
Let's start with the polls. DeSantis stood at nearly 30 percent in the Real Clear Politics polling average in mid-March, about a dozen points behind Trump. Today, the Republican governor is at a polling average of 18 percent, a staggering 34 points behind Trump.
Polls, especially at this stage of the campaign, are only so useful. Still, that monthslong swoon nicely contextualizes how DeSantis seems to have alienated himself by rushing to embrace the right wing's too-online fringe.
The most recent misstep was a video containing Nazi and fascist imagery distributed last week on Twitter by an account loosely affiliated with the DeSantis campaign—and immediately retweeted by Hochman. That came on the heels of a controversy created by another video, also reportedly made by the DeSantis campaign, that criticized Trump for his tolerant views toward gay and transgender people—and that implied DeSantis would roll back rights for those groups. Amid those acute moments, there's been a steady drip of reporting suggesting that the DeSantis campaign's fixation on the culture war was alienating key Republican donors and more moderate voters.
Those issues all extend beyond Hochman, of course, but the prominent young staffer was a symbol of the campaign's willingness to engage with the edgelordy politics of the far right. Indeed, just hours after Semafor reported Tuesday that Hochman (along with more than 30 others) had been fired from the DeSantis campaign as part of a "reset" in strategy, Axios reported that Hochman created the recent video containing Nazi symbolism.
In the same way that bringing Hochman aboard might have been seen as an indication of what type of candidate DeSantis hoped to be, Hochman's departure serves as a tidy illustration of what's clearly not working for the DeSantis camp. In both instances, the important story isn't the hiring or firing of Hochman personally, but rather what that specific staffing decision says about DeSantis' relationship with the nationalist New Right movement—a relationship that seems to be costing DeSantis more than it is helping him.
In fairness, not all of DeSantis' campaign struggles can be tied to Hochman and the wider New Right. The conservative movement as a whole is largely animated these days by grievance politics, and no one traffics in grievance politics better than Trump.
Still, it's worth it for DeSantis to try a reboot. There remains ample time before the first votes are cast and there's still no one else better positioned to make a run at Trump. Rather than trying to outflank Trump to the GOP's relatively small authoritarian-curious fringe with Nazi memes, DeSantis should try making a principled case to the party's many Trump-skeptical members. Doing so will require reminding Republican primary voters of Trump's obvious liabilities in a general election—and the former president's tolerant views toward gay Americans aren't anywhere near the top of that list.
Regardless of whether DeSantis successfully pivots his campaign, the past few months stand as a useful lesson about the relative political power of the New Right. Both those within the movement and those covering it often refer to the fractious illiberal conservatives as "populists"—but that might be too flattering of a description. DeSantis leaned hard into the reactionary politics and online culture-warring that defines the moment and now finds himself more distant from the White House than he was a few months ago. The movement's biggest stars lost or underperformed relative to more mainstream Republicans in last year's midterms as well. Building a winning national campaign requires a different set of skills, it turns out, than earning likes and retweets within the fetid swamps of right-wing Twitter.
It might be time for DeSantis—and conservatives in general—to heed another unambiguous message: The New Right isn't all that popular, after all.