NYC Agrees To Pay $13 Million to Activists Arrested in 2020 Racial Justice Protests
Plus: Twitter subpoenas Elizabeth Warren's communications with the SEC, mortgage rates are starting to fall, and more...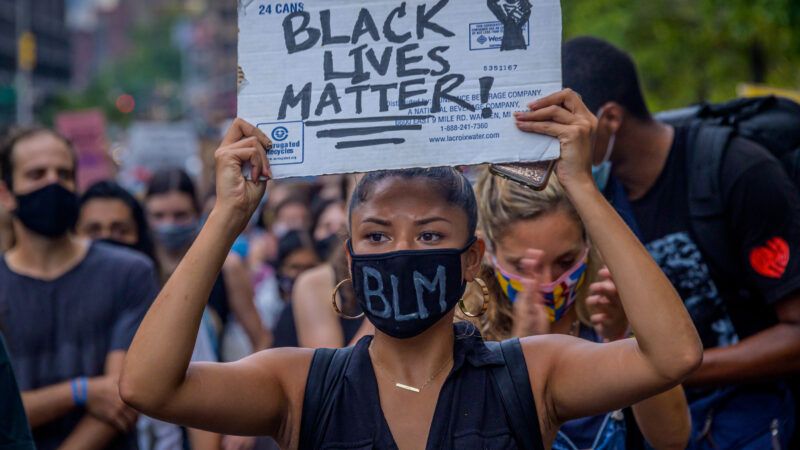 (Erik McGregor/Sipa USA/Newscom)
New York City has reached another record-setting settlement with people arrested in summer 2020 racial justice protests. The city has agreed to pay $13 million collectively to people arrested during 18 protests in Brooklyn and Manhattan—an agreement that amounts to nearly $10,000 per person arrested.
The settlement doesn't address the "harmful realities we were protesting in 2020," said plaintiff Savitri Durkee. "What it does do is affirm our constitutional right to protest that injustice, and protest we must. I'm going to spend the next few months making sure this settlement reaches every single activist in the class and I'm going right back in the street - and the First Amendment is my permit."
Neither the city nor the New York City Police Department (NYPD) has admitted to wrongdoing in conjunction with the settlement, which comes as part of a federal class action lawsuit (Sow, et al. v. City of New York, et al.).
But the plaintiffs say the payout vindicates their assertion that police violated protesters' constitutional rights.
"Although the city does not admit liability in this settlement, the size of this monetary settlement, coupled with the earlier settlement about Mott Haven, strongly suggests otherwise," said lead plaintiff Adama Sow.
Lawyers with the National Lawyers Guild's New York City branch filed the case in 2021 "on behalf of the thousands of people who participated in racial justice protests across New York City in the summer of 2020, following the police murder of George Floyd," per the lawyers' statement. They used police body cam and helicopter surveillance footage to help prove their claims, paying special attention "to specific types of misconduct including improper baton strikes, improper use of pepper spray, improper use of force, improper arrests and the use of a tactic called kettling where protesters are corralled into tight spaces before being arrested."
As part of the settlement submitted this week for Judge Colleen M. McMahon's approval, the city will pay $9,950 each to around 1,380 protesters arrested by the NYPD at 18 protests that took place between May 28 and June 4, 2020. People arrested for certain offenses, like assaulting police, are not part of the settlement.

Additionally, the city will pay the plaintiffs' attorney fees, which could amount to millions of dollars more.
"This will be the largest amount paid to protesters in a class action in this nation's history," according to attorneys on the case.
"The payout agreement follows a record-setting settlement earlier this year for hundreds of people who attended another 2020 protest in the Mott Haven neighborhood of the Bronx," notes Gothamist. "In that case, the city agreed to pay $21,500 to each eligible protester, for a total of about $6 million."
---
FREE MINDS
Twitter subpoenas Elizabeth Warren's communications with federal agencies. After Massachusetts Democratic Sen. Elizabeth Warren asked the Securities and Exchange Commission (SEC) to investigate potential conflicts of interest in Elon Musk heading up both Twitter and Tesla, Twitter has filed a subpoena seeking Warren's communications with the SEC and the Federal Trade Commission (FTC). "The subpoena, filed Thursday, requests all communications and documents between Warren, the SEC and the FTC that relate to the senator's letter, X. Corp. — which is Twitter's corporate name — and its owner, Elon Musk, in the months since he purchased the social media platform Oct. 27, 2022," reports The Hill.
---
FREE MARKETS
Inflation is ever-so-gently starting to fall and bringing mortgage interest rates along with it. "The 30-year fixed-rate mortgage averaged 6.78% in the week ending July 20, down from 6.96% the week before," reports CNN Business, citing new Freddie Mac data. At this time last year, however, the rate was just 5.54 percent.
"Mortgage rates have been over 5% for all but one week during the past year and even went as high as 7.08%, last reached in November," notes CNN. "Rates had been cooling off and sat under 6.5% for most of the spring. But in May, rates began to move higher as uncertainty around the debt ceiling standoff grew and interest rates remained elevated as economic data showed inflation was stickier than anticipated."
The Freddie Mac data come from a survey of mortgage applications from lenders around the country. But they only include rates for borrowers with excellent credit who put at least 20 percent down, meaning mortgage rates for many borrowers will still be much higher on average.
Meanwhile, a lack of housing supply continues to drive a drop in home sales.
---
QUICK HITS
• Connecticut state troopers wrote tens of thousands of fake traffic tickets. "A recent audit found nearly 26,000 fake tickets," reports WSFB, noting that "troopers who appear productive are often eligible for federally funded overtime."
• "Compounds in espresso can inhibit tau protein aggregation, a process implicated in the development of Alzheimer's disease," the American Chemical Society says.
• Progressives and populist Republicans are coming for your credit card rewards.
• "Alabama executed a man on Friday for the 2001 beating death of a woman as the state resumed lethal injections after two failed executions prompted the state to conduct an internal review," reports NPR.
• Kurt Loder reviews Barbie.
• Daniel W. Drezner waxes "poetic about the opulent pleasures of the North American supermarket."