1 Year After Chesa Boudin's Recall, Is San Francisco Safer Under His Successor's More Punitive Policies?
Brooke Jenkins took office one year ago this week promising more prosecution for drug and property crime offenders. Crime and overdoses still went up.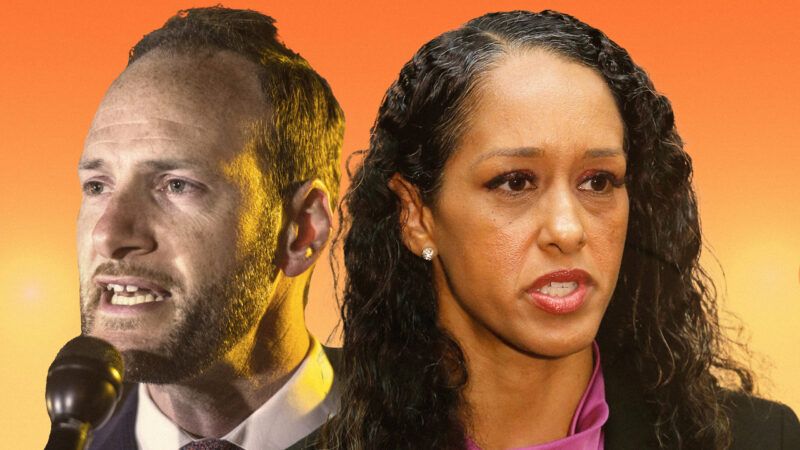 (Illustration: Lex Villena; David G. McIntyre/ZUMAPRESS/Newscom, TERRY SCHMITT/UPI/Newscom)
Last summer, San Franciscans voted by a 10-point margin to recall Chesa Boudin, the city's progressive district attorney. Boudin was one of several high-profile progressives who ran in local district attorney races on a platform of smarter, more humane criminal justice policy. Crime continued to plague San Francisco after Boudin's election, and his recall looked like a major setback for criminal justice reform in urban areas.
His successor, Brooke Jenkins, assumed office one year ago this month after promising a return to more punitive prosecution. Is San Francisco any safer now than it was under Boudin?
From her first days in office, Jenkins pledged to serve as a contrast to her predecessor. She revoked plea agreements for drug offenses offered during Boudin's time in office and said she would more aggressively prosecute possession of illicit fentanyl, a potent synthetic opioid often mixed with other narcotics. She has touted increased arrests as necessary for "disrupting open-air drug markets."
However, over her first 11 months, violent crime rose, driven by a 12 percent increase in robberies and a 1.6 percent increase in assaults. San Francisco is also on track to have its deadliest year ever in opioid overdoses.
According to The San Francisco Standard, Jenkins convicted fewer drug dealers in her first 11 months in office than Boudin did in his final 11 months, and reported drug offenses are up 41 percent during her tenure. Boudin also charged a higher percentage of drug cases brought to his office in 2021 than Jenkins has in 2023: 73 percent versus 68 percent, respectively.
The Standard article does note that in her first 11 months, compared to Boudin's final 11 months, Jenkins has filed more charges for drug offenses. And although Jenkins has secured fewer drug convictions than Boudin, she has secured more felony convictions for drug offenses.
Boudin ran for office promising to end "mass incarceration" and no longer seek cash bail or prosecute "quality-of-life crimes." His term began in January 2020 and recall efforts had begun by April 2021. Opponents cited rising crime rates in the city and a general sense that Boudin was not enforcing the law. The San Francisco Police Officers Association called Boudin a "criminal defense attorney masquerading as the DA."
During his two-year tenure, nearly half of the prosecutors in Boudin's office resigned or were fired. Jenkins quit in October 2021 and immediately joined the recall effort. In July 2022, one month after the recall, Mayor London Breed picked Jenkins as interim D.A., and she won a special election in November to serve out the remainder of Boudin's term.
Solving San Francisco's crime problem has proven as difficult for a tough-on-crime prosecutor as it did for a smart-on-crime prosecutor. That should come as no surprise: The U.S. has spent over a trillion dollars across more than five decades fighting the War on Drugs, and yet the drugs are still here. Data shows that harsher penalties, including longer prison terms, do not lead fewer people to use drugs.
"Everyone deserves to feel safe and we can't incarcerate our way out of a public health crisis. We encourage prosecutors to make incarceration a last resort and favor alternative solutions backed by evidence and research," Akhi Johnson, director of the Reshaping Prosecution initiative at the Vera Institute for Justice, a nonprofit that supports criminal justice reform, tells Reason in an emailed statement. "We have to move beyond tough on crime tactics that encourage people to believe that communities must choose between safety and reform to recognize that real safety will require approaches that reduce our reliance on incarceration."