Court Greenlights Microsoft Acquisition of Video Game Powerhouse Activision Blizzard
Plus: California social media law could backfire, Massachusetts may ban the sale of phone location data, and more...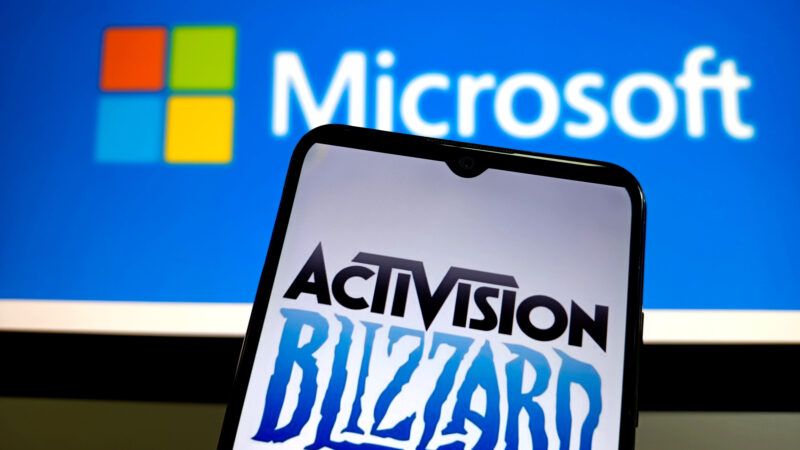 (Cfoto/ZUMAPRESS/Newscom)
A judge has rejected the FTC's attempt to block Microsoft's purchase of the Call of Duty company. In another blow to the Federal Trade Commission's (FTC) aggressive anti-merger policies, a federal court has denied the agency's request for it to halt Microsoft's acquisition of Activision Blizzard. The FTC sought a preliminary injunction against the $70 billion deal, which would have delayed it going forward while the FTC fought it in an internal court.
In a decision released yesterday, Judge Jacqueline Scott Corley of the U.S. District Court for the Northern District of California denied the FTC's request.
Corley's decision dashes the FTC's hopes of blocking Microsoft, which makes the gaming console Xbox, from buying Activision Blizzard, which makes the hit video game Call of Duty.
"The gist of the FTC's complaint is Call of Duty is so popular, and such an important supply for any video game platform, that the combined firm is probably going to foreclose it from its rivals for its own economic benefit to consumers' detriment," wrote Corley in her decision. But "the FTC has not shown it is likely to succeed on its assertion the combined firm will probably pull Call of Duty from Sony PlayStation, or that its ownership of Activision content will substantially lessen competition in the video game library subscription and cloud gaming markets."
On Friday, the FTC's temporary ban on the deal going forward will be lifted, unless the FTC gets an extension from an appeals court.
"The F.T.C. sued Microsoft in its administrative court last year, but that court does not have the legal authority to stop the deal from closing," notes The New York Times. "In June, the F.T.C. asked Judge Corley to take that step, saying it feared Microsoft was on the verge of completing the transaction despite the government's concerns."
The legal system worked:

A fair and neutral court has reached the correct conclusion about Activision Blizzard's merger with Microsoft based on facts and the law.

The judge's ruling rejects the FTC's ideologically-driven attempt to prevent a deal that benefits gamers and allows…

— Lulu Cheng Meservey (@lulumeservey) July 11, 2023
"We're grateful to the Court in San Francisco for this quick and thorough decision and hope other jurisdictions will continue working towards a timely resolution," said Brad Smith, vice chair and president of Microsoft, in a statement. "As we've demonstrated consistently throughout this process, we are committed to working creatively and collaboratively to address regulatory concerns."
The FTC's loss here is part of a larger losing streak in court, where judges haven't been terribly sympathetic to the Biden administration and FTC Chair Lina Khan's aggressive application of antitrust laws, particularly against tech companies. Earlier this year, a federal court declined to issue an FTC-requested injunction against Meta's purchase of the virtual reality fitness company Within Unlimited.
Courts have also rebuffed the FTC's attempt to declare Facebook an illegal monopoly in the realm of "personal social networking services" and thwarted Department of Justice attempts to stop U.S. Sugar's acquisition of Imperial Sugar and the merger of UnitedHealth Group and Change Healthcare.
"All these court losses are making their threats look more like a paper tiger," Adam Kovacevich, the chief executive of tech trade group Chamber of Progress, told the Times. Ashley Baker, a director of public policy for the think tank Committee for Justice, said the FTC had "crossed the line to being reckless with the cases they are bringing."
---
FREE MINDS
California's social media law could backfire. Chamber of Progress counsel Jess Miers details the problems with a dangerous bill before the California legislature. The measure (Senate Bill 680) is part of a wave of legislation aimed at childproofing the internet. And like so many others, it could have major unintended consequences.

SB 680 "broadly restricts Internet companies from using designs, algorithms, and features that could cause online 'addiction' for kids," explains Miers, who testified before California legislators yesterday in opposition to the bill. She continues:

The broad definition of addiction would discourage websites from hosting California youth users, cutting them off entirely from crucial resources, support, and information that teens regularly rely upon.

Further, because social media companies are not in the position to judge what types of content will trigger addiction in any individual youth user, the companies will steer clear of any designs, algorithms, or features intended to improve online experiences for teens.

For example, the bill prohibits the use of algorithms that amplify "self harm" content. Websites like Google rely heavily on algorithms to identify signs of self harm and automatically steer users to self help resources. SB 680 would prohibit this mechanism.
More here.
The California bill echoes some of the worst elements of a proposal before Congress called the Kids Online Safety Act (KOSA), which would create a "duty of care" standard for any "online platform that connects to the internet and that is used, or is reasonably likely to be used, by a minor." Under KOSA, tech companies would have to take steps to "prevent and mitigate" their services from provoking mental health problems, substance abuse, or other harmful behaviors in minors. KOSA's vague definitions could lead to a lot of positive or neutral content being suppressed, as I noted back in May:
Do "like" buttons encourage "addiction-like behaviors"? Do comments encourage bullying? Does allowing any information about weight loss make a platform liable when someone develops an eating disorder? What about allowing pictures of very thin people? Or providing filters that purportedly promote unrealistic beauty standards? How do we account for the fact that what might be triggering to one young person—a personal tale of overcoming suicidal ideation, for instance—might help another young person who is struggling with the same issue?

Courts could get bogged down with answering these complicated, contentious questions. And tech companies could face a lot of time and expense defending themselves against frivolous lawsuits—unless, of course, they decide to reject speech related to any controversial issue. In which case, KOSA might encourage banning content that could actually help young people.
---
FREE MARKETS
Massachusetts may ban the sale of phone location data, as part of a push joined by folks worried about government officials tracking their movements and "activists worried about the privacy of women seeking abortions," notes Reason's J.D. Tuccille. Under the new Massachusetts proposal, it would "be unlawful for a covered entity or service provider that lawfully collects and processes location information to…sell, rent, trade, or lease location information to third parties."
"The issue, actually, is less who sells the data than who buys it—often police or agencies of the security state," points out Tuccille:
Last month, Reason's Joe Lancaster wrote up a report from the Office of the Director of National Intelligence revealing that government agencies frequently evade Fourth Amendment protections by purchasing commercially available information about the public—including data on people's movements. While, under Carpenter v. United States (2017), law enforcement needs a warrant to get records from communications providers (our phones really are tracking beacons), no such requirement applies to information purchased from third–party vendors.

Various agencies have bought access to our whereabouts for years, giving them the ability to track movements during crimes, civil disturbances, and political protests. Following the protests and riots after the 2020 murder of George Floyd by a police officer, demonstrators were plotted and demographically categorized using data provided by the phones in their pockets. Shortly thereafter, "Google provided investigators with location data for more than 5,000 devices as part of the federal investigation into the attack on the US Capitol," Wired noted.

It's not just the feds. Last summer, the Electronic Frontier Foundation revealed that "dozens of state and local law enforcement agencies" purchase "often warrantless access to the precise and continuous geolocation of hundreds of millions of unsuspecting Americans, collected through their smartphone apps and then aggregated by shadowy data brokers."
The Massachusetts bill—which would explicitly require "any federal, state, or local government agency or official" to get a warrant before location information could be disclosed—could help hamper these practices.
But the Massachusetts measure may go too far in banning all location data sales:
"No state has gone so far as to completely ban the sale of location data on residents," observes The Wall Street Journal. "The most common approach in other states is to require digital services and data brokers to obtain clear consent from consumers to collect data and put some restrictions on transfer and sale." …

Arguably, choice is better than a one-size-fits-all dictate, which might result in higher costs if companies replace lost revenue streams by raising prices. While those of us especially troubled by snooping would be willing to pay more to preserve our privacy, others could prefer to exchange anonymity for lower bills or free phone apps. Different strokes for different folks is generally a good policy, but it's one not permitted by the Massachusetts proposal.
---
QUICK HITS
• China is "tottering on the brink of deflation," notes Axios. Will the U.S. benefit?
• Against old left-wing ideas rebranded as new right-wing ideas
• "Operation Underground Railroad has spent years making big, often unprovable claims about its paramilitary missions and role in rescuing trafficked kids," notes Vice. "Now, a new hit movie may help solidify the myth."
• A warning about U.S. debt from an unlikely place: The Atlantic. "The country's fiscal situation has changed dramatically, if quietly, in the past few years," writes Annie Lowrey.
• Iowa's House has passed a bill that would ban abortion a few weeks into pregnancy. "Senate File 579 prohibits physicians from providing most abortions after early cardiac activity can be detected in a fetus or embryo, commonly as early as six weeks into pregnancy," reports CNN. The bill—which now heads to the Senate—was passed "quickly in the special session ordered by GOP Gov. Kim Reynolds with the sole purpose of restricting the procedure in the state."
• The New York Times' Jane Coaston talks to Utah Gov. Spencer Cox, a Republican, about the state's new law banning teens from social media unless they get parental consent.
• Facebook is getting the Backpage treatment.