Momfluencer Sentenced to 90 Days in Jail Over False Kidnapping Report
"Nobody is abducting 1- and 4-year-old kids into sex trafficking," says the director of the Crimes Against Children Research Center.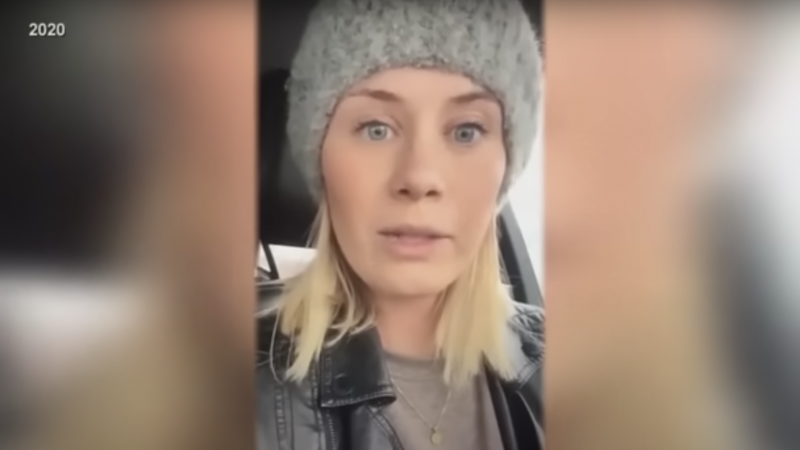 Katie Sorensen—the Petaluma, California, "momfluencer" who claimed her kids were the victims of an attempted abduction in a Michael's parking lot—has been sentenced to 90 days of jail time. The New York Times reports that 30 of those days must be served in the jail itself; the rest can be done in a work-release program.
It's fair to wonder whether locking up people (even briefly) who pose no danger to others is a good use of public resources; the U.S. has the unfortunate distinction of incarcerating a greater share of its population than any other nation in the world. This case was not entirely victimless, however: Sorensen identified a Latino couple, Sadie and Eddie Martinez, as the would-be kidnappers. They lived under that cloud of suspicion during the police investigation, and even now, they are "more hesitant when we leave the house," according to Elle.
Here's what happened. On December 7, 2020, Sorensen called the cops. She reported that she had been shopping at a craft shop with her kids, ages one and four, when a couple seemed to focus on them and followed her out to her car. She was certain the couple was going to snatch her kids.
The cops checked out the story and found it baseless. Sorensen then took to social media with a video that garnered millions of views.
Katie Sorensen says strangers tried to kidnap her kids outside the Petaluma @MichaelsStores after following them around inside. Her @instagram video (partial here) has hit 2M views. @petaluma_police investigating. She & @PollyDad speak out to @KTVU 5:15, 6:15, 7:30 p.m. pic.twitter.com/cG0wnm2JgQ

— Henry K. Lee (@henrykleeKTVU) December 15, 2020
"Monday of this week, my children were the attempted targets of attempted [kidnapping], which is such a weird thing to even vocalize," she said. "But it happened. And I want to share that story with you, in an effort to raise awareness of what signs to look for."
Sorensen raised so much awareness that the police reopened the investigation. This time, they reviewed surveillance camera footage, identifying a husband and wife—Sadie Vega-Martinez and Eddie Martinez—as suspects. The couple cooperated with the cops and once again, the kidnapping case was closed.
At that point, the authorities turned on Sorensen. She was tried on three counts of falsely reporting a crime and convicted on one of those charges.
According to The New York Times,
Sorensen was also sentenced to 12 months of informal probation. During this time, she was ordered to have no social media presence, to submit to warrantless search and seizure of her electronic devices and to complete a four-hour implicit bias training program, in addition to paying various fines and fees, the district attorney said.
Again, that's a steep punishment. Maybe instead of losing access to social media for a year, Sorensen could help spread awareness—even on TikTok—about the unlikeliness of such kidnappings, and help put fellow moms at ease.
"Nobody is abducting 1- and 4-year-old kids into sex trafficking," says David Finkelhor, director of the Crimes Against Children Research Center.
Now there's a message that needs to go viral.