Momfluencer Convicted of Falsely Reporting an Attempted Abduction of Her Kids
Her viral video received 4 million views—and the police's attention.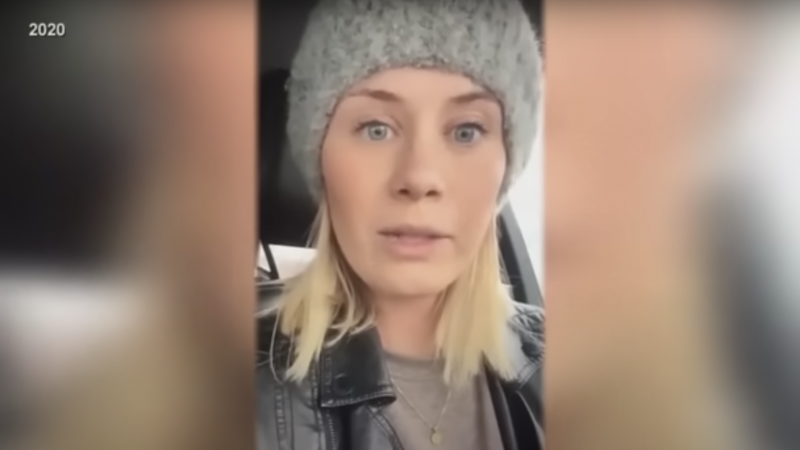 Katie Sorensen is a momfluencer—a specific kind of influencer who monetizes her identity as a mother and creates content about this for social media. But one recent piece of content has landed her on the wrong side of the law: She was recently convicted of falsely claiming that a couple had attempted to kidnap her children in the parking lot of a Michaels craft supply store.
Sorensen, 31, hails from Petaluma, California. On December 7, 2020, she had been out shopping when she noticed two people in the store looking at her two kids, ages 4 and 1. She then called the police to report an attempted child abduction; they investigated and found no basis for the claim, so Sorensen took to social media.
"My children were the targets of attempted kidnap," she announced in a two-part video on Instagram.
The video garnered more than 4 million views, leading to an interview with KTVU.  Sorensen claimed that the couple stood behind her in the checkout line even though they weren't buying anything. In the parking lot, they took two steps toward her, then two steps back.
"There is no other explanation as to why they were doing that besides they were just building the courage," she said.
Sorensen added so many new details during the video and the TV interview—including that the male had actually tried to grab her stroller—that the cops opened a new investigation one week after the incident.
This time, they had Sorensen review security camera footage, and she identified Sadie Vega-Martinez and her husband Eddie Martinez as the would-be perpetrators.
The Martinezes are parents of five. Eddie is a UPS delivery man, and Sadie makes balloon displays for birthday parties. They had come to Michaels to shop for a nativity scene.
But when the police posted a screenshot of them and it, too, went viral, one of the Martinez kids saw it on her phone and asked her parents: "Is this you?"
The police spoke to the Martinezes and found no evidence of an inclination toward kidnapping. But even so, the Martinezes spent the next two and a half years living under a cloud of suspicion.
"We were forever labeled child abusers," Sadie Vega-Martinez testified at the trial.
After deliberating for several hours, a jury found Sorensen guilty of one count of filing a false police report last month. She was led away in handcuffs and faces up to six months in jail, thus ending one breathless, false tale of narrowly averted child abduction.
Unfortunately, these stories grow like weeds on social media. At the height of this particular urban myth, around 2017, I kept a file of examples sent to me by readers. The details were often similar: Mom had a sense that someone was watching the kids; she couldn't explain why the stranger was so suspicious, but something felt off; the stranger would appear behind the mom in line at the counter; and there would be some sort of white van waiting outside. Social media users would flood these posts with congratulatory comments, celebrating the mom's uncanny ability to spot and evade the kidnappers.
In reality, the thing people are worried about—strangers kidnapping their young kids—almost never happens.
"Nobody is abducting 1- and 4-year-old kids into sex trafficking," says David Finkelhor of the Crimes Against Children Research Center.
When minors go missing, it's almost always because they ran away from home or they are involved in a custody dispute. The overwhelming majority of abductions are perpetrated by family members—not strangers at the mall, grocery store, or movies.
Wider awareness of these facts could help deflate viral stories like Sorensen's and save moms everywhere a whole lot of grief.