The Federal Case Against Trump Is 'Very Strong,' His Former Attorney General Says
By taking records that did not belong to him and refusing to return them, William Barr says, Trump "provoked this whole problem himself."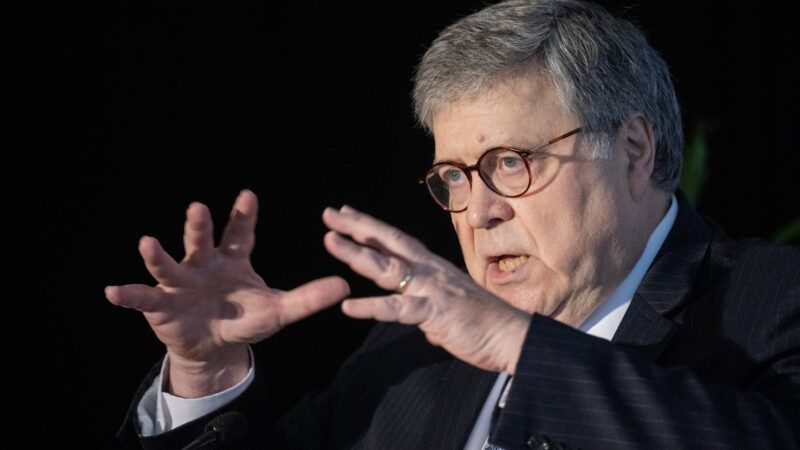 Donald Trump picked William Barr as his second attorney general largely because Barr had criticized Special Counsel Robert Mueller's investigation of alleged ties between Russia and the Trump campaign. Barr still agrees with Trump that the Russia probe was a "witch hunt."
The former attorney general takes a strikingly different view of the federal indictment against Trump that was unsealed this month, which Barr calls "very, very damning." In contrast with many other prominent Republicans, Barr says the outrage is not the indictment but the "reckless conduct" that prompted it.
Like Trump's claim that the 2020 presidential election was rigged, his retention of government records after he left the White House presents Republicans with a choice. They can risk the wrath of Trump's supporters by acknowledging reality, or they can play it safe by embracing his delusions.
Barr has rejected the latter course since December 1, 2020, when he said the Justice Department had not seen "anything to substantiate" Trump's story of systematically corrupted voting machines or any other evidence of "fraud on a scale that could have effected a different outcome in the election." Around that time, Barr later recalled, he repeatedly told Trump such claims were "bullshit."
Barr likewise has little patience for Trump's assertion that he had "the absolute right to do whatever I want" with the thousands of presidential records he took with him when he left office, which included more than 300 marked as classified. "He had no right to those documents," Barr said on Face the Nation this week. "He had no legal basis for keeping them."
Many Republican legislators have portrayed the criminal charges related to Trump's handling of those records as a politically motivated attack on Joe Biden's likely 2024 opponent. But as Barr noted, Trump "provoked this whole problem himself" by refusing to return the documents.
"The government tried for over a year, quietly and with respect, to get them back, which was essential that they do, and he jerked them around," Barr said. Trump remained recalcitrant even when he faced a federal subpoena seeking all the documents with classification markings stored at Mar-a-Lago.
"He didn't raise any legal arguments," Barr noted. Instead, according to the indictment, "he engaged in a course of deceitful conduct" aimed at hiding records covered by the subpoena. "If those allegations are true," Barr said, Trump's conduct was "outrageous" and "a clear crime."
Barr called the evidence supporting the charges against Trump, which include obstruction of justice and willful retention of national defense information, "very strong," noting that much of it "comes from his own lawyers." Trump lawyer Evan Corcoran's notes, for example, indicate that his client was inclined to defy the subpoena.
Consistent with that impression, Trump had boxes moved out of a Mar-a-Lago storage room before Corcoran could search them for relevant documents. Barr said he also believes Trump lied to the Justice Department by averring that he had fully complied with the subpoena—another crime listed in the indictment.
Trump has claimed every document he removed was "automatically declassified"—perhaps by a "standing order," perhaps just "by thinking about it," perhaps by the very act of removal. As Barr has previously noted, such claims are "highly improbable" and suggest a cavalier attitude toward national security. In any case, they are irrelevant under the statute dealing with national defense information, a category that can include unclassified material.
Trump also has argued that the Presidential Records Act gave him complete discretion to claim documents as his personal property. That legal theory is "absurd," Barr noted, because "the whole purpose of the statute" is to "stop presidents from taking official documents out of the White House."
Trump, whom Barr likened to "a defiant 9-year-old kid," bridled at the legal restrictions on his acquisitive impulses, insisting that no one had any business going through "my boxes." Barr is clearly correct when he observes that the case against Trump is "entirely of his own making."
© Copyright 2023 by Creators Syndicate Inc.