One Reason for New York's Pitiful Rollout of Legal Pot: License Preferences for Victims of Prohibition
More than two years after legalizing recreational use, the state has just a dozen licensed retailers.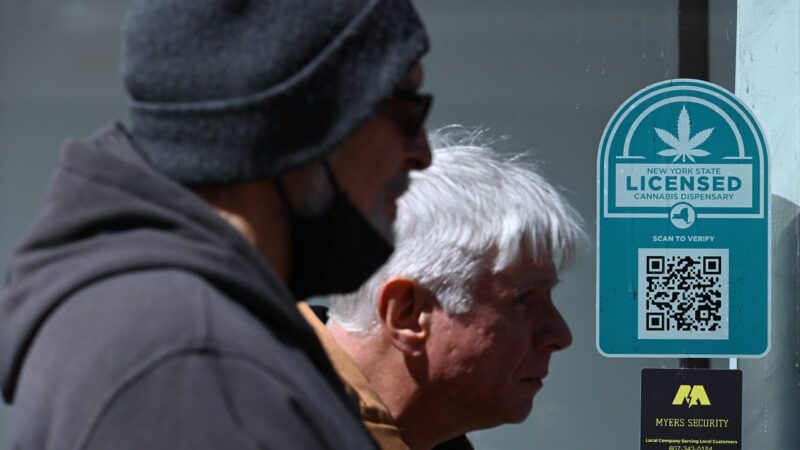 (Anthony Behar/Sipa USA/Newscom)
It has been more than two years since New York notionally legalized recreational marijuana, and things are not going quite as planned. "Although Gov. Kathy Hochul suggested last fall that more than 100 dispensaries would be operating by this summer," The New York Times notes, "just 12 have opened since regulators issued the first licenses in November."
Part of the problem, as you might expect, is red tape and bureaucratic ineptitude. But another barrier to letting licensed marijuana merchants compete with the unauthorized vendors who have conspicuously proliferated since the spring of 2021 is the state's affirmative action program for victims of pot prohibition.
New York, like several other states that have legalized marijuana, mandated preferences for license applicants who suffered as a result of the crusade against cannabis. While that idea has a pleasing symmetry, it never made much sense as a way of making up for the harm inflicted by cannabis criminalization. And in practice, executing the plan has drastically limited the legal marijuana supply, making it much harder to achieve the state's avowed goal of displacing the black market.
To be clear: I don't think people with marijuana convictions should be excluded from participating in the newly legal market, a policy that would add insult to injury. But that does not mean they should have a legal advantage over cannabis entrepreneurs who were never arrested but might be better qualified.
The state arguably does owe something to people who were punished for engaging in a business it has now decided to legalize. But why should reparations take the form of marijuana license preferences, as opposed to, say, direct financial compensation for legal costs and lost liberty? The method New York has chosen is limited to people who are currently interested in selling cannabis, which illogically excludes many others who were injured by enforcement of the state's marijuana laws.
New York reserved the first batch of up to 175 retail licenses mainly for people with marijuana-related criminal records or their relatives. Those applicants needed to show they had experience running a "profitable" legal business in the state. Nonprofit organizations with "a history of serving current or formerly incarcerated individuals" also were eligible, provided they had "at least five full time employees," "at least one justice involved board member," and a track record of operating "a social enterprise that had net assets or profit for at least two years." Another requirement was demonstrating "a significant presence in New York State," which led to litigation and a temporary injunction against issuing retail licenses in five areas of the state.
Satisfying the state's criteria required "a lot of documentation," Bloomberg CityLab reporter Amelia Pollard noted last fall, which gave New York's Office of Cannabis Management (OCM) "a mound of paperwork to wade through." As of November, the OCM had received more than 900 applications from would-be marijuana retailers. On November 20, it announced that it had granted 36 "provisional conditional adult-use retail dispensary licenses" to individuals and organizations.
The first licensed shop to open for business, owned by the nonprofit organization Housing Works, began operating in Manhattan on December 30, just barely in time to keep the OCM's oft-stated promise that legal recreational sales would start by the end of 2022. A month later, Hochul proudly announced the opening of the "first New York cannabis dispensary owned by a justice impacted individual": Roland Conner, who was convicted of selling pot as a teenager in the 1990s.
Hochul noted that Conner had "owned and operated property management businesses in New York City for fifteen years." She said he planned to launch his Greenwich Village store, Smacked!, with "a soft opening as a 'Pop-up' through February 20." According to the store's website, it is "temporarily closed while we get our new retail location ready for our grand re-opening." Although "we are unable to take orders right now, either online or in person," it says, "we'll be opening up again soon with home delivery as an option."
Those two outlets were later joined by 10 others. That's a dozen licensed retailers—seven in New York City, plus one each in Albany, Binghamton, Ithaca, Plattsburgh, and Schenectady—in a state with 20 million residents, about a fifth of whom are cannabis consumers.
New Yorkers are not yet allowed to grow marijuana at home, a step that legislators worried would make it harder for licensed merchants to attract customers. But not to worry: The approved retailers are far outnumbered by unauthorized vendors, many of whom openly sell marijuana from storefronts, trucks, and tables, unencumbered by the state's licensing requirements, regulations, and taxes. Yelp's list of the "best recreational marijuana dispensaries" in New York City includes 90 outlets, only a few of which are blessed by the OCM.
What happened? In theory, plenty of assistance is available to budding marijuana merchants under New York's "social and economic equity" initiatives. But many licensees say the state has been more of a hindrance than a help.
"In a letter to regulators and the governor's office last month, a coalition of dozens of the prospective dispensary operators described being blocked by the state from selecting their own storefront locations," the Times reports. "Some said that they felt pressured to accept inflated rents and construction costs, while others said that the state was withholding funding from those who wanted to lease space or handle matters on their own." While the licensees "said that they appreciated how the state's tight control over the program was meant to benefit them," they found that it was actually "holding them back."
Gahrey Ovalle, a Long Island businessman who signed the letter, said he and his brother, whose marijuana conviction qualified them for a retail license in April, sought advice from licensees who had started sooner and should have been further along in the process. Ovalle told the Times he was dismayed to learn those licensees were "in the same space as us," even though "we came along six months later," which was "very alarming."
Carson Grant, a Queens businessman who was one of the 36 initial licensees last November, said "officials have yet to answer his most basic questions—'How much is this going to cost me? Where is my loan agreement?'" He "was beginning to fear that licensees have been set up to fail." The experience "has been traumatic for all of us," Grant told the Times, because "there's no clear direction" and "no full transparency." Despite his business background, he complained, "I'm just not being treated like a business person who makes business decisions, which to me could lead to my failure, my family's failure."
The delays have created problems not only for aspiring retailers but also for growers and processors who made the mistake of believing the state's promises. As the Times notes, they are now "holding hundreds of millions of dollars in crops that are slowly deteriorating." Some "said they were facing the loss of their land and businesses."
In a concession of the state's abject failure to get the recreational marijuana industry off the ground, OCM's Cannabis Control Board "voted last month to allow the major cannabis firms behind the state's medical marijuana program to wade into the recreational market in December—two years ahead of time." That decision came "two months after some of the medical marijuana companies sued regulators to gain entry to the recreational market."
Expanding the market, the Times worries, "will put the smaller dispensaries run by people with past marijuana convictions, currently the only ones who can legally sell recreational marijuana, into direct competition with large companies that have all but shut out small players in other states." But if the state had not constrained the retail supply in the first place, the legal market would not be in such a pitiful state. "The New York authorities are almost promoting illegal cannabis," Curaleaf Executive Chairman Boris Jordan, who runs one of those "large companies," complained in February.
Another likely response to the disastrous rollout of recreational marijuana in New York is a crackdown on the unlicensed dealers who are serving a market that the state has deliberately prevented legal retailers from serving. That response seems more politically probable than a rollback of the licensing barriers, regulations, and taxes that have allowed the black market to continue thriving. But it will entail the same sort of injustices that New York sought to rectify with its misguided plan of preferences for selected victims of the war on weed.