No, Corporate Greed Didn't Cause the 2023 Egg Price Shock
A much more plausible explanation is the avian flu outbreak that devastated the poultry industry last year.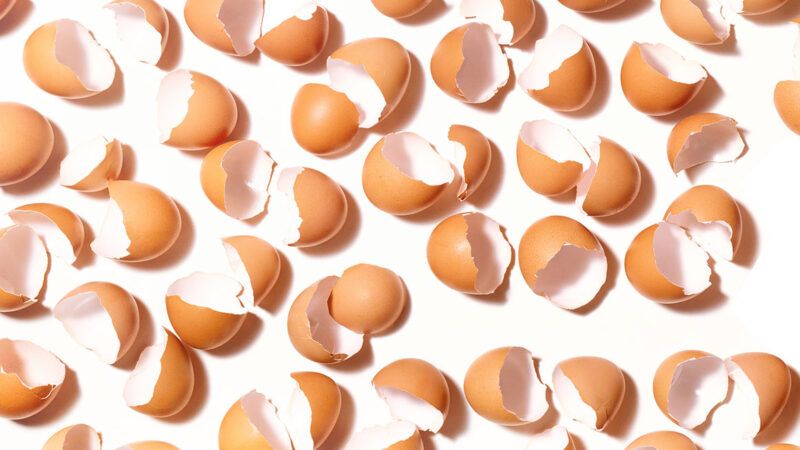 (Illustration: pacopole/iStock)
As inflation raised prices on all manner of goods throughout 2022, eggs earned special attention. According to the Federal Reserve Bank of St. Louis, the average price of a dozen eggs in urban areas rose from $1.92 in January 2022 to $4.82 in January 2023. Supply and demand explain the increase, but you wouldn't know that if you listened only to progressives.
Sen. Bernie Sanders (I–Vt.) and former Clinton administration Labor Secretary Robert Reich both blamed "corporate greed" for the price hikes. The anti-corporate advocacy group Farm Action claimed "the real culprit" was "a collusive scheme among industry leaders" to "extract egregious profits reaching as high as 40 percent." Sen. Elizabeth Warren (D–Mass.) and Rep. Katie Porter (D–Calif.) said the high prices "raise concerns about price gouging" by egg suppliers.
There was a more plausible explanation. An avian flu outbreak devastated the poultry industry throughout 2022. By the end of the year, according to the U.S. Department of Agriculture (USDA), there were 43 million fewer egg-laying hens than in February 2022. Egg inventories fell 29 percent from January to December. When demand outstrips supply, prices go up.
A similar outbreak in late 2014 affected more than 50 million birds. According to Fed data, egg prices rose from $1.96 a dozen in May 2015 to $2.96 in September 2015 before falling for more than a year afterward.
The 2022 outbreak, by contrast, persisted into 2023. At the same time, general inflation was unusually high: 6.5 percent in 2022, compared to 0.7 percent in 2015. "Like consumers," the American Feed Industry Association noted in January 2023, "feed manufacturers are feeling the effects of inflation on the economy and are paying increased rates for energy, shipping, labor and ingredients." So even as the number of hens dropped, the cost of feeding them rose.
The good news is that egg prices began falling after January's high. Average egg prices fell from $4.82 a dozen in January to $4.21 in February and $3.45 in March. The USDA predicted that, barring an avian flu resurgence, prices would continue to fall throughout the year.