The Durham Report Is Right About the Need for More FBI Oversight
The FBI's sloppy, secret search warrants should be a concern for all Americans.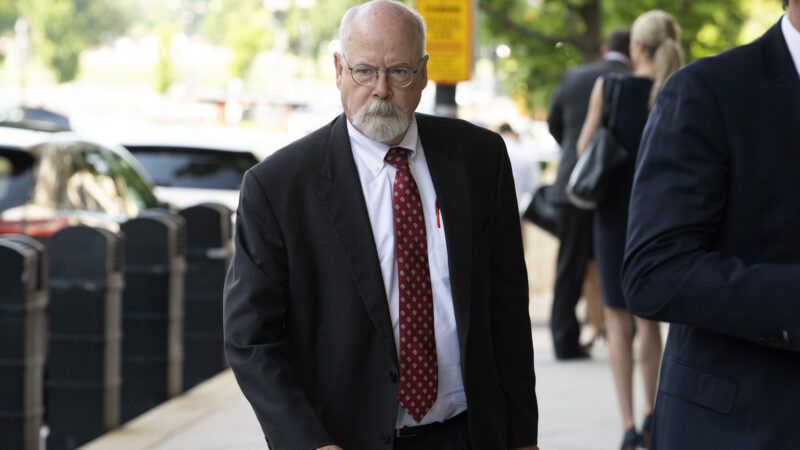 On Monday, Special Counsel John Durham released the conclusions of his three-year investigation into the FBI's surveillance of former President Donald Trump's 2016 campaign, arguing that the FBI used uncorroborated evidence to secure search warrants against a former Trump campaign aide and "displayed a serious lack of analytical rigor" toward information they received from partisan sources.
Durham's 316-page report found that the FBI failed to act with "appropriate objectivity or restraint in pursuing allegations of collusion or conspiracy between a U.S. political campaign and a foreign power" and that the agency "discounted or willfully ignored material information that did not support the narrative of a collusive relationship between Trump and Russia." 
Former Attorney General William Barr appointed Durham in 2020 to investigate whether any federal officials had violated the law in connection with the intelligence and law-enforcement activities directed at the 2016 presidential campaigns. On that score, Durham's investigation has been long on expectations from Trump and his supporters, but short on results. After three years, Durham has secured one guilty plea and lost two cases at trial after the defendants were acquitted. 
However, the investigation has highlighted serious deficiencies with the FBI's warrant applications before the highly secretive Foreign Intelligence Surveillance Court (FISC), which is supposed to provide oversight of surveillance activities by U.S. law enforcement and intelligence agencies.
The Durham report found that the FBI's decision to open an investigation into possible foreign influence on several members of Trump's campaign team and apply for electronic surveillance search warrants against them was "based on raw, unanalyzed, and uncorroborated intelligence" that likely did not meet the standard for probable cause.
Some of the Durham report's findings have been corroborated by other investigators. In 2019, the Justice Department Office of Inspector General (OIG) released a bombshell report that FBI agents made a number of significant omissions and errors in their four warrant applications to surveil Carter Page, a former Trump campaign aide. It also found that FBI personnel "did not give appropriate attention to facts that cut against probable cause." However, unlike Durham, the OIG did not conclude that anti-Trump bias fueled the investigation.
But if FBI agents were willing to cut corners to get a FISA warrant against a presidential campaign aide, it seems highly unlikely Page was the only victim. Follow-up investigations revealed just that.
In a 2020 report, the OIG determined that the FBI regularly ignored its own procedures to make sure FISA warrant applications were accurate. In a review of 29 Foreign Intelligence Surveillance Act warrant applications to surveil Americans, the OIG found that 25 of them had errors or "inadequately supported facts."
As Reason's Scott Shackford wrote, the fact that the FBI was regularly botching search warrant applications before a court with no outside review or oversight should be alarming: "This should be seen as a big deal—the secrecy of the FISC means that Americans who are targeted for surveillance don't know they've been singled out and don't have any defense or due process to stop it. The court itself serves as oversight to protect citizens' Fourth Amendment rights. But until all of this came out, we had little idea how carelessly these warrants were written and reviewed."
Durham's report notes one suggestion from former National Security Agency general counsel Stewart Baker to improve oversight of potentially partisan FBI investigations: having an FBI official who will challenge them at every step—essentially a devil's advocate, or in this case perhaps an angel's advocate.
"As a way to ensure full consideration of the issues in applications that may present very difficult—and vitally important—issues, we recommend that the Department seriously consider Baker's proposal for an official to challenge both a politically sensitive FISA application and other stages of the investigation," says the report.
Trump's fantasies of Durham prosecuting and locking up a coterie of deep state agents who orchestrated the "crime of the century" against him are just that—fantasies—but the civil liberties problems inside the FBI are very real.