When This Uvalde Parent Complained About a New Police Hire, He Was Banned From School Property
A demand letter states that the Uvalde school district is infringing on Adam Martinez's First Amendment right to criticize the government.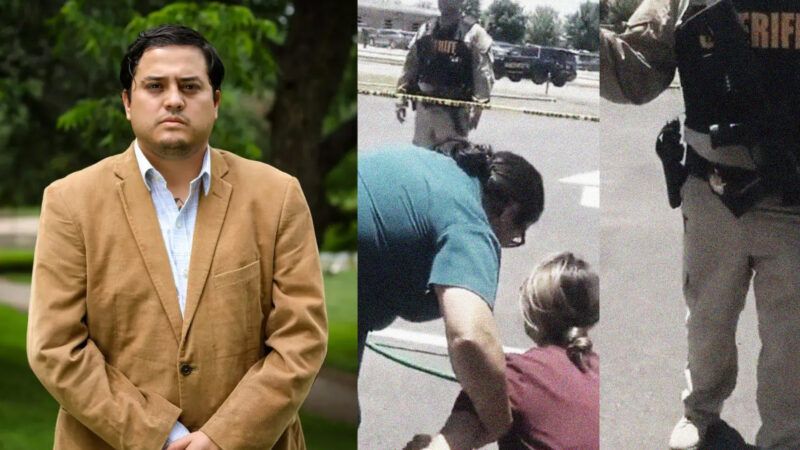 (Lex Villena; Nycole Knoxx, Screenshots from Hugo Cervantes video))
In May of last year, a former Uvalde high school student entered Robb Elementary School and opened fire, killing 19 students and two teachers and injuring over a dozen more. Following the shooting, local police faced widespread, national outrage for their failure to intervene for nearly an hour. Eventually, the school district suspended its entire police force and fired its chief of police.
Adam Martinez's youngest son was at Robb Elementary on the day of the shooting—though thankfully he was physically unharmed—and, like many other parents, he became a vocal critic of the police department. However, in retaliation for his criticism, the school district banned him from school property—and school board meetings—for two years.
On Monday, the Foundation for Individual Rights and Expression (FIRE) sent a demand letter requesting that the school lift its two-year ban on Martinez or face a lawsuit.
"The First Amendment exists so that people can use their voices to advocate for social and political change," FIRE attorney Jeff Zeman said in a Monday press release. "Criticizing the government is protected speech, and Uvalde can't police it."
On February 13, 2023, Martinez attended a Uvalde Consolidated Independent School District (UCISD) School Board meeting after learning that the school district had hired an officer that the Uvalde County Sheriff's Office had judged "ineligible for rehire," according to the demand letter. During the meeting, Martinez approached Joshua Gutierrez, the UCISD police chief, to express concerns about this new officer.
"As multiple recordings of the meeting demonstrate," the letter states, "their conversation remained quiet and did not disrupt the meeting." However, "in response to Mr. Martinez's calm but impassioned criticism, Chief Gutierrez told Mr. Martinez to sit down. Mr. Martinez, who wished to continue speaking with Gutierrez, refused. Chief Gutierrez then lashed out by banning Mr. Martinez from all school district property and escorting Mr. Martinez and his family from the building."
The next day, Martinez was sent "a formal criminal trespass warning banning him from all school district property, including School Board meetings, for two years."
Eventually, Martinez was able to convince school officials to let him pick his daughter up from school and attend events she participated in, as well as attend his son's baseball practices. However, he is still "banned from all other school property" and "from attending School Board meetings and other functions providing opportunities for parents to voice their concerns."
Further, when Martinez requested permission to attend his nephew's graduation, UCISD Interim Superintendent Gary Patterson refused to answer, instead quipping "It seems like you are very fond of posting about us," in what appears to reference Martinez's criticism of the district on Facebook.
"UCISD banned Mr. Martinez simply for raising concerns about whom the school district was hiring to protect the district's children, an issue of understandable importance for Uvalde parents, like Mr. Martinez," the letter states. "In doing so, UCISD has violated and is continuing to violate the First Amendment."
Martinez clearly has a First Amendment right to voice his concerns to public officials and to criticize the hiring practices of the UCISD Police—and school officials' desire to silence him, particularly in the wake of such a horrific tragedy, indicates a disturbing lack of transparency from UCISD leaders.
"My community counts on me to be their voice, but the district wants to shut me up," Martinez said in the press release. "My fight has always been for the 21 people who no longer have a voice and for those who are too scared to speak up about social injustice."
The demand letter ends by stating that, unless the ban is lifted by May 22, a full-scale lawsuit will be filed.