Twitter Caved to Censorship Requests From Turkey's Authoritarian Government
Plus: Flight attendants report dad as human trafficker, the suburbs are thriving, and more...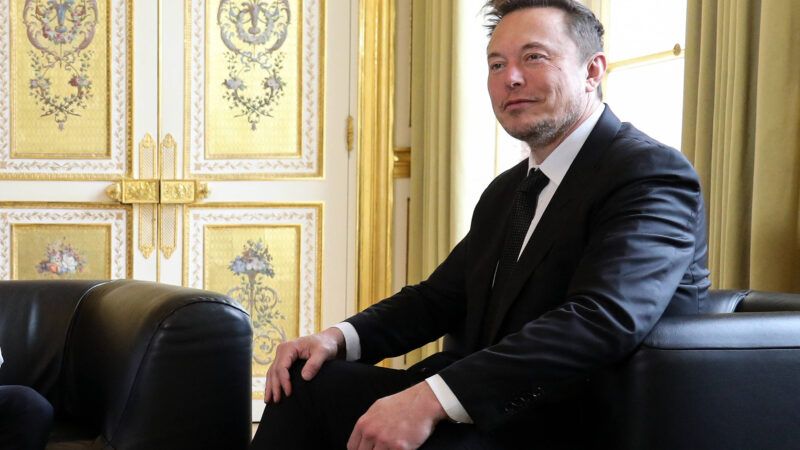 (STEPHANE LEMOUTON-POOL/SIPA)
Elon Musk defends suppression of Turkish posts. "In response to legal process and to ensure Twitter remains available to the people of Turkey, we have taken action to restrict access to some content in Turkey today," Twitter's Global Government Affairs account tweeted on Friday.
The tweet didn't say what kind of content had been suppressed nor who had requested this suppression. But if it was done to ensure that Turkish leaders would allow Twitter to remain available, these were probably not posts flattering to Turkish President Recep Tayyip Erdogan, who is currently up for reelection. And further comment from CEO Elon Musk suggests content was removed to appease Turkey's authoritarian leadership.
The move has been widely criticized, especially in light of CEO Elon Musk's ongoing insistence (despite ample evidence to the contrary) that he is a stalwart champion of free speech.
Turkey is in the midst of a presidential election—one that seems to be headed for a runoff, since Erdogan does not appear to have captured a majority of the vote. (The final results are not in. But as of now, challenger Kemal Kilicdaroglu has 44.8 percent of the vote, while Erdogan got 49.54 percent.)
"The Turkish government asked Twitter to censor its opponents right before an election and @elonmusk," tweeted journalist Matthew Yglesias on Saturday, adding that this "should generate some interesting Twitter Files reporting." In the Twitter Files, journalists with access to the company's internal documents detailed censorship requests by the U.S. government and others, and the ways previous Twitter leadership dealt with them.
Musk responded: "Did your brain fall out of your head, Yglesias? The choice is have Twitter throttled in its entirety or limit access to some tweets. Which one do you want?"
But providing people in authoritarian regimes with a false sense of public opinion while doing their leaders' bidding hardly helps foster civil liberties.
If Erdogan wanted to suppress opposition content and his only way to make that happen was to throttle all of Twitter, it would presumably be a more difficult call. And if he still chose censorship, it would also force him to alert—and often anger—Turkish citizens in the process.
Instead, Musk made a quasi-dictator's job easier.
Condemnation of Musk's defense flowed from across the political spectrum.
"If Twitter were throttled in its entirety perhaps Turkish voters would better understand the authoritarian tendencies of their government and the costs it's imposing on the nation as a whole," commented conservative journalist Jonah Goldberg. "Throttling the opposition to that govt on election eve doesn't seem optimal imho."
"From a speech perspective the answer is clear: You publicly tell Erdogan no and dare him to throttle the whole app," tweeted Ryan Grim of The Intercept.
It's not just journalists who have been criticizing Musk:
All or nothing, and let the government face the backlash. If you can't stand on this basic principle, what can you stand on?

— Just A Guy In Texas (@Just_A_Guy_N_TX) May 13, 2023
We want Twitter to not throttle tweets based on a government's request it throttle those tweets. If that's a hard ask Twitter has serious problems.

— Alex Shepard ???????? (@Sinnersaint39) May 13, 2023
You should not censor - ever.

You're the king of technology. Use it to stop the censorship. Keep twitter open and push to all Turkish users's phones information on how to log in via VPN and set up Starlink for Turkish dissenters.

With the amount of power and money you have,…

— Martha Bueno (@BuenoForMiami) May 13, 2023
Honestly. Let them turn twitter off. Better to let the censorship writ large on the part of the government be exposed than to let twitter carry on doing the bidding of that government. Then make a banner at the top of twitter pointing out what that government is doing. Bring the…

— Robert Whitelaw,CRS—Realtor,Broker,Podcast Host (@rebelbroker) May 13, 2023
Some suggested (not for the first time) that Musk's business interests in Turkey (and other censorship-happy regimes) make him to this sort of pressure.
Wikipedia founder Jimmy Wales commented:
What Wikipedia did: we stood strong for our principles and fought to the Supreme Court of Turkey and won. This is what it means to treat freedom of expression as a principle rather than a slogan. https://t.co/tHkx1Wa06r

— Jimmy Wales (@jimmy_wales) May 13, 2023
---
FREE MINDS
American Airlines flight attendants falsely reported a father as a human trafficker. The man, Francisco De Jesus, was flying with his 13-year-old daughter. "As we're deplaning, we're greeted by several individuals. One of them who introduced himself as the head of security for the Charlotte International Airport," De Jesus told King 5 news:
My question that I would like to have answered is how did they get to label me as a human trafficker? I had my iPad; we were watching a movie. She had her phone. I mean, these are things that I thought a dad and a daughter traveling do.
It's common for airline crews these days to receive highly dubious training about how to detect human traffickers. "Airline and hotel employees are taught to use their prejudices to spot and report human trafficking, and this often works out badly," writes Gary Leff at View From the Wing:
And that gives you situations like,
And who could forget Cindy McCain reporting a woman because she was "a different ethnicity" from her child?
This sort of spot-a-trafficker "training"—often conducted by agents of Homeland Security and other federal agencies—has extended to hotel staff, to hairdressers, and to other industries, sometimes funded by the government or even required by law.
---
FREE MARKETS
American suburbs are thriving. They were already gaining population in the 2010s, and that only increased during the pandemic. This is leading to a surge in new retail and restaurants. In "2022, urban retail vacancies surpassed suburban retail vacancies for the first time since 2013," reports Axios. And today's suburbs are more diverse than those of yore.
A recent Bank of America survey found 45 percent of millennial respondents expect to buy a suburban home. "We expect the ability to [work from home] to remain an incentive for young families to seek out more remote suburban and rural markets where housing may be more affordable," the bank's analysts write.
---
QUICK HITS
• Over the past decade the share of Americans who associate with any religion decreased by 11 percentage points. "It's a development of tremendous impact, one that will ripple across the political landscape at every level—and especially in presidential politics," suggests Ryan Burge, an Eastern Illinois University political scientist.
• "Thai voters have delivered a stunning verdict in favour of an opposition party that is calling for radical reform of the country's institutions," concludes the BBC. "Analysts are calling this a political earthquake that represents a significant shift in public opinion" and "a clear repudiation of the two military-aligned parties of the current government, and Prime Minister Prayuth Chan-ocha, who led a coup that ousted an elected government in 2014."
• What the heck does "displaying traits of an armed person" mean?
NEW: Baltimore Police say the person shot was 17 years old, saying he was displaying traits of an armed person before he took off running. Officers rendered aid and the 17 year old is in critical condition. @wjz pic.twitter.com/A56EDDBmzp

— Stephon Dingle WJZ (@Stephon_Dingle) May 11, 2023
• North Carolina's Democratic governor, Roy Cooper, vetoed a bill banning abortion after 12 weeks. "But to prevent the legislature from using its razor-thin supermajority to override his veto, Mr. Cooper is asking voters to pressure Republican lawmakers," reports The New York Times. "Convincing just one legislator will keep the state's current abortion law—allowing it up to 20 weeks—in place."
• "Ed Sheeran, Vanilla Ice, and a monkey walk into A.I. copyright law…" Carl Szabo of the tech trade association NetChoice argues against creating a new legal framework for content generated by artificial intelligence.