Rochelle Walensky Leaves a CDC That's Far More Powerful Than When She Entered It
Under Walensky, the CDC's voluntary guidance was anything but.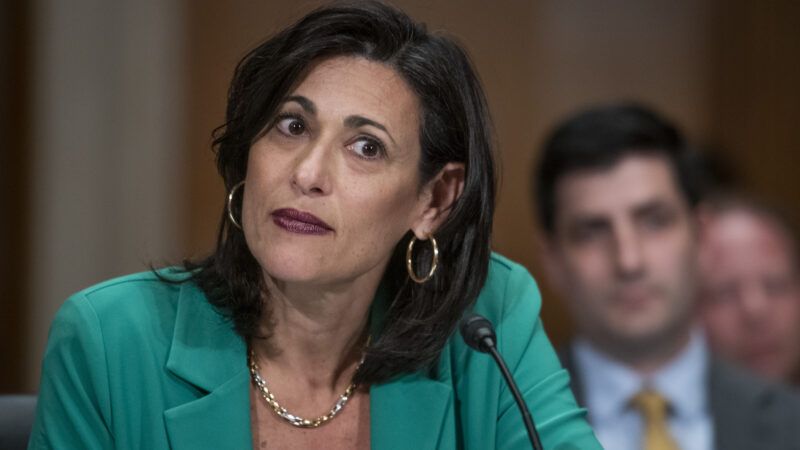 Rochelle Walensky is resigning from her post as director of the Centers for Disease Control and Prevention (CDC). She has overseen the agency since the beginning of President Joe Biden's term and greatly expanded the CDC's authority.
Walensky's reign was chiefly characterized by her extreme reluctance to reverse the CDC's support for ongoing pandemic restrictions. When she took the helm in January 2021, the COVID-19 vaccine rollout was just getting underway, and there was good reason to believe that the most vulnerable people would soon enjoy robust protection from severe disease and death. Walensky, however, was not inclined to let the CDC's influence wane. For instance, she repeatedly extended the CDC's eviction moratorium, a policy that made it extremely difficult for landlords to collect rent; the Supreme Court finally struck down the illegal order in August 2021.
Walensky firmly believed that CDC guidance on COVID-19 policies should reflect the up-to-date scientific consensus—that is, unless the science had arrived at a conclusion that vexed her. Walensky's CDC put incredible faith in junk studies that purported to prove the importance of mask mandates in schools. When the legitimacy of these studies came into question, she declined to reverse course and admit that ritualistically masking schoolchildren was unnecessary. As late as February 2022, she still maintained that "masking should happen in all schools right now."
When challenged on her policies, Walensky would demur and claim that CDC guidance on masks was just that—guidance. She sounded a similar note as COVID-19 adviser Anthony Fauci, who cloaked his enthusiasm for shutting down all of society under the guise of mere suggestion. The fact of the matter is that government policy makers at the local, state, and federal level routinely outsourced their COVID-19 decision making to Walensky and Fauci. They put their thumbs on the scales of lockdowns and mask mandates, and thus the U.S. continued these policies far longer than did our peer countries. The World Health Organization (WHO), in contrast, never recommended masks for children under 6 at all, and many Nordic countries were unwilling to mask kids up to age 11.
Of course, Walensky wasn't necessarily looking to European peer countries for advice. She was far more inclined to celebrate the alleged success of China's "really strict lockdowns," which involved the country's authoritarian government starving some people via mandatory quarantine detention centers and trapping others inside burning buildings. (China eventually succumbed to the inevitable, gave up on its draconian lockdowns, and implicitly admitted that the "zero-COVID" policy was a fantasy.)
Walensky's CDC also pursued the questionable strategy of purging so-called misinformation about COVID-19 from social media. Throughout her time in charge, the CDC became the de facto internet speech police. Emails obtained by Reason show that Meta, the parent company of Facebook and Instagram, routinely deferred moderation decisions to government health authorities.
Meta might have thought it had little choice but to seek the CDC's input, as Biden had publicly declared that the social media platform's failure to suppress allegedly misleading content was "killing people." In any case, this is a dangerous precedent, and it represents a serious escalation in the federal bureaucracy's war on disfavored speech.
Walensky's exit from the CDC comes just a few days before the official end of the national COVID-19 pandemic on May 11. Whoever takes over the agency should concentrate on rebalancing its decidedly unhealthy approach to individual liberty.