Supreme Court Weighs Whether Postal Service Can Force Christian Employee To Work on Sundays
Plus: Dominion defamation suit against Fox News starts today, Republicans' debt plan, and more...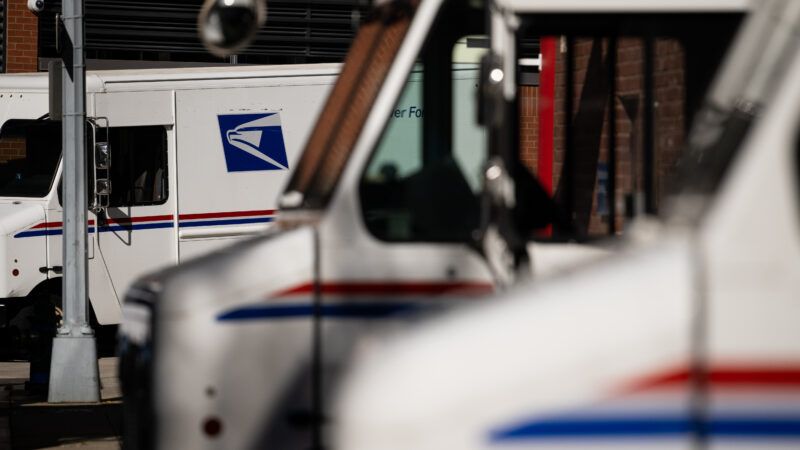 (Graeme Sloan/Sipa USA/Newscom)
Can businesses force Christian employees to work on Sundays? That's the issue at the center of a legal battle hitting the Supreme Court today. The case concerns a mail carrier in Pennsylvania, Gerald Groff, who was told he must start working on Sundays. "He declined, saying his Sundays are for church and family," reports the Associated Press:
U.S. Postal Service officials initially tried to get substitutes for the man's shifts, but they couldn't always. When he didn't show, that meant more work for others. Ultimately, the man quit and sued for religious discrimination.
The Civil Rights Act of 1964 requires employers to accommodate workers' religious beliefs when it does not pose an "undue hardship." And the Supreme Court held in 1977 —in Trans World Airlines v. Hardison—that anything more than "a de minimis cost" is legitimate grounds for denying religious accommodations.
The big question now is whether the Court of 2023 will echo that earlier decision or take a more expansive view of what sorts of religious accommodations are proper.
It's certainly more than "a de minimis" burden on many businesses to allow any employee who says Sundays are for church and family to avoid work that day, especially when it comes to small businesses or industries where weekends are the busiest time. And it would follow that if companies can be forced not to schedule certain Christian workers on Sundays, they must make accommodations for some non-Sunday religious observances, too.
It doesn't seem like much of a stretch to imagine that this would constitute an "undue hardship" for many businesses.
But defining "undue hardship" isn't an exact science.
Groff wants the Court to say that an accommodation must involve "significant difficulty or expense" for an employer before it counts.
The case is Groff v. DeJoy.
The central legal questions, per SCOTUSblog, are:
(1) Whether the court should disapprove the more-than-de-minimis-cost test for refusing religious accommodations under Title VII of the Civil Rights Act of 1964 stated in Trans World Airlines, Inc. v. Hardison; and (2) whether an employer may demonstrate "undue hardship on the conduct of the employer's business" under Title VII merely by showing that the requested accommodation burdens the employee's coworkers rather than the business itself.
At Volokh Conspiracy last month, Chapman University law professor James Phillips made a case for reversing the Hardison decision. When Groff sought not to work Sundays, "the USPS initially trained and required others to work in his stead on Sundays," notes Phillips. "It is hard to see how this inconvenience rises to the level of an 'undue hardship.'"
Here's attorney Adam Unikowsky making the opposite case. "It is an 'undue hardship' when employers are forced to inflict more than de minimis harm on non-religious co-workers to accommodate the religious practice of religious employees," writes Unikowsky. And it's an undue hardship "when employers are forced to pay more than a de minimis amount of cash, out of pocket, to accommodate the religious practice of religious employees."
Interestingly, it was the liberal justices in 1977 who objected to the narrow definition of undue hardship.
"As a matter of law, I seriously question whether simple English usage permits 'undue hardship' to be interpreted to mean 'more than de minimis cost,'" wrote the 1977 Court's two most liberal members, Justices William J. Brennan Jr. and Thurgood Marshall.
Meanwhile, "the more centrist and conservative Justices in the majority disagreed," notes UCLA law professor Eugene Volokh. "What a difference the last 45 years have made! As with the question [of] whether the Free Exercise Clause entitles religious objectors to exemptions from religion-neutral laws, it looks like the ideological polarity of this issue has flipped. Justices Thomas, Alito, and Gorsuch have called for reconsidering the TWA v. Hardison decision (and Justice Kavanaugh has hinted that he might agree)."
---
FREE MINDS
Opening arguments in Dominion Voting Systems' defamation suit against Fox News are scheduled for today. More from CNBC:
The civil trial in Delaware Superior Court arrives more than two years after Dominion, which sells voting machines and election software, first accused Fox of knowingly airing lies about the company in order to boost its ratings.

The network "intentionally and falsely" blamed Dominion for former President Donald Trump's loss to President Joe Biden by broadcasting unsubstantiated claims about the company, including that it meddled with vote tallies, Dominion alleged.

Fox has maintained that the statements made about Dominion on its air are protected by the First Amendment, which shields the freedoms of speech and press. The network also argued that Dominion's suit does not establish that the claims were aired with "actual malice," a requirement to meet the legal standard for defamation.
---
FREE MARKETS
GOP debt plan coming today. House Republicans will introduce their plans today to deal with government debt, said House Majority Leader Steve Scalise (R–La.). The plans will "address the nation's debt ceiling while at the same time addressing Washington's spending problem that got us into this mess," Scalise told reporters on Monday. House Speaker Kevin McCarthy (R–Calif.) said Monday that the plan will "lift the debt ceiling into the next year," reduce discretionary funding to 2022 levels, and "limit the growth of spending over the next 10 years to 1 percent of annual growth"—without "touching Social Security and Medicare."
---
QUICK HITS
• Reason's Peter Suderman on why wealth taxes won't work.
• Mexico's president is angry about U.S. investigators in his country. He slammed the "spying" and "abusive, arrogant interference that should not be accepted under any circumstances" by "foreign agents" investigating drug smuggling by a Mexican cartel.
• A roadside bakery mural painted by high school students in Conway, New Hampshire, is under fire from local zoning officials.