Elon Musk Throttles Substack, Clashing With Twitter Files' Matt Taibbi
Plus: Dueling court decisions on an abortion drug, an update from Riley Gaines, and more...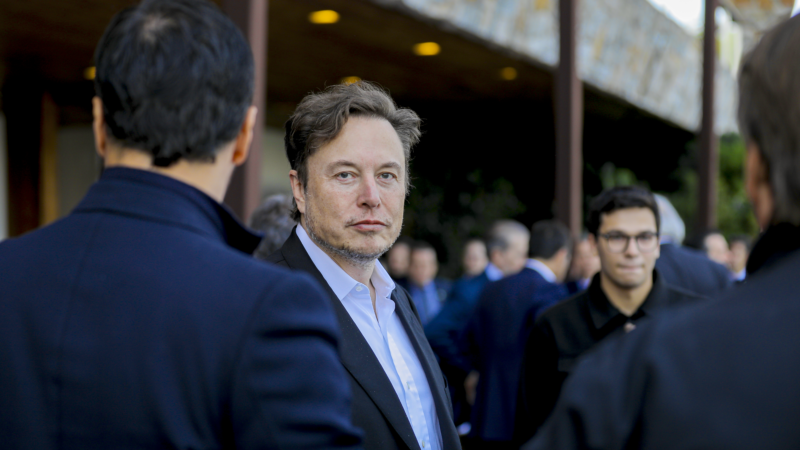 Well, it was fun while it lasted. The professional relationship between billionaire Elon Musk, the owner of Twitter, and independent journalist Matt Taibbi hit a serious and possibly irreparable snag late last week following Musk's quixotic decision to suppress links to Substack.
Substack is a newsletter company with a stated commitment to the principles of broad free expression; as such, it is a preferred platform for many independent journalists, such as Taibbi. Twitter and Substack share a major financial backer: The venture capital firm Andreessen Horowitz has invested $65 million in Substack and $400 million in Musk-era Twitter.
When he acquired Twitter last year, Musk vowed to correct what he viewed as heavy-handed moderation policies akin to censorship, saying that the social media site should function as a sort of town square. With an eye toward demystifying the site's approach to content moderation, Musk gave several journalists—including Taibbi, Michael Shellenberger, Bari Weiss, Lee Fang, and David Zweig—access to Twitter staff's internal emails. This led to a series of reports, the Twitter Files, that helped explain why Twitter's previous regime had decided to suppress various accounts believed to be part of a Russian influence campaign. Unbeknownst to much of the public, Twitter had faced constant pressure from the FBI, the Department of Homeland Security, the Centers for Disease Control and Prevention, and other government agencies.
Taibbi recently clashed with MSNBC's Mehdi Hasan, who attempted to discredit much of the Twitter Files.
Why did @mtaibbi launch the Twitter Files by suggesting that Biden officials got Twitter to delete tweets… without disclosing that the tweets included non consensual nude images of the president's son Hunter?@mehdirhasan asked him:

Full interview: https://t.co/mheOL0TcSW pic.twitter.com/FEVO13cmju

— The Mehdi Hasan Show (@MehdiHasanShow) April 7, 2023
Hasan did identify some errors in Taibbi's reporting, which first appeared on Twitter itself and was ultimately published by Substack. But one notable complaint of Hasan's—that Taibbi had confused the Cybersecurity and Infrastructure Security Agency (CISA) with the Center for Internet Security (CIS)—is not nearly the gotcha that Hasan seems to think it is:
Mehdi you obviously haven't read the reporting here. CISA is the DHS agency that partnered with EIP. Here's an email of a CISA employee discussing an EIP-ticketed misinfo report to Twitter employees. Matt got it right. https://t.co/WnPyl89LHm pic.twitter.com/ZV1vMqL42b

— Lee Fang (@lhfang) April 7, 2023
Hasan also assailed Taibbi for seemingly refusing to criticize Musk. But a mere 24 hours later, Taibbi did precisely that.
Of all things: I learned earlier today that Substack links were being blocked on this platform.

When I asked why, I was told it's a dispute over the new Substack Notes platform…

— Matt Taibbi (@mtaibbi) April 7, 2023
In response, Musk claimed that Twitter was not throttling Substack per se; rather, "Substack was trying to download a massive portion of the Twitter database to bootstrap their Twitter clone, so their IP address is obviously untrusted." The "clone" in question is Substack Notes, a new feature that is said to mimic Twitter in several ways. Musk also called Taibbi an "employee" of Substack—which is false—and unfollowed his former ally.
These are frustrating developments. Musk's stated plan to make Twitter a more hospitable place for free expression was admirable, as was his decision to provide some transparency about the platform's inner workings. Despite all the dismissive assertions from mainstream media pundits—many of whom assiduously bought into the oversold Russian influence narrative—the Twitter Files were in fact a somethingburger: They revealed a high level of coordination between major tech companies, government agencies, and political figures. It is thanks to Musk and Taibbi that this is now apparent.
Musk's treatment of Substack is a self-sabotaging betrayal of his principles—one that Taibbi has rightly declined to ignore. It is not enough to simply articulate anti-censorship commitments: If you're the sole figure in charge, you really have to live by them.
---
FREE MINDS
Riley Gaines, a former college swimmer who argues that it is unfair for transgender women to compete against cisgender women, said last week that she faced violence when speaking at San Francisco State University (SFSU).
"It was terrifying," she elaborated to Fox News. "The police did not inform me of any sort of action plan. Turning Point USA invited me to the campus. I delivered a very civil and respectful speech where I had great dialog with even protesters who were participating in a sit-in. All of a sudden, after my speech, the room was stormed, the lights were turned off, and I was rushed with no one there to escort me to a safe place."
The Foundation for Individual Rights and Expression (FIRE) called on SFSU to protect free speech rights on the campus. FIRE notes that the public university recently subjected a professor to an investigation for showing a picture of Muhammed in class—an action that is obviously protected by the First Amendment.
Dear @SFSU,

Stop investigating the professor who showed a picture of Muhammed in class and investigate the students who accosted @Riley_Gaines_ at a @TPUSA event instead.

TAKE ACTION: Demand that SFSU investigate the shoutdown, not the professor ➡️ https://t.co/gskvbM02Cu pic.twitter.com/NiuVkqNgmG

— FIRE (@TheFIREorg) April 7, 2023
FREE MARKETS
Two courts have issued conflicting rulings on an abortion-related issue: access to the drug mifepristone. A Texas judge, Matthew Kacsmaryk, has invalidated the Food and Drug Administration's approval of the pill, which occurred in the year 2000. According to The New York Times:
Mifepristone is the first pill in the two-drug medication abortion regimen that is used in over half of pregnancy terminations in the United States. It blocks a hormone that allows a pregnancy to develop. For now, it is still available.

Judge Kacsmaryk immediately stayed his ruling for seven days to give the Department of Justice…a chance to appeal it to the U.S. Court of Appeals for the Fifth Circuit, and the Justice Department has already filed notice of its appeal.

If the appeals court upholds the judge's order or declines to put it on pause until the full case is heard, the Justice Department will most likely appeal that decision to the Supreme Court, which could quickly decide whether or not to suspend the injunction. The Supreme Court would also take into account the contradictory ruling by the federal judge in the Washington district court case, legal experts said.
The second ruling, by Judge Thomas Rice in Washington, prohibits the Food and Drug Administration from restricting the supply of mifepristone.
The Volokh Conspiracy's Jonathan Adler argues that both rulings were legally wrong. He expects "quick action from appellate courts, if not the Supreme Court itself."
---
QUICK HITS