Diehard Prohibitionist Mitch McConnell's State Just Became the 38th To Approve Medical Marijuana
Under the new Kentucky law, state-licensed dispensaries will begin serving qualifying patients in 2025.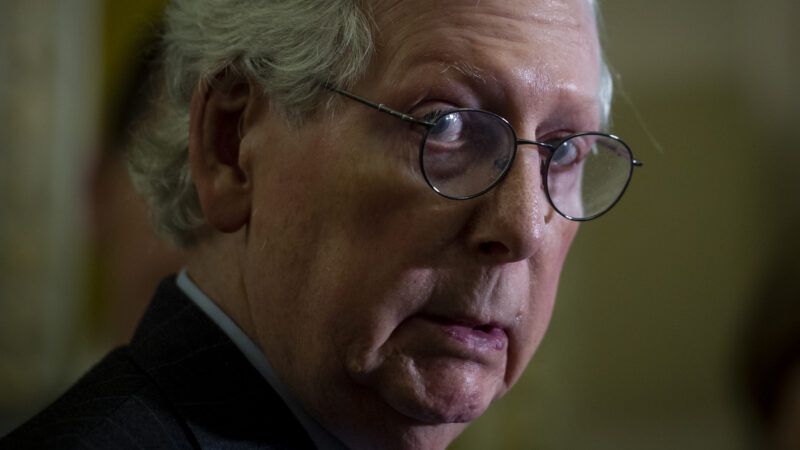 On Friday, Kentucky Gov. Andy Beshear signed a bill that makes his state the 38th to allow medical use of marijuana. Kentucky's Republican-controlled legislature approved the bill about four months after Beshear, a Democrat, issued an executive order aimed at protecting patients who use cannabis purchased in other states from prosecution for possessing and transporting it.
Unlike Beshear's order, which was framed as a conditional pardon for patients who meet certain criteria, the new law, S.B. 47, authorizes production and sale of medical marijuana by state-licensed businesses. But that is not scheduled to happen until 2025, and the law is more restrictive than the governor's order in some ways.
Beshear's pardon lists 21 qualifying conditions, while S.B. 47 specifies just six: cancer, chronic or debilitating pain, post-traumatic stress disorder, chronic nausea or cyclical vomiting syndrome, epilepsy, and multiple sclerosis. Registered patients 21 or older will be allowed to buy a month's worth of marijuana at a time, while Beshear's pardon applies to possession of up to eight ounces.
Patients will have to renew their registrations every 60 days, and a new doctor's certification, including an in-person or telehealth examination, will be required after eight months. People with medical marijuana IDs from other states will be allowed to use Kentucky dispensaries, but they will be subject to tighter restrictions.
S.B. 47 will allow registered patients to purchase cannabis flower, oils, tinctures, and edibles, limited to 10 milligrams of THC per serving. Minors who qualify can use marijuana as a medicine with parental approval, but vaporization will be allowed only for adults 21 or older, while smoking will remain prohibited.
"There are a lot of things this bill doesn't cover, but this is the bill we were able to get," said Elijah Rosenbaum, communications director for the Kentucky chapter of the National Organization for the Reform of Marijuana Laws. Beshear noted that medical marijuana is "something the majority of Kentuckians support." Last fall, he cited a survey indicating that 90 percent of Kentucky residents supported medical access.
As Beshear noted, prior efforts to allow medical use of marijuana nevertheless had been unsuccessful. The Kentucky House of Representatives approved a medical marijuana bill last year, but it was never debated in the state Senate. The General Assembly approved S.B. 47 by a vote of 66 to 33 in the House and 26 to 11 in the Senate.
"There are thousands and thousands of Kentuckians who just want to be and want to feel better," said state Rep. Jason Nemes (R–Louisville). "There will be tens of thousands of Kentuckians who will never know our names, who have never walked these halls, but will be helped. I am happy to have played a small part in that."
California became the first state to legalize medical marijuana in 1996. Since then, dozens of states have followed suit, including many where Republicans have an edge over Democrats. Kentucky approved marijuana as a medicine seven years after Arkansas, Florida, Louisiana, and North Dakota; six years after West Virginia; five years after Missouri, Utah, and Oklahoma; three years after South Dakota; two years after Alabama; and a year after Mississippi. It nevertheless must have come as a shock to Senate Minority Leader Mitch McConnell (R–Ky.), a diehard supporter of pot prohibition.
S.B. 47 requires that medical marijuana be grown indoors, based on fears that cross-pollination could affect Kentucky hemp farms. McConnell is a champion of his state's hemp industry but has always opposed marijuana legalization. Last year he bragged about blocking a bill that would have made it easier for state-licensed suppliers of medical or recreational marijuana to obtain banking services, which he described as "liberal nonsense." The 81-year-old drug warrior also has opposed a spending rider that bars the Justice Department from interfering with state medical marijuana programs.
A few years ago, then-Sen. Cory Gardner (R–Colo.) described McConnell's dismay upon hearing that Utah voters seemed ready to approve medical marijuana, which they did in November 2018. "McConnell looks at me, and he goes, 'Utah?'" Gardner recalled in an interview with Roll Call. "Just this terrified look. And as he says that, [Republican Utah Sen.] Orrin Hatch walks up, and Mitch looks at Orrin and says, 'Orrin, is Utah really going to legalize marijuana?' And Orrin Hatch folds his hands, looks down at his feet, and says, 'First tea, then coffee, and now this.'"