The Government Is Turning Border Surveillance on Everyday Americans
As the government sets its sights on migrants crossing the border, native-born Americans have also come under its watchful eye.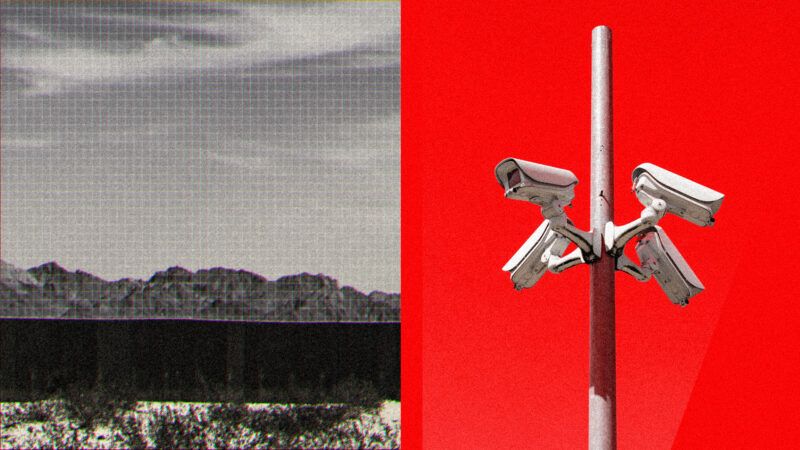 (Illustration: Lex Villena; Edgars Sermulis, Tomascastelazo)
There is perhaps no stretch of American land as politicized as the U.S.-Mexico border—and perhaps no place as surveilled.
Physical reminders of that fact are everywhere. There are towering fences and walls. Border agents stand guard, patrolling the boundary in trucks. But border security is becoming increasingly stealthy and high-tech as the government erects a "virtual wall"—a fortification not made of steel and concrete, but drones, surveillance towers, and artificial intelligence.
Proponents of a harsher border say this virtual wall is a more humane and efficient way of keeping undocumented immigrants out of the country and a more effective means of intercepting traffickers. But in reality, the virtual wall has a lot of the problems that other border technologies and tactics do: It's been expensive, broadly expanded the surveillance abilities of unaccountable government agencies, and forced migrants into taking more dangerous journeys rather than keeping them out. More dollars are being spent, more migrants are dying, and more civil liberties violations are occurring.
"The political discourse around the border tends to be built around a fantasy that the borderlands are a desert wasteland, and the only people crossing it are human traffickers, drug smugglers, and cartels," says Dave Maass, director of investigations at the Electronic Frontier Foundation (EFF), a digital rights organization. "As a result, border technology is framed around these so-called 'crises,' with little regard for the negative impact on the communities and commerce you find at the border."
Last week, EFF released a public map of surveillance towers in the borderlands—the first time such a directory has been made available. Though it isn't complete, the map marks the positions of over 300 existing towers and roughly 50 planned ones. "The tower systems are able to automatically detect and track objects up to 7.5 miles away and assist agents in classifying objects 3 miles away, depending on regional requirements," according to EFF. Customs and Border Protection (CBP) is also "in the process of installing 200 Autonomous Surveillance Towers (ASTs) from Anduril Industries that are controlled by artificial intelligence software."
"By viewing these towers on the map," says Maass, "you can really get a sense of how these towers are installed in residential communities, be it urban or rural, and not just in the remote expanses of the Southwest."
The government hasn't disclosed much about the towers beyond their expense, leaving the people who study and live in the borderlands with incomplete information. Sam Chambers, a geography and migration researcher at the University of Arizona, says that those studying surveillance in the borderlands previously "had to rely on documents such as environmental impact statements or other public records to know where a tower may be or had been built—and that was limited to specific districts and had to be verified." Otherwise, researchers had to "learn by word of mouth or searching for them themselves."
Much of the surveillance happening in the borderlands occurs without the knowledge of the people living there. Last July, CBP launched a surveillance blimp over Nogales, Arizona, without first informing local officials. "We weren't aware that they were going to put it up," Edward Dickie, city manager of Nogales, told Reason at the time. (It has since been removed.) CBP plans to install new surveillance towers in Imperial Beach and El Cajon, California, but "officials in both cities said they were unaware of the federal government's plans," according to Voice of San Diego.
In the government's eyes, the definition of the border itself is slippery, giving it broad surveillance discretion. Federal law allows Border Patrol to conduct warrantless stops and searches "within a reasonable distance from any external boundary of the United States," including on private land within 25 miles of the border. "Decades-old federal regulations, issued without public comment or debate, define that reasonable distance as '100 air miles' from any external boundary," according to the Project on Government Accountability (POGO), which released a report on the border enforcement zone in January. Almost two-thirds of the American population lives within the zone.
What's more, POGO found little evidence that checkpoints in the enforcement zone are ensnaring undocumented immigrants. "Checkpoints accounted for only 2% of Border Patrol arrests between fiscal years 2016 and 2020," it reported. "The existence of checkpoints can also lead to migrants dying in the countryside in attempts to avoid them."
This cuts to one of the misconceptions about the "virtual wall"—that it is more humane that a physical wall. Chambers notes that his past research "has demonstrated that border surveillance towers force people into remote terrain where they will face excessive physical exertion and extended exposure to the elements." He says there's "nothing to suggest that a 'virtual wall' is humane," adding that "surveillance tech is not necessarily distinct from a physical wall."
"The two work in tandem to isolate human beings and multiply the bodily and mental harm of border crossing," says Chambers. "What differentiates them most is that towers have been more readily ignored by those not impacted."
Border security and immigration enforcement are affecting more and more people, though. At airports, customs officials are uploading data from travelers' electronic devices to a massive database that CBP agents can file through without a warrant. In 2020, as people protested the killing of George Floyd across the country, the Department of Homeland Security turned border technology on them, surveilling demonstrations in over 15 cities, including New York City and Philadelphia. Immigration and Customs Enforcement has access to driver's license data for three in four American adults.
"Smart" border enforcement has come at a massive cost—something that implicates every American taxpayer. The Secure Border Initiative Network, a mid-2000s "virtual fence" project, came in at $1 billion by the time it was scrapped—$19 million for each mile it covered. In FY 2022, Congress allocated $425 million for border surveillance. Between 1993 and 2019, Border Patrol's budget jumped from $363 million to $4.9 billion.
Still, as last week's surveillance tower map shows, the federal government is trudging ahead with a plan that will put more Americans under watch, and at great expense. "Border politics has a short memory, and not enough skepticism is applied to this technology that has been found time and time again to be expensive and ineffective," says Maass. "Despite more than 20 years of growing surveillance at the border, we don't hear CBP and other border security proponents claiming that the problem, at least as they define it, has been alleviated."