FDA Says Lab-Grown Chicken Is Safe To Eat
"The future of our planet depends on how we feed ourselves…and we have a responsibility to look beyond the horizon for smarter, sustainable ways to eat," says GOOD Meat's CEO.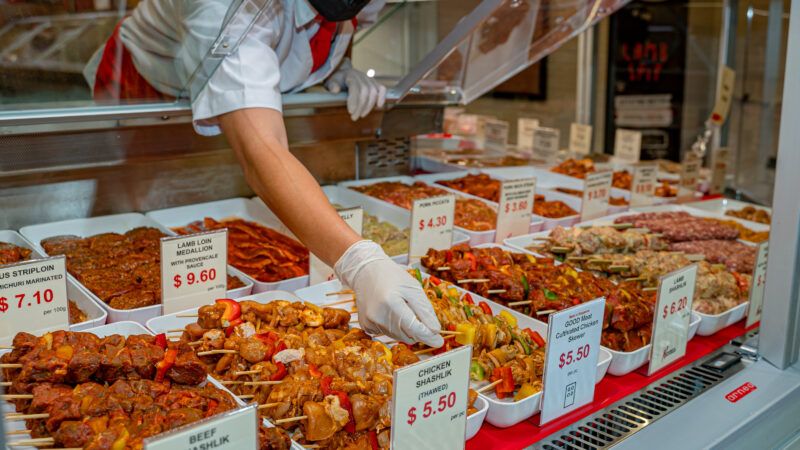 Lab-grown chicken is closer than ever to hitting American grocery store shelves. GOOD Meat, a company developing "cultivated" meat made from chicken cells, announced on Tuesday that it has received a "no questions" letter from the Food and Drug Administration, meaning that the product has been deemed safe to eat. While this is a major victory for the company—and those who are eager to try so-called "slaughter-free" meat—the product will still need approval from the Department of Agriculture before it can be sold.
"Receiving a 'no questions' letter from the FDA and a subsequent clearance from the USDA will allow GOOD Meat to scale up manufacturing and begin introducing its products to American consumers," said Dan Glickman, GOOD Meat Advisory Board member and former U.S. Secretary of Agriculture. "Just as the United States has been a global leader in modernizing conventional food and agriculture techniques, it too can lead in the emerging alternative protein space. Today's announcement is one such example."
GOOD Meat is owned by Eat Just, a food company known for its plant-based mayo and egg alternatives. The company has already successfully received approval to sell its products in Singapore. If finally approved for U.S. sale, the company has stated that they plan to release their cultivated chicken at a Washington, D.C., restaurant owned and operated by chef José Andrés.
"Since Singapore approved GOOD Meat for sale, we knew this moment was next," said CEO Josh Tetrick in a Tuesday press release. "The future of our planet depends on how we feed ourselves…and we have a responsibility to look beyond the horizon for smarter, sustainable ways to eat."
GOOD Meat—and a few other companies who are developing "lab-grown" meat—create their products by taking a sample of cells from a living chicken, and then submerging choice cells in a tank full of nutrients, causing the cells to grow for several weeks, resulting in a cut of chicken with an "identical nutritional profile," according to GOOD Meat's website.
GOOD Meat isn't alone in creating cultivated meat products. In 2022 the FDA also found that the "lab-grown" chicken created by another company, Upside Foods, was safe for human consumption. That company is also awaiting USDA approval.
While Americans concerned about the environmental or ethical consequences of meat can rejoice at this latest development, not everyone is so happy. Meat industry interest groups have already attempted to halt the success of cultivated meat companies. For example, in 2018, the United States Cattlemen's Association filed a petition with the USDA arguing that "meat" and "beef" should not be able to refer to products "not slaughtered in the traditional manner."
However, despite pushback, it seems that cultivated meat could be coming to American grocery store shelves soon.
"Consumers and future generations deserve the foods they love made more sustainably and in ways that benefit the public good," said Bruce Friedrich, president of the Good Food Institute, a meat alternative think tank, "ways that preserve our land and water, that protect our climate and global health, ways that allow for food security."