Kids Are Stealing Hyundais and Kias. Government Officials Blame Hyundai and Kia—and TikTok.
Federal, state, and local officials will always threaten to weaponize the state against private actors they don't like. The "Kia Challenge" provides the latest example.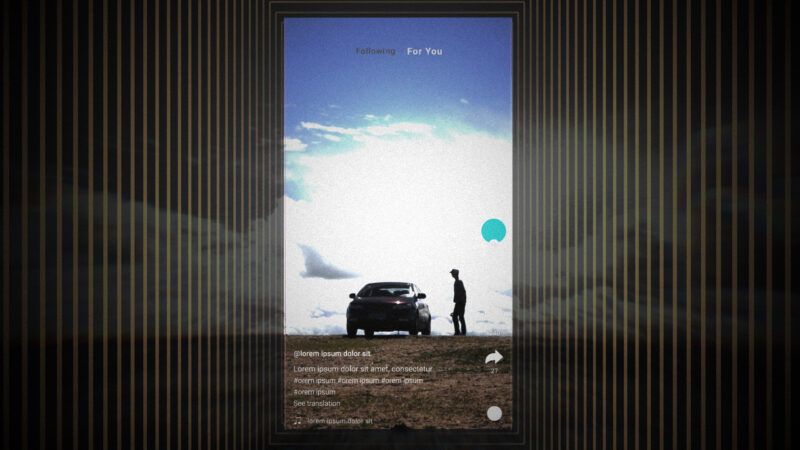 (Illustration: Lex Villena, Liz Lee)
All across the country, young people are stealing cars and taking them for joyrides, including teenagers who don't have driver's licenses. The trend is dangerous, having resulted in at least 14 recent crashes and eight deaths. And government officials in New York and California know exactly who to blame: carmakers. And for good measure, TikTok.
In July 2022, a TikTok user posted a video with the hashtag #kiaboyz in which young men steal a Kia using a USB cable. "You don't need a key, bro," one says as he uses the cable's plug to start the car. Known as the "Kia Challenge," the video went viral, and copycats followed. As the video demonstrated, certain Kia or Hyundai models manufactured between 2010 and 2021 lack an immobilizer, an anti-theft device that won't let the car start unless the correctly coded key is in the ignition, letting anyone steal them based on a little information gleaned from a short video.
The trend became widespread. In upstate New York's Monroe County, more than 1,400 Kias and Hyundais were stolen in just the past five months, according to Monroe County Sheriff Todd Baxter and Chief David Smith of the Rochester Police Department. In a single night, assailants stole five Hyundais and a Kia and drove them into storefronts, committing smash-and-grab robberies. And in September 2022, officials in Los Angeles reported an 85 percent increase in thefts of Kias and Hyundais compared with the year before.
The problem is bad enough that earlier this year, Progressive and State Farm stopped issuing insurance policies for certain Kia and Hyundai models in certain cities.
This week, Rep. Joe Morelle (D–N.Y.), whose district includes Monroe County, said, "We have to acknowledge the role TikTok itself plays in perpetuating these crimes, and the role they could and should play in preventing them." More than simply blaming the people who steal cars and post videos, Morelle posited that TikTok knew about the trend and was "doing nothing about it." Baxter added, "We believe in the First Amendment, freedom of speech, but…this is a straight threat to our community."
Not to be outdone, California Attorney General Rob Bonta blamed the rash of thefts on Kia and Hyundai themselves. "Hyundai and Kia made a decision to forgo a standard safety feature that would help protect owners' investments," Bonta said, "and now their customers are paying the price." In a letter to executives at both companies, Bonta and 22 other state attorneys general argued, "Your companies made the choice not to include anti-theft immobilizers as standard equipment in many of your vehicle models sold in the United States during a period when every other manufacturer was doing so….You waited until November 2021 to make immobilizers standard equipment on all your vehicles."
But in each case, the story is not quite so simple. For one, TikTok removed the original video within two weeks and said in a statement that it would continue to remove any such videos that "categorically violates our policies." Admittedly, given TikTok's size, it will never be able to police all offending content immediately.
And the trend did not start on TikTok: In May 2021, more than a year before the first #kiaboyz video, Milwaukee saw so many Kias and Hyundais stolen that the city's police department gave out free steering wheel locks to owners of the targeted models. By December, Hyundai was contributing the locks for Milwaukee's police to give out. Each company's decision to make immobilizers standard came after several months of news reports about the thefts. And in February of this year, Kia and Hyundai both announced they would provide a software update that lengthens the car alarm's time and "requires the key to be in the ignition switch to turn the vehicle on."
Besides, while Kia and Hyundai may have been lax in implementing security features, immobilizers are not a silver bullet. The system's widespread use in Europe coincided with a dramatic decrease in car thefts, but an enterprising thief can still crack it. After more than a decade the downward trend reversed and car thefts rose again. In 2012, The Wall Street Journal reported that thieves were stealing BMWs by hacking the onboard alarm system and cloning key fobs, all within minutes.
It's also not uncommon for an automaker to go back later and roll out security upgrades in response to widespread theft. In 2021, Dodge introduced new anti-theft measure after news reports that its Challenger and Charger models were popularly targeted by thieves. In that case, the company clarified that "the Challenger and Charger account for less than two tenths of a percent of vehicles stolen over the past 5 years in the United States," but the popular perception that they could be easier to steal spurred action.
Similarly, Kia and Hyundai are experiencing a tsunami of bad press, as their brands become synonymous with stolen cars. If they don't respond quickly and convincingly, then the market will punish them, and state attorneys general threatening legal action will be the last of their concerns.