Police Officers Charged With Murder in 'Smothering' of Virginia Man
"What I saw today was heartbreaking," said the victim's mother. "It was disturbing, it was traumatic. My son was tortured."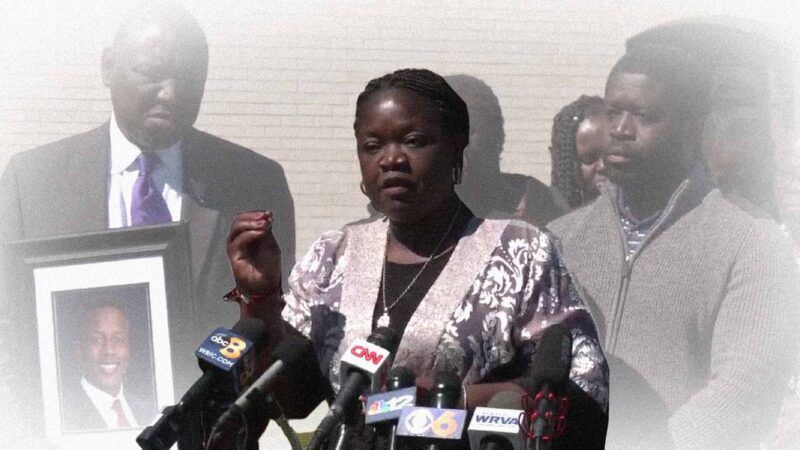 (ABC8 News; Illustration: Lex Villena)
Earlier this month, a Virginia man was killed when police officers and hospital employees "smothered" him to death. Now, the officers and medical workers involved in the killing have been charged with second-degree murder. Seven Henrico County sheriffs' deputies face charges for their involvement in the man's death.
"The family is truly grief-stricken after learning of the brutal nature of Irvo's death and his inhumane treatment in the hours preceding his death," a lawyer for the victim's family told NBC News. "The public, and experienced mental health professionals alike, will be appalled when the facts of this case are fully made known."
According to a statement from Henrico County police, 28-year-old Irvo Otieno was arrested earlier this month after police responded to a breaking and entering call. Otieno was believed to be a potential suspect in the crime and police arrested him and placed him under an "emergency custody order," which is used in cases of severe mental illness. According to police, Otieno was first taken to Parham Doctors' Hospital, where he became "physically assaultive towards officers." At this point, he was instead taken to a county jail, where he was booked on charges of assault on a law enforcement officer, disorderly conduct in a hospital, and vandalism.
Three days later, on March 6, he was taken to a state mental health facility. According to CNN, the officers eventually began to physically restrain Otieno during the intake process. Even though Otieno was already in handcuffs and leg irons, a total of seven officers and three hospital employees piled on top of him. At one point, at least 10 people were on top of Otieno, and he died of asphyxiation after being pinned on the ground for 12 minutes.
"Twelve minutes of him being splayed out on the ground," Dinwiddie, Virginia, prosecutor Ann Baskervill said. "It's just cruel and a demonstration of power that is unlawful — I mean, it killed him. They smothered him."
On March 16, the seven deputies involved in the killing were arrested and charged with second-degree murder. Three hospital workers were also arrested and charged. The union representing Henrico County police released a statement, writing that, "Policing in America today is difficult, made even more so by the possibility of being criminally charged while performing their duty," adding that "the death of Mr. Otieno was tragic, and we express our condolences to his family. We also stand behind the seven accused deputies now charged with murder."
While body camera footage of Otieno's death has not yet been made public, prosecutors announced they would release the footage this week. Both Otieno's family and their lawyers have seen the footage. "What we just viewed on the videos … was a commentary on how inhumane law enforcement officials treat people who are having a mental health crisis as criminals, rather than treating them as people who are in need of help," civil rights attorney Ben Crump said during a press conference last week. "It was inhumane."
"What I saw today was heartbreaking," said Caroline Ouko, Otieno's mother, during the press conference. "It was disturbing, it was traumatic. My son was tortured, to put it right. I saw the torture."