Gigi Sohn Withdraws FCC Nomination Due to Politics, Policy, and Police Pressure
While Sohn's record raises ethics and judgment questions, some attacks against her lacked merit.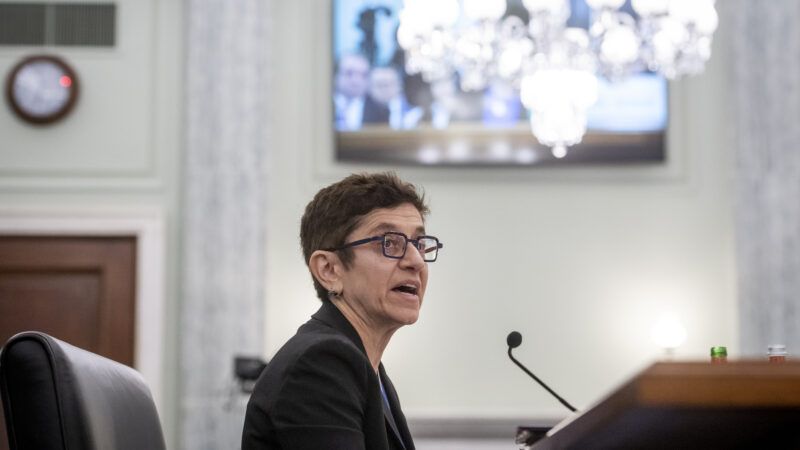 (Rod Lamkey - CNP/picture alliance / Consolidated News Photos/Newscom)
Gigi Sohn, a career tech regulatory advocate and distinguished fellow at Georgetown Law, has withdrawn from the confirmation process to be a Federal Communications Commission (FCC) commissioner. President Joe Biden nominated Sohn three times, starting in October 2021, but she never secured the Senate's approval.
Sohn confirmed her withdrawal in a statement decrying the 2–2 Republican–Democrat "deadlock" at the FCC. She attributed her stalled confirmation to "legions of cable and media industry lobbyists, their bought-and-paid-for surrogates, and dark money political groups." It would be more accurate to say that politics and policy differences played a role in dooming her bid to fill the fifth FCC chair.
On the politics front, Sohn suggested in an October 2020 tweet that Fox News is "state-sponsored propaganda," potentially worthy of senatorial scrutiny. Days later, she tweeted, "Republicans know that the only way they can win is to suppress the vote." Republicans have also objected to her characterizing Brett Kavanaugh as an "Angry white man." (In her most recent nomination hearing, she labeled some of her previous statements "sharp" and "more partisan than I would even prefer.")
During the 2022 election cycle, Sohn donated modestly to the campaigns of Democratic Sens. Catherine Cortez Masto (D–N.V.), John Fetterman (D–Pa.), Michael Bennet (D–Colo.), and Raphael Warnock (D–Ga.), the last of whom sits on the Senate Commerce Committee, which reviewed Sohn's nomination. And yet it was Democratic holdouts who kept Sohn off the FCC: Shortly before The Washington Post first reported Sohn's withdrawal on Tuesday, Sen. Joe Manchin (D–W.V.) announced his opposition to her nomination. Sens. Jacky Rosen (D–Nev.) and Kyrsten Sinema (I–Ariz.) also voiced concern over various elements of Sohn's record during her nomination hearings.
While partisan politics drove some criticisms of Sohn, many of her critics had policy concerns. For instance, Sohn has championed net neutrality despite evidence that its brief implementation by the FCC slowed investment in broadband networks. She is also unmoved by developing case law that suggests unilateral FCC mandates are likely illegal.
While free marketeers opposed her position on net neutrality, Sohn also had critics among the friends of bigger government. The Fraternal Order of Police (FOP) attacked her affiliation with the Electronic Frontier Foundation, a nonprofit that has defended robust end-to-end encryption. The FOP also criticized a Sohn retweet advocating the end of qualified immunity, among other reforms. 
There was even an ethics angle: Locast, a nonprofit on whose board Sohn served, illegally retransmitted broadcast signals and quickly shuttered after losing in court. After Sohn's first Nomination, the plaintiffs agreed to shrink the $32-million settlement to $700,000. "On the day after she was nominated to her powerful regulatory position, broadcasters agreed to a settlement that cut the liability of her nonprofit by 98%," The Wall Street Journal's Editorial Board observed. "Interesting timing." Sohn subsequently withheld these details during a nomination hearing in December 2021.
She might've prevailed if Sohn had only to contend with the FOP. But she was also a public partisan firebrand with her own technocratic ideas for expanding the FCC's role in regulating the internet.