FTC Seeks Names of All Journalists With Whom Musk Shared Twitter Documents
Plus: U.S. special forces seeks "next generation" deepfake tech, the economic cost of the PRO Act, and more…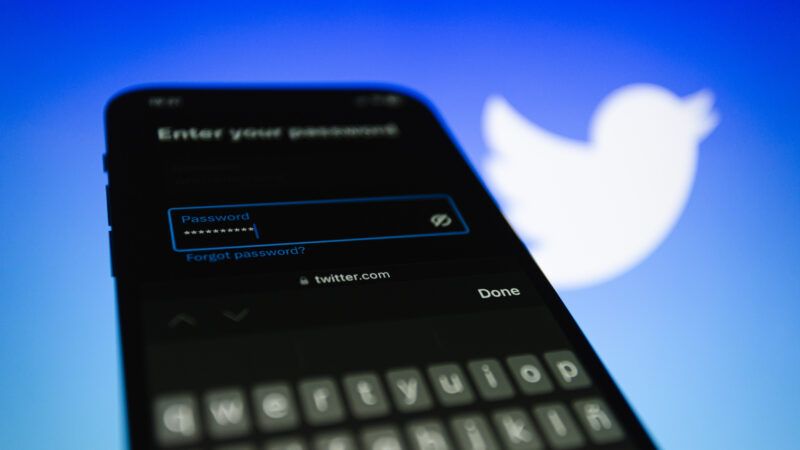 (Andre M. Chang/ZUMAPRESS/Newscom)
The Federal Trade Commission (FTC) is asking Twitter to turn over the names of all journalists with whom the company shared internal documents, as well as all communications related to or received by CEO Elon Musk. The agency says it's normal practice, while House Republicans say it's politically motivated and a huge infringement on freedom of the press. Whether politically motivated or not, the second part of the claim seems undeniably true.
In one of 12 letters sent between November 10, 2022, and February 1, 2023, the FTC asks Twitter to "identify all journalists and other members of the media to whom" it granted "any type of access to the Company's internal communications" since Musk acquired the company, as well as the nature of the access granted.
The identities of journalists privy to these communications—which reporters have been calling the Twitter Files—is just one piece of information the FTC is seeking from Twitter. The agency also asked the company to turn over all internal communications—"including but not limited to emails, memos, and Slack Communications"—that were related to Musk, sent at his direction, or received by him. It also asked for detailed information about company layoffs, its Twitter Blue subscription service, and more.
The agency's ostensible authority for these demands is a consent decree forged between Twitter and the FTC in 2011 and expanded in 2022. The 2011 consent order prohibited Twitter from misrepresenting how it employed user data. Last year, Twitter had to pay $150 million to settle an FTC suit saying Twitter had violated that earlier order's terms by collecting user phone numbers and email addresses for account security purposes and then also using that information for advertising purposes. The 2022 settlement also involved an expanded consent order, which FTC Chair Lina Khan called "much more prescriptive, much more detailed" than the 2011 order.
The FTC says its requests for information from Twitter (including the identities of all journalists with whom Twitter shared internal communications) are necessary to ensure that the company is still protecting consumer privacy and not misusing user information.
"Protecting consumers' privacy is exactly what the FTC is supposed to do," FTC spokesman Douglas Farrar said in a statement. "It should come as no surprise that career staff at the commission are conducting a rigorous investigation into Twitter's compliance with a consent order that came into effect long before Mr. Musk purchased the company." Farrar also said the kind of information it is seeking from Twitter is routine for companies under consent decrees.
House Republicans on the Judiciary Committee don't see it that way. On Tuesday, the Judiciary Committee's Select Subcommittee on the Weaponization of the Federal Government published excerpts from the FTC's letters to Twitter, as part of a larger report.
"The Committee does not dispute that protecting user privacy and mitigating information security risks are important duties," the report says. "Because of its consent decree with Twitter, the FTC has the authority to monitor how Twitter is protecting users' private information, such as their phone numbers and email addresses."
"But the FTC is currently imposing some demands on Twitter that have no rational basis in user privacy," it continues. "There is no logical reason, for example, why the FTC needs to know the identities of journalists engaging with Twitter. There is no logical reason why the FTC, on the basis of user privacy, needs to analyze all of Twitter's personnel decisions. And there is no logical reason why the FTC needs every single internal Twitter communication about Elon Musk."
The report also suggests that the timing of the FTC's latest investigation into Twitter was politically motivated, beginning just a few weeks after Musk bought the company late last October and coming amid demands from Democratic lawmakers and progressive groups. The FTC has made more than 350 requests for information during Musk's tenure as CEO.
"If the FTC concludes Twitter violated the 2022 order, the agency could seek financial penalties, business restrictions, or sanctions on responsible executives," noted The Wall Street Journal.
---
FREE MINDS
U.S. special forces seeks deepfake technology. "U.S. Special Operations Command, responsible for some of the country's most secretive military endeavors, is gearing up to conduct internet propaganda and deception campaigns online using deepfake videos," reported The Intercept. Deepfakes are videos that appear to document real statements, events, etc., but have been edited to portray things that didn't actually happen.
"While the U.S. government routinely warns against the risk of deepfakes and is openly working to build tools to counter them, the document from Special Operations Command, or SOCOM, represents a nearly unprecedented instance of the American government—or any government—openly signaling its desire to use the highly controversial technology offensively," noted Intercept writer Sam Biddle.
Federal contracting documents obtained by The Intercept show a procurement wish list from SOCOM, which is soliciting pitches from companies that could provide these capabilities. In a section on "Military Information Support Operations (MISO)"—aka propaganda tools—SOCOM seeks "technologies for influence operations, digital deception, communication disruption, and disinformation campaigns at the tactical edge and operational levels."
Specifically, it's looking for technologies that can "provide a next generation of 'deep fake' or other similar technology to generate messages and influence operations via non-traditional channels in relevant peer/near peer environments."
This, and other tech tools that SOCOM is seeking, show just how hypocritical U.S. authorities are when they act like Russian bot campaigns that try to influence U.S. voters (or other such operations by foreign entities) are completely beyond the pale. SOCOM also seeks tech tools that can "provide a next generation capability to collect disparate data through public and open source information streams such as social media, local media, etc. to enable MISO to craft and direct influence operations and messages in relevant peer/near peer environments."
Moreso, SOCOM wants tools to take over smart devices. Specifically, it wants tech that can "generate next generation capability to 'takeover' Internet of Things (IoT) devices" in order to "collect data and information from local populaces to enable breakdown of what messaging might be popular and accepted through sifting of data once received."
---
FREE MARKETS
The PRO Act could cost trillions in GDP. A new analysis from the center-right think tank American Action Forum (AAF) looks at the economic effects of the Protecting the Right to Organize (PRO) Act, a bipartisan bill that would increase the bargaining power of labor unions and reclassify many independent contractors as employees, among other things.
Versions of this bill have been floating around since 2020, and Reason has written a number of criticisms (see, for instance, "The PRO Act Empowers Union Bosses, Not Workers" and "Biden Wants To Restrict Work and Flexibility for Freelancers"). The latest version of the PRO Act (H.R. 20) was introduced on February 28.
Many of the bill's provisions "do not align with the majority of workers' stated preferences and have the potential to harm employers, freelancers, and consumers across a wide array of industries," AAF Policy Analyst Isabella Hindley warns. According to the AAF analysis:
The combined impact of the PRO Act's provisions would put approximately $2.3 trillion of GDP at risk: $2.2 trillion from the bill's IC reclassification provisions, $20–$38.7 billion from broadening the joint employer standard, and $16.1 billion from eliminating employers' ability to replace striking workers.
More here.
---
QUICK HITS
The U.S. government is now running a dashboard on which airlines have or haven't committed to make it "free" for families to be guaranteed seats together. Just bizarre when you think about it. https://t.co/RgQELqgiAS

— Ryan Bourne (@MrRBourne) March 6, 2023
• "The Obama administration's ambassador to Syria, a leading voice in favor of aggressively confronting the regime of Syrian President Bashar al-Assad at the time, is now backing an effort by Rep. Matt Gaetz, R-Fla., to force U.S. withdrawal from the country within 180 days," reports The Intercept. The resolution also has the support of the Congressional Progressive Caucus.
• "The Biden administration is considering reviving the practice of detaining migrant families who cross the border illegally—the same policy the president shut down over the past two years because he wanted a more humane immigration system," according to The New York Times.
• Senators have introduced a bipartisan bill to repeal parts of the U.S. embargo on Cuba.
• The Department of Justice is suing to stop JetBlue Airways from buying Spirit Airlines, in a continuation of the Biden administration's aggressive anti-merger antitrust policies.
• The first nine episodes of Life, Liberty, and the Pursuit of New Hampshire, a documentary about The Free State Project, are now available online.
• On the aesthetic of AI art:
Now that the DALL-E has been successfully midjourneyfied, it is becoming apparent that instead of simulating all possible ›styles‹, AI is fostering the emergence of a distinct visual style, born out of popular aesthetic preferences dominating platforms like DeviantArt
1/6 pic.twitter.com/tZd9Hrz27s

— Roland Meyer (@bildoperationen) March 7, 2023