After Approving Medical Marijuana 5 Years Ago, Oklahoma Voters Reject Broader Legalization
A ballot initiative that would have allowed recreational use was defeated by a large margin in a special election.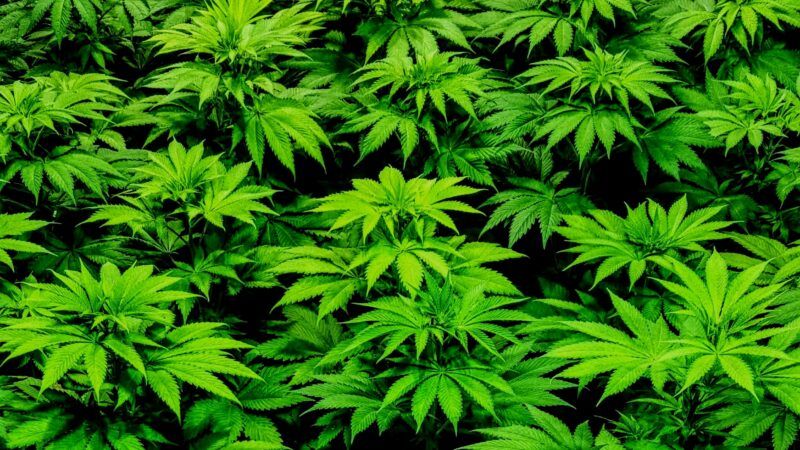 Oklahoma voters, who approved medical marijuana by a 14-point margin in 2018, yesterday declined to go further, rejecting a ballot measure that would have allowed recreational use and authorized state-licensed businesses to serve that market. State Question 820, which was the only thing on the ballot in most counties during this special election, was opposed by 62 percent of voters. The initiative, which originally was proposed for last November's ballot but was delayed by a legal challenge, would have made Oklahoma the 22nd state to legalize recreational marijuana.
"We're pleased and excited that Oklahomans recognize the dangers of marijuana to our kids, to our families," Pat McFerron, a spokesman for the opposition campaign, told KFOR, the NBC affiliate in Oklahoma City. "What [voters] said was, 'We don't want to go further. We've seen the ills of unfettered marijuana use in our state. We've heard those stories from other places, and we don't want to travel down that road.'"
Ryan Kiesel, a spokesman for the Yes on 820 campaign, promised that the fight for legalization would continue. "This is not the end of the effort to end prohibition in the state of Oklahoma," he said. "This is halftime."
The initiative would have eliminated civil and criminal penalties for adults 21 or older who publicly possess an ounce or less of marijuana. It also would have allowed home cultivation, limited to six mature plants and six seedlings, and private possession of the marijuana produced by those plants.
Recreational sales would have been subject to a 15 percent excise tax, which a report commissioned by the Question 820 campaign estimated would yield more than $100 million in revenue each year. Commercial licenses initially would have been limited to existing medical marijuana growers and retailers. After two years, additional suppliers could have applied for licenses. Local governments would have been allowed to regulate retailers but not ban them or cap their number, and they would have received a share of tax revenue based on sales in their jurisdictions.
While marijuana arrests fell dramatically after Oklahoma legalized medical use in 2018, a report from Oklahomans for Criminal Justice Reform noted that police still busted 4,500 people for pot possession in 2020. The group said more than 60,000 Oklahomans have cannabis-related criminal records, many of which could have been cleared under Question 820, which would have authorized people to seek expungements of marijuana convictions involving conduct that was no longer illegal.
"This was about keeping Oklahomans out of the criminal justice system," Kiesel said. "The idea that you cannot get into the criminal justice system for marijuana in the state of Oklahoma is not based in reality at all."
Oklahoma's Republican governor, Kevin Stitt, opposed Question 820 based on a curious mixture of arguments. Last month he said legalizing recreational use was "a bad idea" because cannabis is still prohibited by federal law and "the feds need to make a decision about marijuana." At the same time, Stitt noted that "we already have medical marijuana to help the sick or the people that need it for pain relief," a policy that likewise conflicts with the federal ban.
It was also a bit odd that Stitt, who a year ago said Oklahoma voters had been tricked into legalizing medical marijuana by a "misleading" ballot initiative, was suddenly touting his state's compassion for patients. In any case, he worried that "marijuana is bad for young people."
Sen. James Lankford (R–Okla.) raised the same concern. "Oklahoma has seen marijuana use skyrocket, hurting our communities and families," he tweeted last week. "Protect our kids by voting NO on March 7 on State Question 820 to protect our state from a dramatic increase of Marijuana sales."
Despite the implication that legalizing marijuana for adults would increase underage use, that fear has yet to materialize in states that have approved medical or recreational use. In Oklahoma, past-month marijuana use by high school seniors rose a bit between 2017–18 and 2019–20, but the rate was still below the national average for 12th-graders in the Monitoring the Future Survey.
According to the most recent estimates from the National Survey on Drug Use and Health, past-month marijuana use by Oklahoma residents 12 or older rose more sharply than the national average between 2017–18 and 2018–19. That rate likewise remained below the national average.
According to data cited by the Oklahoma Bureau of Narcotics and Dangerous Drugs Control, "treatment admissions" involving marijuana fell from more than 3,000 in 2018 to fewer than 2,000 in 2020—a 25 percent drop. That coincided with the decline in marijuana arrests, which is probably not coincidental, since the criminal justice system is a major source of treatment admissions.
Oklahoma's medical marijuana program, which is open to adults 18 or older, does not have a list of qualifying conditions, relying instead on physician discretion. As of August 2021, about 376,000 Oklahoma patients—12 percent of the adult population—had active licenses. According to survey results published last year, the conditions most commonly reported by licensees were anxiety (43 percent), depression (33 percent), sleep problems (27 percent), chronic pain (24 percent), and arthritis (13 percent).
The liberality of Oklahoma's medical marijuana program helps explain why the state has so many licensed growers (nearly 8,000) and dispensaries (more than 2,600). By comparison, Colorado, with a population about 46 percent larger, has between 700 and 800 stores selling medical and/or recreational marijuana.
"I feel like we already have recreational marijuana," Oklahoma City Mayor David Holt told The New York Times before the election. "It just doesn't seem like there are any barriers. Right now, I'm well aware there's a dispensary on every corner." The Times said Oklahoma activists hoped that "laissez-faire economic attitudes and growing support for marijuana legalization among younger Republicans could provide a pathway for recreational-use measures through the country's conservative heartland."
As economists Robin Goldstein and Daniel Sumner note in Can Legal Weed Win?, Oklahoma became an improbable model for marijuana reformers troubled by the problems that states like California have encountered in trying to displace the black market. Medical marijuana in Oklahoma is strikingly cheap and accessible, thanks largely to fast application approvals, low license fees, light regulation, and modest taxes. "When the bluest of blue-state liberal activists are looking to red states for guidance on regulatory policy," Goldstein and Sumner observe, "you know something's gone haywire."