Conservatives at CPAC Criticize—and Misunderstand—Section 230
A senator, a state attorney general, and a former congressman excoriated the law while getting much of it wrong.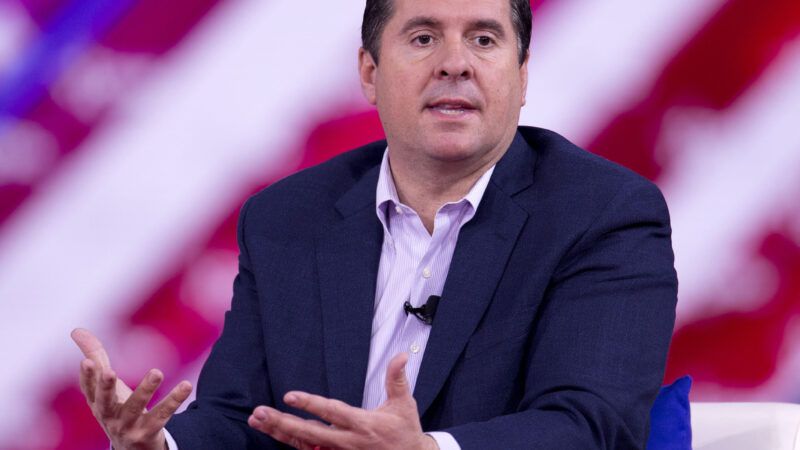 (Brian Cahn/ZUMAPRESS/Newscom)
Florida Gov. Ron DeSantis skipped this year's Conservative Political Action Conference (CPAC), but his ideas were still on display.
Conservatives and Republican officeholders gathered in the Washington, D.C., area for the first time since the onset of the COVID-19 pandemic. Featured among the schedule of events and appearances was one talk titled "Big Tech– Break 'em Up, Bust 'em Up, Put 'em in Jail." Panelists included Sen. Mike Braun (R–Ind.), Florida attorney general Ashley Moody, and former Rep. Devin Nunes (R–Calif.), who served nearly two decades in the U.S. House before resigning in order to serve as CEO of Truth Social, former President Donald Trump's social media service.
While nominally about Big Tech companies and their role in everyday Americans' lives, the discussion touched on Section 230, the 1996 law that protects online platforms from legal liability for most content their users post. It allowed the internet to grow from nascency to ubiquity, but politicians on both the right and the left think it should be reformed or simply repealed.
Each panelist has an unimpressive pedigree on free speech and internet freedom. Braun cosponsored the 21st Century FREE Speech Act, which would have replaced Section 230 with "more limited protections." While in Congress, Nunes filed numerous lawsuits alleging hundreds of millions of dollars in defamation claims against people and personalities who said mean things about him on Twitter. And Moody, as Florida's top law enforcement official, is defending the state's blatantly unconstitutional social media law which DeSantis championed as "guarantee[ing] protection against the Silicon Valley elites."
On stage, the panelists complained about Section 230 and its effect on the internet. Braun complained that "Most of us do not get the benefit of having laws put in your favor—everybody else can get sued for whatever they do wrong," implying that tech companies cannot.
When asked to explain Section 230, Moody mischaracterized the law, saying it allows platforms to "publish information and not be held liable." The law does protect platforms from liability for what users post: If you publish information to a website, then you can be held liable for the content. The entire purpose of Section 230 is to place the liability on whoever created that content. If somebody posts something defamatory on Facebook or Twitter, then Facebook or Twitter cannot be held liable because they were not responsible for crafting the message.
The panel's moderator, Dan Schneider of the Media Research Center, lauded that all three panelists were "fighting…the good fight." Unfortunately, all of the panelists misunderstood what Section 230 does and what it's good for.