Fox's Excuses Reinforce Dominion's Defamation Case
Although Rupert Murdoch admits that Lou Dobbs and other hosts "endorsed" the "stolen election" narrative, Fox's lawyers insist that is not true.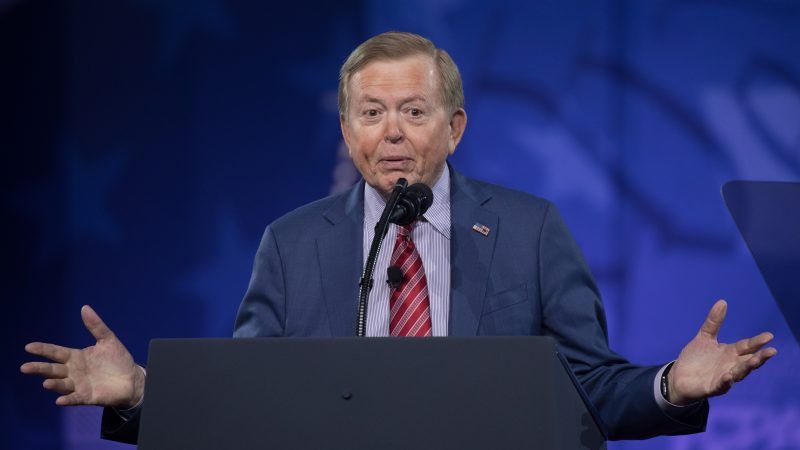 Did Fox News actively promote the conspiracy theory that implicated Dominion Voting Systems in a "massive fraud" that supposedly denied Donald Trump a second term? Or did Fox merely report what the president and his representatives were saying?
Those questions are at the heart of the defamation lawsuit that Dominion filed against Fox in March 2021. For obvious reasons, Fox prefers the second interpretation. But in response to questions from Dominion's lawyers, Fox Corporation Chairman Rupert Murdoch conceded that several Fox News and Fox Business hosts had "endorsed" the unsubstantiated fraud allegations that Trump lawyers Rudy Giuliani and Sidney Powell made on their shows after the 2020 presidential election.
During that deposition, which Dominion describes in a brief it filed this week, Murdoch nevertheless insisted that Fox as a whole had not endorsed Giuliani and Powell's wild charges. That distinction is problematic for a couple of reasons.
First, the fact that Fox News reporters were appropriately skeptical of those claims does not absolve Fox of liability for the credulous reception that Giuliani and Powell received on shows such as Lou Dobbs Tonight. Second, Dominion argues that Murdoch, who was privately calling their story "really crazy stuff," nevertheless decided not to intervene because he was worried about alienating Trump supporters.
Dominion says the responsibility for Giuliani and Powell's baseless accusations extends beyond them and the hosts who repeatedly gave them a forum and lent credence to their claims. It includes producers and executives who knew or should have known those claims were false and had the power to stop hosts like Lou Dobbs from continuing to promote them. They chose not to do so, Dominion argues, because they were afraid of losing viewers to right-wing competitors.
In its summary judgment brief, Fox does not seriously address the culpability of Murdoch or other executives. Instead it focuses on what Fox News and Fox Business hosts said on the air or on Twitter, arguing that "a reasonable viewer" would view those statements as summaries of unproven allegations rather than assertions of fact. Fox also cites questions and comments that supposedly show the hosts did not take the truth of Giuliani and Powell's claims for granted. These point-by-point rebuttals are so unpersuasive that Fox inadvertently reinforces Dominion's case.
Before reading Fox's brief, I was open to the argument that "Dominion has mischaracterized the record, cherry-picked quotes stripped of key context, and spilled considerable ink on facts that are irrelevant under black-letter principles of defamation law," as Fox claimed in an emailed statement to Reason. "The core of this case," Fox said, "remains about freedom of the press and freedom of speech, which are fundamental rights afforded by the Constitution and protected by New York Times v. Sullivan." But after reading Fox's brief last week, I was more persuaded than ever that Dominion's claims have merit.
Consider Fox's treatment of tweets in which Dobbs promoted Powell's appearances on his show. If you "read all about Dominion and Smartmatic voting companies," Dobbs declared in a November 14 tweet, "you'll soon understand how pervasive this Democrat electoral fraud is, and why there's no way in the world the 2020 Presidential election was either free or fair." In a December 10 tweet, Dobbs echoed Powell's claim that "the 2020 Election [was] a cyber Pearl Harbor," adding that "the leftwing establishment have aligned their forces to overthrow the United States government."
That tweet included an unattributed document averring that Dominion participated in that scheme. The document said the conspiracy also involved Smartmatic, Cuba, Venezuela, George Soros, the Chinese Communist Party, "the Democrat party," and "the American media," all of whom "aligned…against the will of the people of the US." That document, we can surmise, was prepared by Powell. But Dobbs did not indicate who wrote it, and his tweet unambiguously endorsed its claims.
Would a reasonable reader conclude that Dobbs himself was lodging these allegations? Or would a reasonable reader conclude that "these statements came from Powell, not Dobbs," as Fox maintains?
Fox also argues that "the forum of the statement—Twitter—reinforces the conclusion that Dobbs was not stating defamatory facts about Dominion," because "Twitter is not a natural setting in which a reasonable viewer would conclude that she is hearing actual facts about the plaintiff." The "common expectation" on Twitter, Fox says, "is that such statements 'will represent the viewpoints of their authors and, as such, contain considerable hyperbole, speculation, diversified forms of expression and opinion.'" Fox seems to be implying that tweets, by their very nature, cannot be defamatory. Twitter users would be ill-advised to act on that reading of the law.
During a November 12 interview with Giuliani, Dobbs described the alleged election conspiracy as "the end game to a four-and-a-half-year-long effort to overthrow the President of the United States." But according to Fox, "a reasonable viewer would have readily understood that the statement was Dobbs' opinion, and a tentative one at that." It was so tentative that Dobbs twice reiterated the same conclusion on his show the next day. That may have been "Dobbs' opinion," but it was based on the assumption that Giuliani and Powell were speaking the truth.
While interviewing Powell on November 24, Dobbs referred matter-of-factly to "the electoral fraud that's been perpetrated this year." He worried that "Americans have given no thought to electoral fraud that would be perpetrated through electronic voting," which he said involved Dominion, "at least in the suspicions of a lot of Americans."
Dobbs left no doubt that he believed those suspicions were well-founded. While interviewing Powell on December 10, he falsely asserted that "we have tremendous evidence already of fraud in this election." Afterward, he falsely claimed Powell had presented "groundbreaking new evidence indicating our Presidential election came under massive cyber-attack orchestrated with the help of Dominion, Smartmatic, and foreign adversaries."
Echoing Giuliani, Dobbs asserted that servers containing voting data were located in "foreign countries." He said that meant states "have no ability to audit meaningfully the votes that are cast because the servers are somewhere else and are considered proprietary." But as Dominion notes, "local jurisdictions administer elections locally and Dominion did not send or store votes overseas."
More generally, Dobbs applauded "President Trump's fight for a free and fair election," and said Trump had been "wronged mightily." He added: "Only an idiot would try to claim that there were no irregularities, that there were no anomalies, and that there were insufficient evidence and documents suggesting fraud and inexplicable mathematic ratios that tell us quickly there is something terrible afoot here….There is no election in our presidential history, our nation's history, in which there were so many anomalies, so many irregularities, and so much clearer evidence of fraud." Dobbs thanked Powell, whom he described as "one of the country's leading appellate attorneys," for doing "the Lord's work," which he claimed had uncovered "new information regarding electoral fraud in the radical left's efforts to steal an election."
I could go on, but you get the idea. According to Fox's lawyers, none of this amounted to endorsing Powell and Giuliani's allegations. Murdoch disagrees. When asked whether transcripts showed that Dobbs "had endorsed at times this false notion of a stolen election," Murdoch replied, "Oh, a lot." What about Fox News host Maria Bartiromo? "Yes," Murdoch said. "C'mon." He added that "I think" Jeanine Pirro also "endorsed" that "false notion," while Sean Hannity—who would later say he "did not believe" Powell's claims "for a second"—did so "a bit."
What about Fox's argument that Dobbs et al. pushed back against Powell and Giuliani's claims, asking them what evidence they had to support them? The hosts did ask whether Powell and Giuliani would be able to muster enough evidence and present it in court (which they never did) before the Electoral College deadlines. But those inquiries were framed as questions about timing rather than questions about the veracity of the allegations.
Fox's description of this supposed pushback is highly misleading. On his November 13 show, for example, Dobbs mentioned that the Cybersecurity and Infrastructure Security Agency (CISA) "says the November 3rd election was the most secure in American history." Fox presents that statement as evidence that Dobbs "cast doubt on the claims" that Giuliani and Powell were making. It neglects to mention that his statement was accompanied by a graphic that said "CISA IGNORES VOTER FRAUD."
Dobbs was similarly contemptuous of other government agencies that found no support for the claims he was promoting. The Justice Department is "trying to blind us to what is going on," Dobbs warned on his November 16 show. "We cannot trust the Justice Department, the FBI, or any intelligence agency," he told viewers on November 30. "Let me be straightforward with you. I had damn sight rather have Sidney Powell and Rudy Giuliani on the case than [FBI Director] Christopher Wray and the fools, the corrupt fools, that lead the FBI any day."
Behind the scenes, meanwhile, Fox executives and producers had considerably less faith in Powell and Giuliani. On November 7, Murdoch told Col Allan, then editor in chief of the New York Post, that he "just saw a bit of Rudy ranting." Murdoch called Giuliani "a terrible influence on Donald." Allan agreed that Giuliani seemed "unhinged," adding that he "has been for a while" and "I think booze has got him."
Dobbs described Giuliani and Powell's bizarre November 19 press conference as a "powerful" presentation of "powerful charges." Murdoch offered a different assessment. He told Fox News CEO Suzanne Scott it was "terrible stuff" that was "damaging everybody" and "probably hurting us too." In an email to News Corporation CEO Robert Thomson, Murdoch called Giuliani's claims "really crazy stuff." In a November 23 message to a former Fox executive, Murdoch expressed satisfaction that Fox News host Tucker Carlson, who had publicly noted Powell's failure to back her claims with evidence, had "called out that crazy would be lawyer."
Fox Corporation Senior Vice President Raj Shah took the same view. In a deposition, he said he was skeptical of the "stolen election" claims from the beginning. He called Giuliani and Powell's November 19 presentation a "crazy fucking presser" and described Powell as "nuts." In a November 21 message to a producer on Carlson's show, Shah called Powell's fantasy "totally insane" and "MIND BLOWINGLY NUTS."
In a November 16 text to colleagues, John Fawcett, an associate producer for Lou Dobbs Tonight, texted colleagues that Powell seemed to be "doing lsd and cocaine and heroin and shrooms." In a November 22 text exchange with Dobbs, Fawcett noted that the Trump campaign, by disassociating itself from Powell, seemed to be "calling bullshit" on her. Fawcett suggested that Powell "could be losing her mind," noting that her story "doesn't make sense" and adding, "I just don't think she is verifying anything she is saying."
Former House Speaker Paul Ryan, a member of Fox Corporation's board, warned Murdoch and his son Lachlan, the company's CEO, about the dangers of lending credence to the stolen-election narrative. "We are entering a truly bizarre phase of this where [Trump] has actually convinced himself of this farce and will do more bizarre things to delegitimize the election," Ryan said in a December 6 text. "I see this as a key inflection point for Fox, where the right thing and the smart business thing to do line up nicely."
Dobbs nevertheless continued to promote Powell, who appeared yet again on his show four days later. As late as January 26, 2021, Carlson provided a forum for My Pillow CEO Mike Lindell, who regurgitated Powell's claims. Carlson said he did not anticipate that, because Lindell was supposed to discuss "cancel culture." But in a deposition, Rupert Murdoch conceded that it was "wrong for Tucker to host Mike Lindell to repeat those allegations against Dominion" if Carlson did not challenge them. Carlson, despite his previous skepticism about Powell's claims, notably failed to do that.
Lindell said "we have all the evidence" to show Dominion's complicity in election fraud and complained that "they just say, 'Oh, you're wrong.'" Instead of asking Lindell to elaborate on that "evidence," Carlson sympathized with his complaint. "They're not making conspiracy theories go away by doing that," Carlson said. "You…don't make people kind of calm down and get reasonable and moderate by censoring them. You make them get crazier, of course. This is…ridiculous."
That comment, Fox argues, implied skepticism by referring to "conspiracy theories." Dominion argues that "a regular viewer of Carlson's would likely have thought Carlson changed his mind on the subject, given how differently he treated Lindell than he had treated Powell."
Admittedly, this is a closer call than Dobbs' explicit embrace of Powell's tall tale. But by this point, Dominion argues, Fox should have known better than to put someone like Lindell on the air. Even two months earlier, Dominion says, it was abundantly clear that Giuliani and Powell were spouting nonsense, as Murdoch himself recognized shortly after the election. Murdoch conceded that he "could have" told Scott to stop featuring Giuliani and Powell, "but I didn't."
Why not? Dominion tells a plausible story, backed by internal communications, that Fox continued to host "crazy" conspiracy theorists because it had a financial interest in doing so. Viewers were angry after Fox News called Arizona for Trump, and executives were alarmed by their disenchantment and their flight to Newscom and One America News Network. In short, Dominion says, Fox favored profits over truth.
Dominion has to prove by "clear and convincing evidence" that Fox either knowingly or recklessly promoted damaging lies about the company. While that's a very tough test, Fox's lame excuses provide reason to believe that Dominion can meet it.