During Surprise Trip to Kyiv, Biden Promises Endless Support for Ukraine War
Plus: The National Endowment for Democracy ends funding of conservative media blacklist, the U.S. Supreme Court will hear major internet free speech case, and more...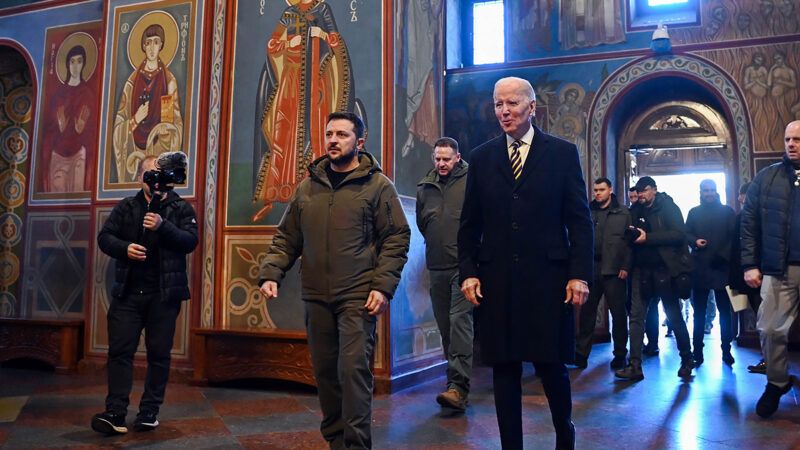 ( Ukrainian Orthodox Church/UPI/Newscom)
President Joe Biden made a surprise visit to Kyiv, where he promised Ukrainians interminable support in the war against Russia. The president spent five hours in the Ukrainian capital where he met with President Volodymyr Zelenskyy, laid wreaths at a memorial for fallen soldiers, and promised to continue U.S. assistance "for as long as it takes."
"I thought it was critical that there not be any doubt, none whatsoever, about U.S. support for Ukraine in the war," said Biden during his visit, per the Wall Street Journal. While in the country, the president promised an additional $460 million in military aid to Ukraine.
The latest package includes missiles and artillery ammunition, communications equipment, medical supplies, and four Bradley Fighting Vehicles. This latest assistance comes after the U.S. and its NATO allies agreed to start providing Ukraine with hundreds of heavy tanks last month.
The Biden administration has sent $30 billion worth of weapons and equipment to Ukraine since Russia invaded the country in February 2022. Congress has approved $113 billion in aid for Ukraine in the past year, with three-fifths dedicated to military assistance.
Despite the mounting price tag, there's little indication that the U.S. government's appetite for supporting Ukraine in its war against Russia is waning. Biden's "for as long as it takes" line certainly suggests his commitment to endless aid.
Some Republican members of Congress criticized Biden for visiting Kyiv before East Palestine, Ohio, where a train carrying toxic chemicals derailed earlier this month, or the Southern border.
Other Republicans, like Sen. Lindsey Graham (R–S.C.), praised Biden's trip. Senate Minority Leader Mitch McConnell (R–Ky.) has gone out of his way in recent days to emphasize that most Republicans in Congress are still firmly in favor of supporting Ukraine with American tax dollars. "Don't look at Twitter, look at people in power," McConnell told a German audience last week at a security conference.
Nor is there much opposition to increased Ukraine aid coming from liberal electeds. In October last year, 30 members of the House Congressional Progressive Caucus signed a letter that both praised U.S. assistance to Ukraine and called for more diplomacy to end the war. That modest pushback produced intense controversy and the letter was eventually withdrawn.
The American public is more skeptical of continued assistance to Ukraine than their representatives. A recent survey conducted by the Associated Press' polling outfit found that 48 percent of Americans support continued weapons shipments to Ukraine, while 29 percent are opposed. Another 22 percent neither favor nor oppose sending weapons to the country.
That's down from 60 percent support last year. Still, popular agitation against U.S. and Western involvement in the Ukraine war is limited.
This weekend, a rally co-sponsored by the Libertarian Party and the left-wing People's Party in Washington, D.C., demanding an end to U.S. support for Ukraine and the dissolution of NATO drew a crowd of just a few hundred people. At the Munich security conference where McConnell spoke, far-left and far-right demonstrators both showed up to protest NATO, and ended up fighting with each other, reports the Washington Post.
Press coverage of Biden's trip has generally been pretty favorable, with a number of breathless stories recounting how the president was secreted into the country.
Meanwhile, the war itself has ground to a standstill. Fighting persists across a frontline in the Eastern portion of the country, but little territory is changing hands.
That itself is a defeat for Russia, which seemed to start the war with the far-reaching goal of overthrowing the government in Kyiv. In a televised address Tuesday, Russian President Vladimir Putin reaffirmed his commitment to fighting the war, which he blamed on Western elites.
"The Russian army has become bogged down in a grinding and dreadfully bloody struggle for very limited amounts of territory in eastern Ukraine," writes the Quincy Institute's Anatol Lieven. "Parallels are being made with the four years of trench warfare on the Western Front during the First World War—a struggle from which all the participants emerged crippled."
Biden's trip underscores the U.S.'s commitment to funding this bloody stalemate.
---
FREE MINDS      
It was a bad day for taxpayer-funded internet blacklists. The largely State Department-funded National Endowment for Democracy (NED) announced that it was cutting off its funding for the Global Disinformation Index (GDI).
The goal of the GDI was to draw up lists of online publications and news sites susceptible to publishing "disinformation" which advertisers could then use to withdraw support from those publications. That list ended up putting a number of perfectly legitimate news sites—including Reason and the New York Post—on its list of 10 "riskiest" purveyors of misinformation.
An investigation by the Washington Examiner first uncovered the NED's funding for the disinformation index. A NED spokesperson confirmed to the Examiner that it would no longer be providing grants to the GDI, citing its requirement that it not involve itself in domestic U.S. politics.
---
FREE MARKETS
Today, the U.S. Supreme Court will hear a case that could decide the future of free speech on the internet. Gonzalez v Google challenges Section 230 of the Communications Decency Act that shields tech companies from liability for hosting third-party speech and moderating content that violates companies' terms of service.
The plaintiffs lost family members in the 2015 terrorist attacks in Paris. They accuse YouTube (owned by Google) of aiding in these crimes by recommending Islamic State videos to users. The Supreme Court is being asked to decide whether content recommendations based on users' viewing habits should receive Section 230 protections.
Read First Amendment lawyer Robert Corn-Revere's analysis of the case for Reason and its implications for the freedom to speak freely online.
---
QUICK HITS