U.S. State Department Funds a Disinformation Index That Warns Advertisers To Avoid Reason
Reason is listed among the "ten riskiest online news outlets" by a government-funded disinfo tracker.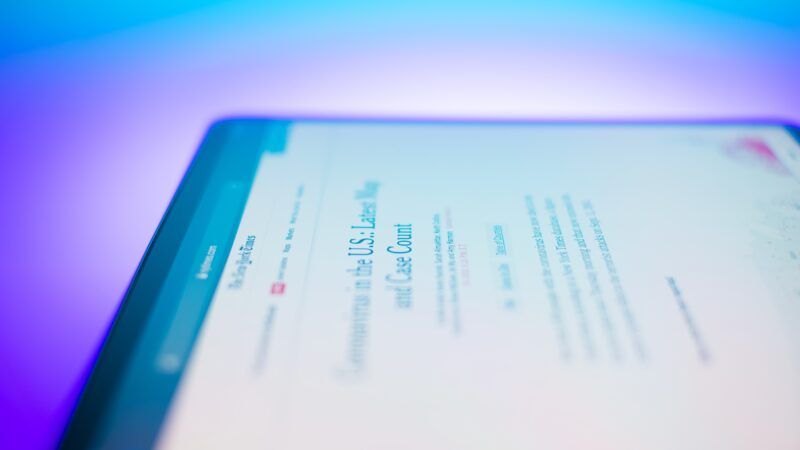 The Global Disinformation Index (GDI) is a British organization that evaluates news outlets' susceptibility to disinformation. The ultimate aim is to persuade online advertisers to blacklist dangerous publications and websites.
One such publication, according to GDI's extremely dubious criteria, is Reason.
GDI's recent report on disinformation notes that the organization exists to help "advertisers and the ad tech industry in assessing the reputational and brand risk when advertising with online media outlets and to help them avoid financially supporting disinformation online."
The U.S. government evidently values this work; in fact, the State Department subsidizes it. The National Endowment for Democracy—a nonprofit that has received $330 million in taxpayer dollars from the State Department—contributed hundreds of thousands of dollars to GDI's budget, according to an investigation by The Washington Examiner's Gabe Kaminsky.
Should the State Department spend public money to help an organization pressure advertisers to punish U.S. media companies? The answer, quite obviously, is no: The First Amendment prohibits the U.S. government from censoring private companies for good reason, and government actors should not seek to evade the First Amendment's protections in order to censor indirectly or exert pressure inappropriately.
The Washington Examiner, which was included on GDI's list of risky media outlets, confirmed that it has lost out on revenue due to advertisers heeding GDI's federally subsidized concerns. (An internal GDI memo singles out Amazon for purchasing ad space on an Examiner article that allegedly included right-wing misinformation.)
But GDI evidently considers Reason even more threatening than The Washington Examiner. Reason is listed among GDI's 10 allegedly absolute "riskiest online news outlets," alongside the New York Post, Real Clear Politics, The Daily Wire, The Blaze, One America News Network, The Federalist, Newsmax, The American Spectator, and The American Conservative.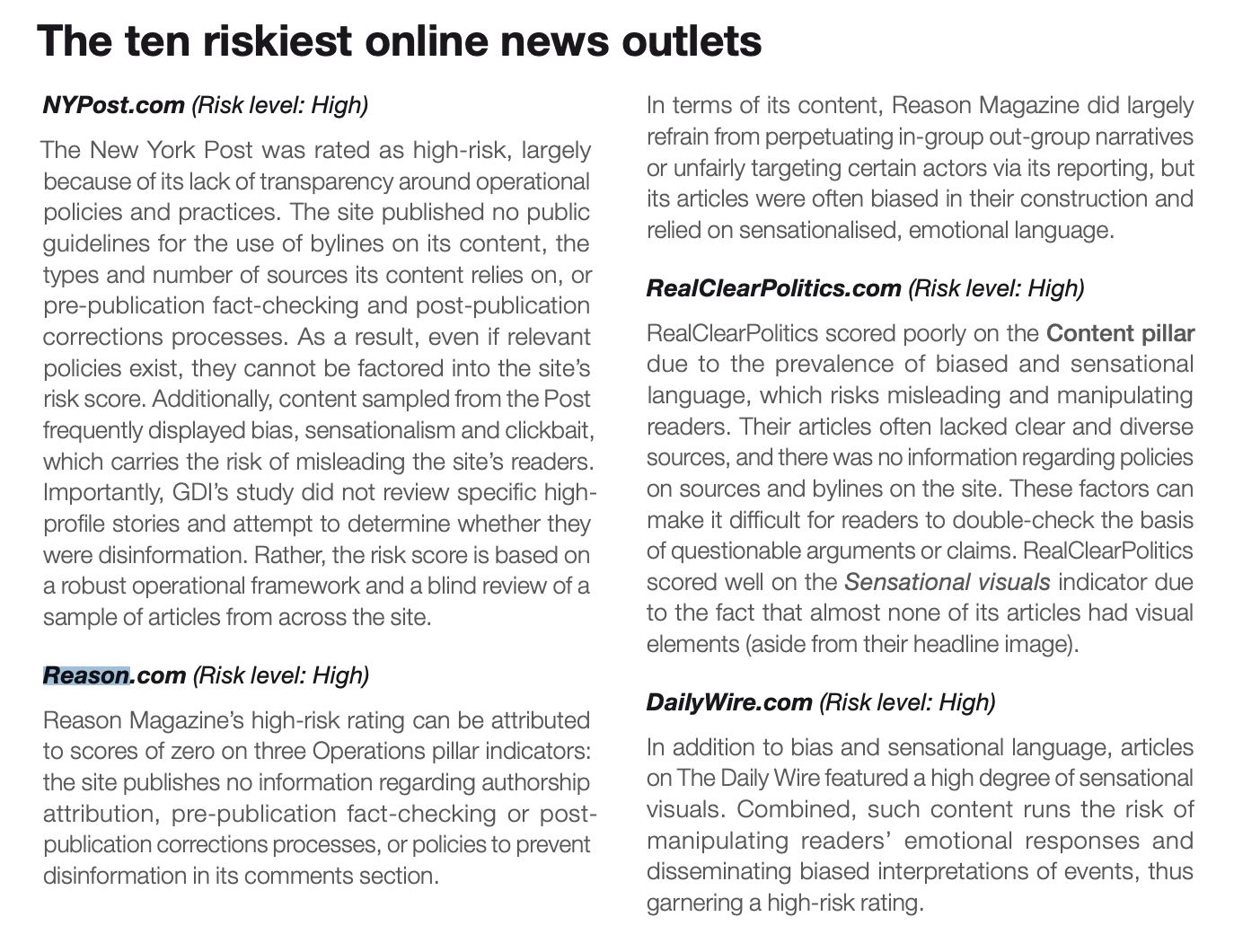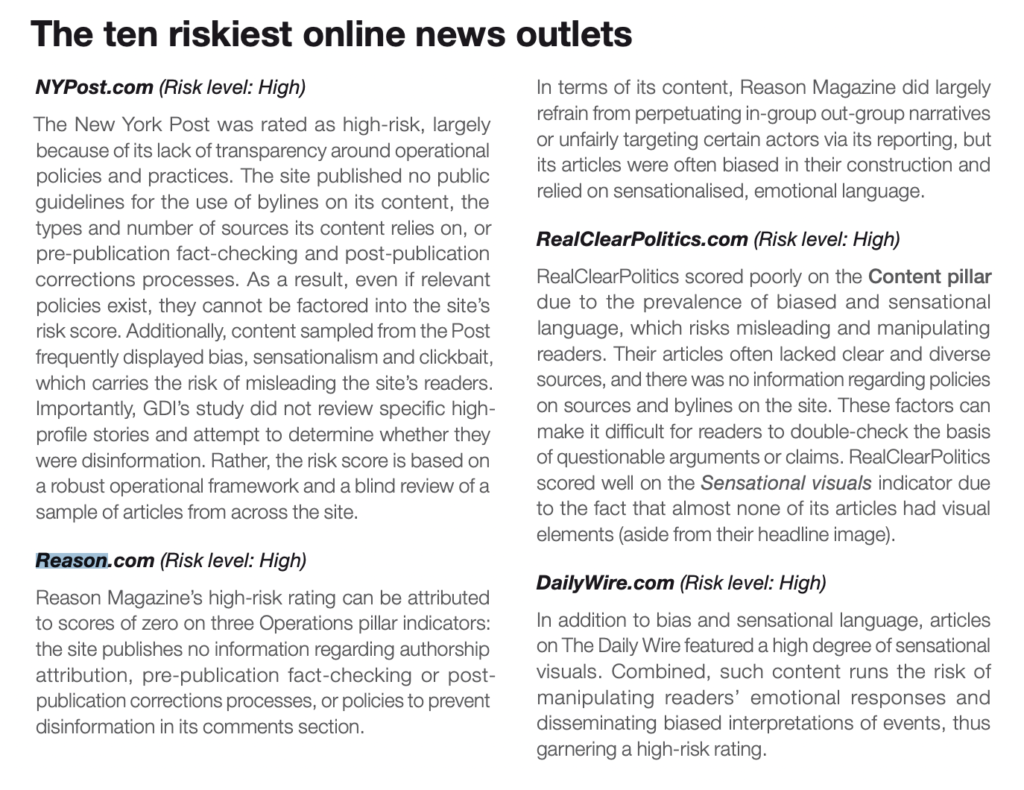 Reason's rating was due to three factors, according to GDI: "no information regarding authorship attribution, pre-publication fact-checking or post-publication corrections processes, or policies to prevent disinformation in its comments section."
It is not clear precisely what GDI means—the organization did not respond to requests for comment, and it has not made its full scoring analysis available to the public. But contrary to what GDI suggests, the authorship of Reason articles is clearly communicated to readers. Reason writers link to their sources, and promptly make (and note) corrections whenever appropriate. It's true that Reason does not specifically police disinformation in the comments section; that is perhaps an area where Reason's philosophy—free minds and free markets—clashes with GDI's.
When evaluated by a misinformation-tracking organization that uses transparent and objective metrics, Reason fares much better. NewsGuard—an evaluator co-founded by Gordon Crovitz, former publisher of The Wall Street Journal—gives Reason a perfect score of 100/100 and does not steer advertisers away. NewsGuard gives The Examiner a score of 92.5/100; in a recent op-ed for that publication, Crovitz explained how NewsGuard's processes differ from the opaque blacklisting system preferred by GDI:
Unlike the ratings of news sites done by the entities cited in the Washington Examiner series (the nonprofit GDI and the multibillion-dollar ad tech companies IAS and DoubleVerify), NewsGuard ratings are done with full transparency and disclosure, using only apolitical criteria. Everything is done by humans, including the ratings by our analysts of all the news and information sites that account for 95% of engagement in the United States and the other countries where we operate.

Each site gets a score from 0-100 based on nine basic criteria of journalistic practice. Unlike others, we don't rely on artificial intelligence—only human intelligence can be held accountable to be accurate and apolitical.

Publishers can also make changes to address our questions. More than one-quarter of the sites we've rated, including many conservative sites, have improved their scores by making additional disclosures or otherwise improving their practices after engaging with our analysts.
As NewsGuard's evaluation makes clear, Reason is not an unsafe website, and if GDI is pretending otherwise, then this government-funded hall monitor is the one spreading disinformation.
It is also worth noting that GDI ranked the 10 so-called "lowest-risk" online news outlets, which include: NPR, The Associated Press, The New York Times, ProPublica, Insider, USA Today, The Washington Post, BuzzFeed News, The Wall Street Journal, and HuffPost. Many of these publications frequently produce admirable journalism. But they are not immune to disinformation—HuffPost, for instance, repeatedly suggested that the New York Post's infamous Hunter Biden laptop story was Russian misdirection. Notably, NewsGuard gives HuffPost a score of 87.5/100.
If a self-described disinformation-tracking organization wants to loudly proclaim, in partisan fashion, that advertisers should only use mainstream and liberal news sites, it has that right. But advertisers should take note of its obvious bias, total lack of transparency in detailing media outlets' scores, and other methodological issues. And the State Department certainly has no business helping to fund it.