Marijuana Arrests Plunged Last Year, Reflecting the Impact of Legalization
The 36 percent drop may also be partly due to pandemic-related restrictions that drove cannabis consumers indoors.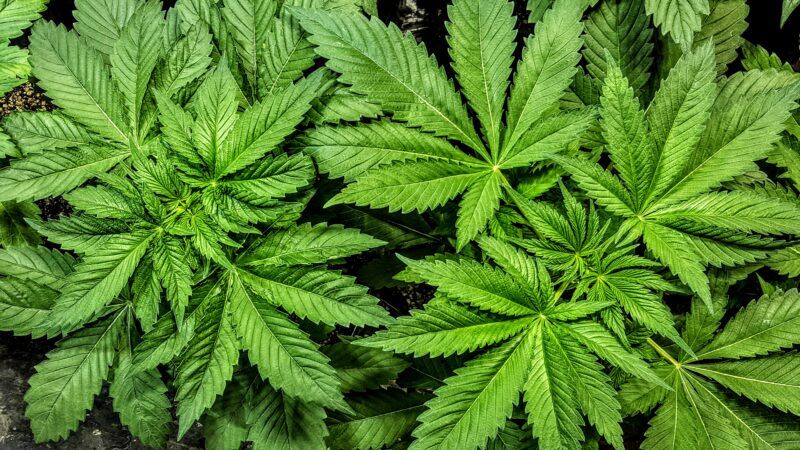 Last year, according to data the FBI published this week, police in the United States made about 350,000 arrests for marijuana offenses, the lowest level recorded in three decades. The 36 percent drop in 2020, which follows an 18 percent decrease in 2019, reflects the impact of ballot initiatives and legislation that eliminated penalties for low-level possession last year or earlier. It may also reflect the impact of COVID-19 restrictions that drove cannabis consumers indoors, where they were less likely to be noticed by police.
As usual, the vast majority of marijuana arrests in 2020 (91 percent) were for simple possession, as opposed to cultivation or distribution. "As more states move toward the sensible policy of legalizing and regulating cannabis, we are seeing a decline in the arrest of non-violent marijuana consumers nationwide," says Erik Altieri, executive director of the National Organization for the Reform of Marijuana Laws (NORML), in a press release. "The fight for legalization is a fight for justice. While these numbers represent a historic decline in arrests, even one person being put into handcuffs for the simple possession of marijuana is too many."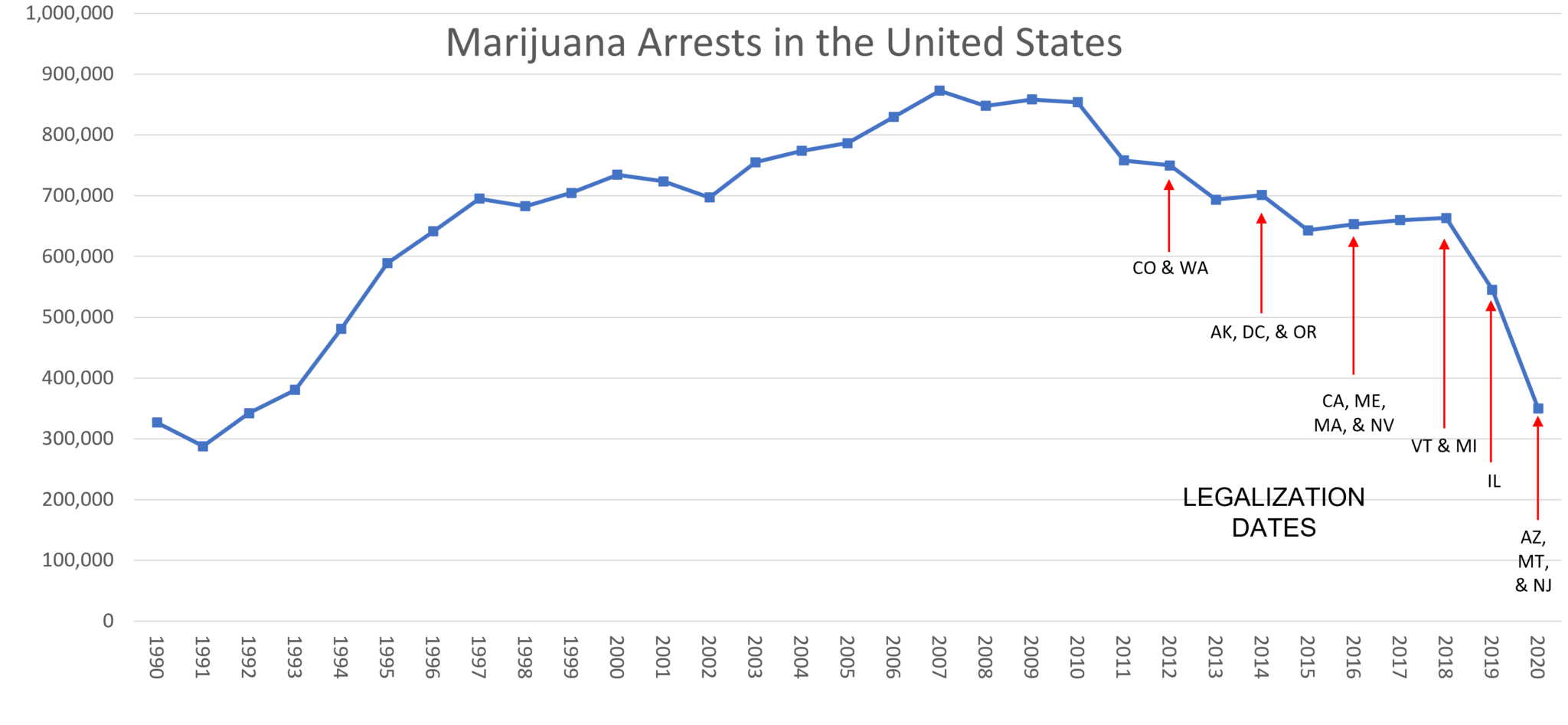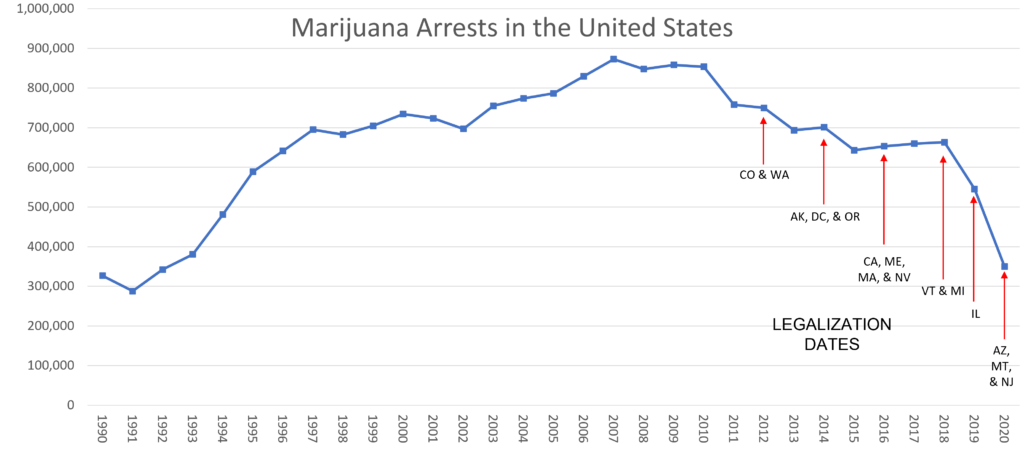 There is reason to expect marijuana arrests to decline again this year. In seven states that recently legalized possession—Arizona, Connecticut, Montana, New Jersey, New Mexico, New York, and Virginia, with a combined population of more than 50 million—the laws did not take effect until late 2020 or this year. All told, more than two-fifths of Americans live in the 18 states that have legalized marijuana for recreational use—a policy supported by about two-thirds of Americans, according to the latest Gallup poll. Nearly all of those states also allow commercial production and distribution or will soon.
Marijuana arrests did not initially follow the trajectory you might expect after Colorado and Washington became the first states to legalize recreational use in 2012. Total arrests dropped in 2013, rose slightly in 2014, fell in 2015, then rose modestly for three consecutive years before falling substantially in 2019 and 2020.
Since possession had been legalized in eight states—including California, the most populous—by 2017, it may seem surprising that marijuana arrests continued to rise until 2019. But in California, possession of an ounce or less for personal use had been treated as a citable offense punishable only by a $100 fine since 2011. So while California accounts for 12 percent of the U.S. population, it accounted for less than 2 percent of marijuana arrests in 2016, the year that voters approved legalization there.
Four of the other jurisdictions that legalized marijuana in 2012, 2014, or 2016—D.C., Maine, Massachusetts, and Oregon—likewise had already decriminalized possession of small amounts. In Alaska, Nevada, and Washington, possession was still a misdemeanor, while Colorado treated it as a "petty offense." Another thing to keep in mind: Public marijuana use and possession of amounts above a specified threshold can lead to arrests even in states that have legalized possession, cultivation, and distribution.
Still, the increases in marijuana arrests after these jurisdictions legalized recreational use suggest that other states picked up the slack. Last year, NORML reported that "much of the national decline resulted from a drop-off in marijuana arrests in Texas in 2019, which experienced over 50,000 fewer marijuana-related arrests last year" than in 2018. In Texas, the second-most populous state, possession of two ounces or less is still a misdemeanor punishable by up to six months in jail and a maximum fine of $2,000. The 2019 drop in Texas arrests seems to have been driven partly by the legalization of hemp, which required more sophisticated drug testing that was initially hard to arrange.
When you take a longer view, the 2020 U.S. total looks like a reversion to the arrest numbers recorded in the early 1990s, before a surge in pot busts that continued for a decade and a half. Marijuana arrests rose threefold from 1991 until their peak in 2007, while the U.S. population grew by 19 percent. Last year's arrest total is still about 22 percent higher than the number recorded in 1991.
While the odds that any given cannabis consumer will be arrested have always been low, they are getting lower. Possession arrests in 2007 represented about 3 percent of marijuana users that year, judging from survey data. Last year, based on survey data for 2019, that number was down to about 0.7 percent.