Two Big New Ways the Biden Administration Plans To Overstep Its Pandemic Authority
Plus: The vaccine and abortion debates, a promising jobs report, and more...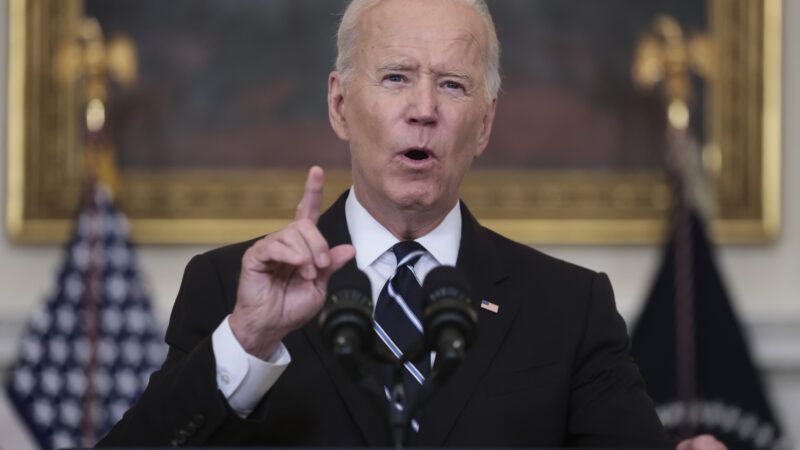 (Oliver Contreras/UPI/Newscom)
President Joe Biden has announced the next stage of his administration's COVID-19 pandemic response—and it's a doozy of dubious constitutionality and executive branch overreach. The biggest news is that Biden is ordering all private businesses with more than 100 employees to make their workers get the COVID-19 vaccine or submit to weekly testing.
Enforcement of this policy will be handled through the Department of Labor's Occupational Safety and Health Administration (OSHA). "OSHA will issue an Emergency Temporary Standard (ETS) to implement this requirement," says the White House. "This requirement will impact over 80 million workers in private sector businesses."
President Biden: "The Department of Labor is developing an emergency rule to require all employers with 100 or more employees, that together employ over 80 million workers, to ensure their workforces are full vaccinated or show a negative test at least once a week." pic.twitter.com/ockKwZAndq

— CSPAN (@cspan) September 9, 2021
The administration claims OSHA has the authority to do this because it's permitted to issue temporary regulations "necessary to protect employees" from dangerous "exposure to substances or agents determined to be toxic or physically harmful." But interpreting this to mean not just limited toxic exposures within a particular area or workplace but any virus or disease plaguing the country would drastically alter the scope of OSHA's alleged authority.
The fact that this order is coming not from Congress but from Biden and an administrative body is also…problematic, to put it mildly.
"This is legislative action that bypasses the legislative branch," commented former Rep. Justin Amash (L–Mich.) yesterday. "If you care about representative government—if you're consistent regardless of who's president—then it doesn't matter that you like the policy; this mandate is an abuse of power."
"I am a strong proponent of vaccines (get yours if you haven't!) but President Biden doing an end-run around the legislative process by ordering an administrative agency like @OSHA_DOL to mandate vaccinations for employees of private business is outrageous overreach," tweeted Rep. Peter Meijer (R–Mich.).
"Biden is presiding over a vast expansion of federal authority, one that Democrats will certainly come to regret the next time a Republican takes power," suggested Reason's Robby Soave in a New York Times op-ed today. "Moreover, the mechanism of enforcement — a presidential decree smuggled into law by the Department of Labor and its Occupational Safety and Health Administration — is fundamentally undemocratic. Congress is supposed to make new laws, not an unaccountable bureaucratic agency."
How OSHA—and employers—will actually enforce this mandate remains a big question mark.
So… as a practical matter how enforceable are these mandates really? The record of immunization most folks have is a tiny square of cardboard that's equally easily lost, destroyed, or forged.

— Julian Sanchez (@normative) September 10, 2021
Obviously there are ways to check, in principle, via insurance or the direct providers, but that sounds like it would require significant infrastructure if suddenly you've got a massive number of employers needing to check vax status for 80 million workers…

— Julian Sanchez (@normative) September 10, 2021
Another big unknown: Will workers really walk away rather than get the vaccine? In polls, at least, many unvaccinated workers say they would quit their jobs before getting vaccinated:
"Among unvaccinated workers who are not self-employed, about 7 in 10 say they would likely quit if their employer required them to be vaccinated and did not grant a medical or religious exemption."https://t.co/2r0gwyxitt

— Frank Luntz (@FrankLuntz) September 9, 2021
In addition to mandating that workers at businesses of a certain size be vaccinated or regularly tested, Biden's new order says health care businesses—regardless of size—must see that all staff, volunteers, and contractors are vaccinated if these businesses take Medicare or Medicaid patients. The requirement includes volunteers and staff "who are not involved in direct patient, resident, or client care" and will "apply to approximately 50,000 providers and cover a majority of health care workers across the country," the White House says.
The other big overreach in yesterday's order involves the Defense Production Act and COVID-19 tests.
"The reason that Americans don't have access to cheap, fast COVID-19 self-tests right now is because the hypercautious regulators at the Food and Drug Administration (FDA) have been ridiculously slow to approve such tests," as Reason's Ron Bailey noted yesterday.
Yet, rather than approve more COVID-19 tests—including those made (and proven to work) overseas—the federal government will invoke the Defense Production Act to force U.S. manufacturers to make more of the already-approved tests here.
The Biden administration will also strike a deal with major retailers (including Walmart, Kroger, and Amazon) to sell the tests at cost for three months. While this is ostensibly voluntary on the part of the businesses, it may not make much of a dent in our at-home testing scarcity.
"One huge immediate problem: COVID-19 self-tests are already increasingly hard to find in stores at current prices," notes Bailey. "Lowering the prices of already scarce tests will not make more magically appear."
Walmart/Amazon. (But at least they're discounted!) pic.twitter.com/gIaCWmJFXI

— Scott Lincicome (@scottlincicome) September 9, 2021
"At-home rapid tests are expensive & hard to find in the US. So instead of just approving/importing the *dozens* of cheap tests now sitting at the FDA (& already approved in EU), the WH is gonna fix the problem w…industrial policy & a discount coupon," scoffs Cato Institute Senior Fellow Scott Lincicome.
---
FREE MINDS
When does "my body, my choice" cut it? Abortion and vaccine debates often find the same people on opposing sides of the line.
Evidently we're going to have a debate about vaccine mandates and abortion at the same time--that is, both culture war tribes are simultaneously going to take both positions on the rights to medical privacy and "my body my choice" autonomy

— Conor Friedersdorf (@conor64) September 9, 2021
I'm libertarian, which means I'm in favor of legal abortion and against state mandates for Covid vaccines because businesses and individuals should make that decision for themselves. People should have as much bodily autonomy as possible. Vaxxed since April.

— Nick Gillespie (@nickgillespie) September 10, 2021
Relatedly: The Justice Department announced yesterday that it's suing over Texas' new abortion law.
---
FREE MARKETS
Unemployment claims are approaching pre-pandemic numbers. "The number of Americans seeking unemployment benefits fell last week to 310,000, a pandemic low," reports the Associated Press. At this rate, "weekly applications for benefits are edging toward their pre-pandemic figure of roughly 225,000.
See the latest jobs report from the Labor Department here.
---
QUICK HITS
The White House will withdraw the nomination of a gun-control advocate to lead the Bureau of Alcohol, Tobacco, Firearms and Explosives after David Chipman ran into bipartisan opposition in the Senate, a person familiar with the decision told @AP. https://t.co/VTabcuB2vP

— AP Politics (@AP_Politics) September 9, 2021
• Former Democratic presidential candidate Andrew Yang plans to launch a new political party.
• Travelers on planes, trains, intercity buses, and other public transport who violate mask mandates will see increased fines, in addition to the existing punishments. "The President's plan will double fines for those who are not in compliance," the White House announced yesterday.
The Transportation Safety Administration will double the fines on travelers who refuse to mask.

If you break the rules, be prepared to pay.

— President Biden (@POTUS) September 9, 2021
• "Amazon's proposed $8.45 billion purchase of Hollywood studio MGM is presenting the Federal Trade Commission, which will soon decide whether to block the deal, with a kind of ideological Rorschach test," suggests Axios.
• Australia's new social media law shows why the American communications law Section 230 is so important.
I confess that I am absolutely dying over NewsCorp -- after publishing oped after oped in the WSJ for months *trashing* Section 230…suddenly realizing in Australia that they want the SAME EXACT PROTECTION that 230 provides pic.twitter.com/aVaBBwTozR

— Adam Kovacevich (@adamkovac) September 9, 2021
• In 2018, a Canadian cryptocurrency entrepreneur named Gerald Cotton died of complications from Crohn's disease while on his honeymoon in India. Or did he? Jilted investors in his cryptocurrency exchange believe Cotton may have pulled the ultimate exit scam.
• Jacob Sullum reviews Undoing Drugs: The Untold Story of Harm Reduction and the Future of Addiction.