Senate Republican Police 'Reforms' Won't Touch Qualified Immunity
With Trump opposed too, there's little hope that a serious police reform bill will get through Congress anytime soon.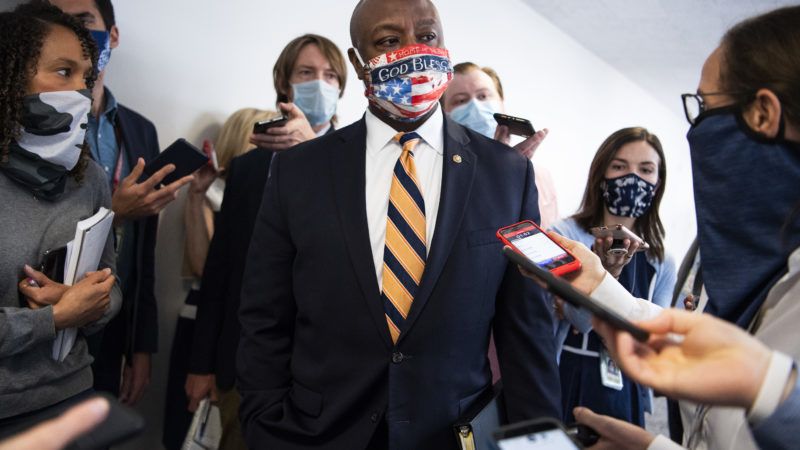 (Tom Williams/CQ Roll Call/Newscom)
Senate Republicans plan to introduce police reform legislation focused on training and reporting requirements, but the bill will not eliminate legal protections for police officers who kill or injure civilians.
NPR reports that Sen. Tim Scott (R–S.C.) is hoping to bring a bill to the Senate floor before July 4th, but the package being crafted by the sole black Republican in Congress' upper chamber is unlikely to contain several of the more ambitious reforms included in a bill unveiled yesterday by House Democrats. Most importantly, Scott "ruled out" abolishing qualified immunity—the legal doctrine that protects police officers from being held liable in civil court for deaths or injuries they inflict while on duty.
Ending qualified immunity would make it easier to hold cops accountable when they harm people. In addition to the Democratic proposal, Rep. Justin Amash (L–Mich.) has introduced a standalone bill to end qualified immunity. So far, no Republicans have signed on to co-sponsor Amash's bill—though Rep. Tom McClintock (R–Calif.) has expressed support for the effort.
But Scott told reporters on Wednesday that he does not see how those reforms would "get to the finish line." White House press secretary Kayleigh McEnany said Tuesday that any attempt to reform qualified immunity would be a "non-starter" for President Donald Trump.
Instead, Republicans in Congress appear to be coalescing around a series of ideas that would require police departments to train officers in de-escalation techniques and to require additional reporting of violent incidents to the federal Department of Justice. With Trump committed to an explicit "LAW & ORDER" campaign message, there is probably little appetite among Republican lawmakers to do much else.
Encouraging police departments to adopt less aggressive tactics doesn't do enough to fix the problems with policing in America. As long as qualified immunity remains, bad cops will have little incentive to change their behavior—the legal defense has been invoked to protect cops who steal, cops who murder children, and cops who rape nurses—and police chiefs will still have no power to purge bad cops from their squads.
If Republicans in Congress are unwilling to support qualified immunity reforms, then any bill Scott or his colleagues might eventually produce is likely to be little more than window-dressing, and the party that professes to believe in limited government will have shrunk from an opportunity to limit some of the worst behavior of government employees.
There's still hope that courts, including potentially the Supreme Court, will reassess the constitutionality of qualified immunity.
"I think there's going to be a Republican proposal and a Democrat proposal. The only thing that bothers me about that, is what usually happens when there's a Republican proposal and a Democrat proposal?" Sen. Rand Paul (R–Ky.) told NPR. "An impasse and nothing."