Congress Plans To Vote on Marijuana Banking Bill Next Week
The SAFE Banking Act will be the first stand-alone marijuana legalization bill to reach the floor of the U.S. House.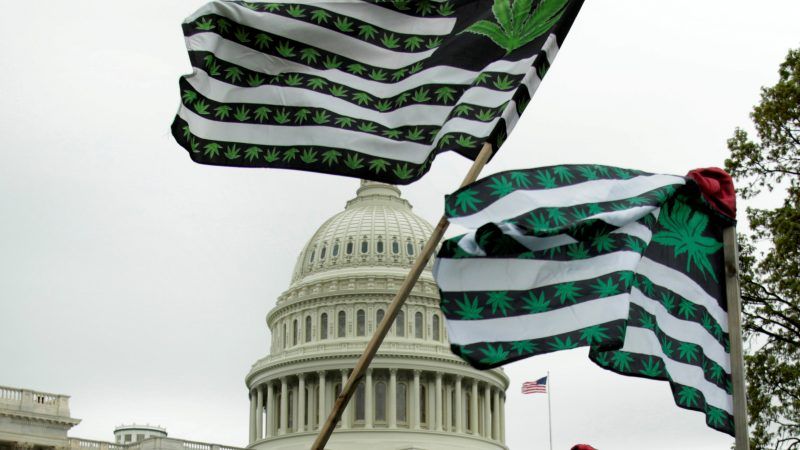 (Yuri Gripas/REUTERS/Newscom)
The SAFE Banking Act—the acronym stands for "Secure and Fair Enforcement"—would let banks and other financial institutions do business with state-legal marijuana businesses without incurring the wrath of the federal government. The bill will get a floor vote in Congress next week.
House Majority Leader Steny Hoyer (D–Md.) and House Minority Whip Steve Scalese (R–La.) announced today that the legislation would be part of next week's House calendar. The bill was introduced in March by Rep. Ed Pearlmutter (D–Colo.) and cleared the House Finanical Services Committee with a bipartisan 45–15 vote later that same month. But since then the bill has been stalled, even though it has more than 150 cosponsors and has support from bank lobbyists and from attorneys general in 33 states.
Unless it gets derailed at the last minute, the bill appears to be the first federal marijuana legalization measure to reach the floor of either chamber of Congress.
It's also a significant step towards ending a particularly stupid part of the federal War on Drugs. Recreational marijuana is now legal in 10 states, and a majority of states have legalized the drug for medicinal purposes. Yet nearly all those transactions are cash-only because of the federal prohibition on giving marijuana-related businesses access to banking That rule complicates not only consumer purchases but also how those businesses file their taxes and pay their employees.
As Reason's Ben McDonald highlighted earlier this year, any financial institution that does business with a pot shop could potential violate the federal Controlled Substances Act, USA PATRIOT Act, Bank Secrecy Act, and Racketeer Influenced and Corrupt Organizations Act. That's insane.
Next week's vote should be fairly straightforward, at least by congressional standards. Because leaders from both parties have agreed to the bill, it will be brought to the floor under a suspension of the usual rules. That means no amendments will be allowed on the floor, though Marijuana Moment reports that Pearlmutter is trying to make some changes before the vote.
A companion bill in the Senate, introduced by Sen. Jeff Merkley (D–Ore.), has 33 cosponsors. But that total includes only four Republicans, making passage through the upper chamber more of an open question.
"The upcoming banking vote is an important first step by Congress, but in no way should it be the last," said Justin Strekal, political director for the pro-legalization group NORML, in a statement.
Indeed, there's plenty more Congress could be doing. For starters, it could remove cannabis from Schedule I of the Controlled Substances Act, a category that's supposed to only include drugs with "no currently accepted medical use" and "a lack of accepted safety for use"—terms that obviously do not accurately describe marijuana.
But in the meantime, next week's vote will be an occasion worth celebrating.