Acosta Resigns as Labor Secretary
He says his role in Jeffrey Epstein's plea deal has become a distraction.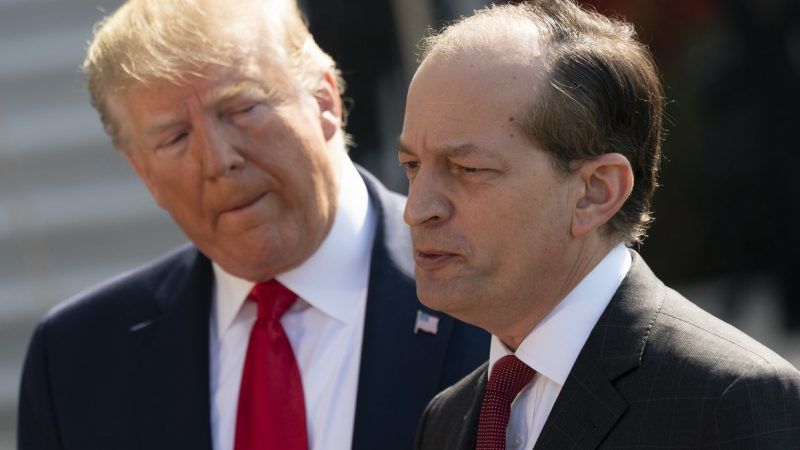 After explaining, "I don't think it is right and fair for this administration's Labor Department to have [Jeffrey] Epstein as the focus rather than the incredible economy we have today," Labor Secretary Alexander Acosta announced this morning he would be resigning from President Donald Trump's administration, effective in one week.
Acosta has been in the crosshairs ever since billionaire Jeffrey Epstein was arrested last weekend on federal sex trafficking charges. When Acosta was a U.S. attorney in Miami, he signed off on what's been seen as an extremely lenient plea agreement with Epstein in 2007 with a remarkably short part-time jail sentence over allegations of sex with underaged girls.
The deal wasn't just unusual. Ken "Popehat" White, a former federal prosecutor and current Reason contributing editor, explains over at The Atlantic that it was pretty much unheard of:
Epstein's team secured the deal of the millennium, one utterly unlike anything else I've seen in 25 years of practicing federal criminal law. Epstein agreed to plead guilty to state charges, register as a sex offender, and spend 13 months in county jail, during which time he was allowed to spend 12 hours a day, 6 days a week, out of the jail on "work release." In exchange, the Southern District of Florida abandoned its criminal investigation of Epstein's conduct, agreed not to prosecute him federally, and—incredibly—agreed not to prosecute anyone else who helped him procure underage girls for sex. This is not normal; it is astounding.
Acosta had been put on the defensive over the deal, and as this scandal played out, his resignation became pretty much inevitable.
Watch Trump and Acosta's public announcement this morning below:
And here's Acosta's resignation letter, which he tweeted out:
Thank you, @POTUS. pic.twitter.com/Q9bxwmzKQM

— Secretary Acosta (@SecretaryAcosta) July 12, 2019
Elizabeth Nolan-Brown took an early look at the new indictment against Epstein. Read her analysis from earlier in the week here.  And she explored Esptein's past friendship with Trump himself here.