Let's Talk About Trump's Labor Nominee Giving a Generous Plea Deal to a Billionaire Sex Offender
As Miami's U.S. Attorney, Alex Acosta gave a sweet deal to a rich sex offender while throwing the book at drug dealers.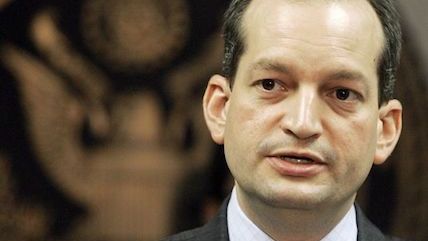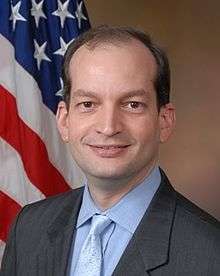 Former U.S. Attorney Alexander Acosta, President Donald Trump's nominee for labor secretary, came under fire yesterday for a lenient non-prosecution agreement he and billionaire Jeffrey Epstein signed in 2007 in a case where the latter was facing charges for trafficking (and then having sex with) underage females.
Acosta was asked about the deal during yesterday's confirmation with the Senate Health Education Labor and Pensions Committee. More specifically, he was asked why Epstein, who was investigated by the Justice Department and several Florida law enforcement agencies, received only a 13-month county jail sentence, during which he spent nights in the clink but was allowed to work from home during the day. (He was also required to register as a sex offender.) Had the billionaire been tried and convicted for allegedly transporting more than 40 underage girls for sex, he would've faced a life sentence in federal prison.
"At the end of the day, based on the evidence, professionals within a prosecutor's office decide that a plea—that guarantees that someone goes to jail, that guarantees that someone register generally and that guarantees other outcomes—is a good thing," Acosta told the committee.
Reporting from the Washington Post and Newsweek suggests there are several reasons why Acosta sought a lighter sentence than he likely would've obtained had he taken Epstein to trial and won:
In a 2011 letter obtained by Conchita Sarnoff*, who published a book about the Epstein case, Acosta wrote that Epstein's legal team–including Alan Dershowitz and Kenneth Starr–"investigated individual prosecutors and their families, looking for personal peccadilloes that may provide a basis for disqualification." (Dershowitz denied this to the Post.)
Sarnoff told the Post that Acosta told her "he felt incapable of going up against those eight powerful attorneys. He felt his career was at stake." (Dershowitz agrees that Acosta was "outlawyered.")
Newsweek, meanwhile, reports that Acosta was "mentored" by Starr while the former was a neophyte lawyer at the firm Kirkland & Ellis. An unnamed prosecutor told the magazine that Starr's addition to Epstein's defense "was key to Acosta's decision to [put] the kibosh on the federal prosecution."
Included in documents that were unsealed during an ongoing civil suit against Epstein is an email from one of Epstein's attorneys to Acosta that reads, "Please do whatever you can to keep this from becoming public." ("This" being the plea agreement.)
All of these claims could be true! It is entirely possible that Epstein had so much legal firepower that Acosta felt the U.S. Attorney's office in the Southern District of Florida couldn't compete; that Epstein's legal team was interested in doing to one or more members of Acosta's team what O.J. Simpson's attorneys (of which Dershowitz was one) did to LAPD Detective Mark Fuhrman (which is to say, reveal them to be hypocrites who selectively uphold the law and frequently violate it); that Acosta's team didn't have the evidence necessary to win at trial; that he saw a secret plea deal as a way to avoid losing the case and/or getting raked over the coals for folding; and that Acosta's relationship with Starr greased the skids for said deal.
And those are all good reasons for committee members to have pushed Acosta, because this case is indeed strange. Federal prosecutors love sending people to prison. Former Gov. Bob McDonnell accepted $177,000 in bribes to hock a nutritional supplement, and the U.S. Attorney's Office in the Eastern District of Virginia wanted to send him to prison for at least 10 years. Paying teens for sex is objectively worse than that. Of course people want to know why Epstein got off easy.
But the hearing was also a missed opportunity to question Acosta about all the people he did send to prison while a U.S. Attorney. In 2007, the year Epstein snagged that sweet non-prosecution deal, Acosta's office secured prison stints for 795 drug offenders. Out of those 795 people, only 36 received a sentence shorter than Epstein's; the average sentence for federal drug offenders in the Southern District of Florida was seven-and-a-half years. (And no, they didn't get to serve their sentences one night at a time while spending their days in a mansion.)
In light of those numbers, I'd love to know if Acosta believes slinging weed or meth to make rent is worse than renting several dozen teenagers for sex. Or, if he still believes that the old mandatory minimums for crack-cocaine are fair. None of those questions pertain to the work he'd be doing at the Department of Labor, but then, the Epstein case doesn't either.
Instead, we just got outrage, which is the obvious response to both the deal Epstein got and Acosta calling that deal a "good thing." But what happened to Epstein is not normal, and focusing on the one who got away keeps us from asking if the ones who don't are getting screwed.
*This post originally said that Acosta's 2011 letter was originally obtained by the Washington Post. It was first obtained by Sarnoff.