Las Vegas, Which Just Authorized Cannabis Lounges, Aspires to be the 'New Amsterdam'
The tourist mecca will be one of the few U.S. jurisdictions that give visitors a place where they can legally use the marijuana they can legally buy.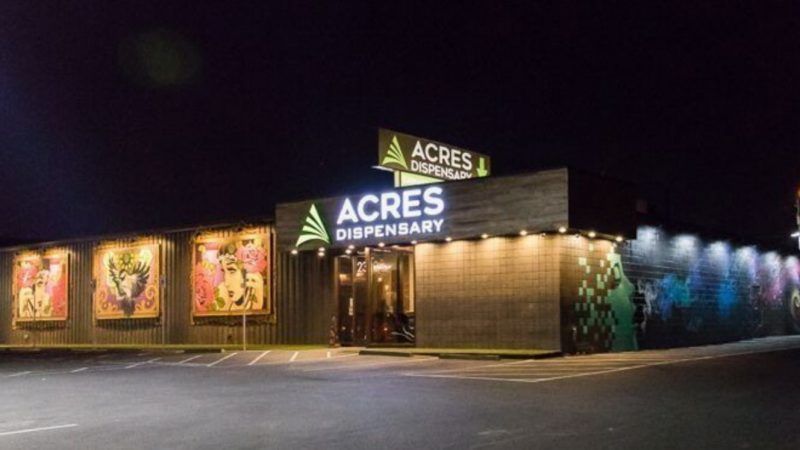 More than two years after Nevada legalized marijuana for recreational use, Las Vegas will soon become one of the few jurisdictions in the country to license cannabis consumption lounges. The lack of locations where visitors can legally consume the marijuana they can legally buy has been especially glaring in Las Vegas, which attracts 43 million tourists a year and is home to the world's largest cannabis emporium.
This month the Las Vegas City Council approved an ordinance authorizing licenses for "social-use venues," which must be physically separated from pot stores and may not sell alcohol. For the first year the licenses will be limited to businesses that are already authorized to sell marijuana. Councilman Bob Coffin, who sponsored the ordinance, said he expects those businesses to open lounges adjacent to their retail locations.
The ordinance does not apply to the Las Vegas Strip, which is under the jurisdiction of Clark County. But the city has dozens of marijuana dispensaries that can now apply for permission to create venues where their customers can consume their products. The licenses cost $5,000 a year, and the lounges must be at least 1,000 feet from schools and casinos. Entry will be limited to adults 21 or older (Nevada's marijuana purchase age), and patrons will not be allowed to use cannabis products outdoors or in view of the general public.
"We're the new Amsterdam," exulted Clark County Commissioner Tick Segerblom, a former state legislator who introduced a 2017 bill that would have explicitly legalized locally licensed cannabis consumption spaces. While that bill did not pass, Nevada's Legislative Counsel Bureau concluded that state law already allows such businesses.
Question 2, the legalization initiative that Nevada voters approved in 2016, makes it a misdemeanor, punishable by a $600 fine, to consume marijuana in a store that sells it or in any "public place," defined as "an area to which the public is invited or in which the public is permitted regardless of age." The Las Vegas ordinance is designed to meet those requirements.
The Reno Gazette Journal reports that Acres Cannabis, which operates a 19,000-square-foot store at 2320 Western Avenue, plans to open a consumption space that "will include a concert hall and full-service kitchen launched with the Morton family," founders of the Morton's steakhouse chain. Acres CEO John Mueller brags that "you're going to see an elevated experience over something you've seen in Amsterdam or these little boutique places" in cities such as San Francisco.
The casino and resort industry remains leery of marijuana, which is still federally illegal. The Nevada Gaming Control Board has warned that pot-friendly casinos could lose their licenses. Now the prospect of a better-than-Amsterdam experience for visitors who want to use marijuana threatens to draw business away from resorts and nightclubs that are not allowed to welcome cannabis consumers.
"What they're really trying to target are the tourists coming into Las Vegas," Councilman Stavros Anthony, a gaming industry ally who cast the sole vote against allowing cannabis lounges, told the Gazette Journal. "That's really where the money is. That's always where it's been. These consumption lounges are really the first attempt to gather in the tourists that want to smoke marijuana here in Nevada."
Segerblom thinks the casinos are right to be worried. "They're concerned about [cannabis lounges] making money outside the hotels," he told the paper. "They're worried [that] the longer this goes outside hotels, the more established they'll get. As a business person, I would be concerned too."